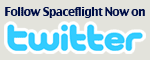 Spaceflight Now +





Subscribe to Spaceflight Now Plus for access to our extensive video collections!
How do I sign up?
Video archive

Weather satellite launch

The NOAA-N Prime weather observatory launches from California aboard a Delta 2 rocket on Feb. 6.

Play

Carbon observatory

Preview of the Orbiting Carbon Observatory, NASA's first spacecraft dedicated to mapping the global distribution of carbon dioxide.

Play

Expedition 19 crew

The Russian commander and two American astronauts to serve aboard the space station during the Expedition 19 mission hold this pre-flight news briefing.

Play

Delta 4-Heavy launch

The Delta 4-Heavy rocket launches a new intelligence-gathering satellite for the nation.

Full coverage

Become a subscriber
More video







NASA awards NuSTAR launch to Orbital Sciences
NASA-KSC NEWS RELEASE
Posted: February 9, 2009


CAPE CANAVERAL, Fla. -- NASA has selected Orbital Sciences Corp., of Dulles, Va., to launch the Nuclear Spectroscopic Telescope Array, or NuSTAR, high energy X-ray telescope. The spacecraft will fly in 2011 aboard a Pegasus XL rocket from the Ronald Reagan Ballistic Missile Defense Test Site located at the Pacific Ocean's Kwajalein Atoll.

The total cost of the NuSTAR launch services is approximately $36 million dollars. This estimated cost includes the task ordered launch service for a Pegasus XL rocket, plus additional services under other contracts for payload processing, launch vehicle integration, and tracking, data and telemetry support.

NuSTAR will be the first focusing high energy X-ray telescope in orbit. The telescope will conduct a census for black holes, map radioactive material in young supernovae remnants, and study the origins of cosmic rays and the extreme physics around collapsed stars.

The California Institute of Technology leads the mission, which NASA's Jet Propulsion Laboratory manages. NASA's Launch Services Program at Kennedy Space Center is responsible for launch vehicle program management. NuSTAR is part of the Explorers Program that NASA's Goddard Space Fight Center in Greenbelt, Md., manages.