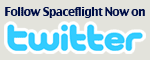 Spaceflight Now +





Subscribe to Spaceflight Now Plus for access to our extensive video collections!
How do I sign up?
Video archive

STS-126: In review

The STS-126 crew narrates highlights from its mission that remodeled the interior of the space station.

Play

Expedition 19 crew

The Russian commander and two American astronauts to serve aboard the space station during the Expedition 19 mission hold this pre-flight news briefing.

Play

Delta 4-Heavy launch

The Delta 4-Heavy rocket launches a new intelligence-gathering satellite for the nation.

Full coverage

STS-119: Shuttle on pad

Shuttle Discovery rolls to pad 39A for its February launch to the space station.

Play

STS-119: The programs

In advance of shuttle Discovery's STS-119 mission to the station, managers from both programs discuss the flight.

Play

STS-119: The mission

A detailed preview of Discovery's mission to deliver and activate the space station's final power truss is provided in this briefing.

Play

STS-119: Spacewalks

Four spacewalks are planned during Discovery's STS-119 mission to the station.

Play

STS-119: The Crew

The Discovery astronauts, led by commander Lee Archambault, meet the press in the traditional pre-flight news conference.

Play

Station's new toilet

Space station commander Mike Fincke shows the new U.S. toilet installed aboard the complex. The astronauts are preparing the station for larger crews beginning in 2009.

Play

Become a subscriber
More video






NewsAlert





Sign up for our NewsAlert service and have the latest news in astronomy and space e-mailed direct to your desktop.


Privacy note: your e-mail address will not be used for any other purpose.







ATK and NASA complete major milestones for Constellation
ATK NEWS RELEASE
Posted: January 26, 2009


MINNEAPOLIS -- In the last twelve months, Alliant Techsystems has completed several significant milestones for NASA's Constellation program that will set the stage for major flight and ground tests in 2009. The company successfully conducted sub-scale and full- scale ground tests of Constellation components. It successfully concluded thrust oscillation testing, and developed hardware that will be critical to the development phase of the program. And importantly, it developed and delivered flight hardware to the Kennedy Space Center for this July's Ares 1-X flight test.

"The past 12 months has been a historical year for ATK as we successfully completed many firsts in the development of Ares I and the launch abort system for Orion," said Mike Kahn, ATK Launch Systems Executive Vice President and General Manager. "We look forward to continuing this outstanding progress in 2009, moving us closer to an operational program for Ares I."

During the past year ATK successfully conducted:
Five major ground tests including two shuttle booster motor ground tests, which collected data for Ares I
A separation test for Ares I-X
A full-scale launch abort motor test for the Orion crew exploration vehicle
These tests were in preparation for Pad Abort-1 and Ares I-X flight tests, as well as the ground test of the first five-segment motor for Ares I -- all scheduled to be performed this year.
ATK also successfully completed the Stage 1 Preliminary Design Review (PDR) on Ares I, leading toward product development and manufacturing of the first five-segment Developmental Motor (DM-1) that will be tested this fall.
Major hardware was also completed and delivered to Florida for this year's Ares I-X flight test, including the new forward skirt extension and forward skirt. ATK also completed numerous Ares Stage I recovery tests with the new parachutes that will be used on the Ares 1-X flight test. Finally, the solid rocket segments have been prepared for instrumentation and will be shipped to Kennedy Space Center in February in preparation for integration in the spring.
ATK is a premier aerospace and defense company with more than 17,000 employees in 21 states and approximately $4.5 billion in revenue.