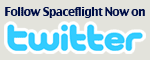 Spaceflight Now +





Subscribe to Spaceflight Now Plus for access to our extensive video collections!
How do I sign up?
Video archive

STS-126: In review

The STS-126 crew narrates highlights from its mission that remodeled the interior of the space station.

Play

Expedition 19 crew

The Russian commander and two American astronauts to serve aboard the space station during the Expedition 19 mission hold this pre-flight news briefing.

Play

Delta 4-Heavy launch

The Delta 4-Heavy rocket launches a new intelligence-gathering satellite for the nation.

Full coverage

STS-119: Shuttle on pad

Shuttle Discovery rolls to pad 39A for its February launch to the space station.

Play

STS-119: The programs

In advance of shuttle Discovery's STS-119 mission to the station, managers from both programs discuss the flight.

Play

STS-119: The mission

A detailed preview of Discovery's mission to deliver and activate the space station's final power truss is provided in this briefing.

Play

STS-119: Spacewalks

Four spacewalks are planned during Discovery's STS-119 mission to the station.

Play

STS-119: The Crew

The Discovery astronauts, led by commander Lee Archambault, meet the press in the traditional pre-flight news conference.

Play

Station's new toilet

Space station commander Mike Fincke shows the new U.S. toilet installed aboard the complex. The astronauts are preparing the station for larger crews beginning in 2009.

Play

Become a subscriber
More video






NewsAlert





Sign up for our NewsAlert service and have the latest news in astronomy and space e-mailed direct to your desktop.


Privacy note: your e-mail address will not be used for any other purpose.







Hubble snaps image of a nebula within a cluster
SPACE TELESCOPE SCIENCE INSTITUTE NEWS
Posted: January 21, 2009


The unique planetary nebula NGC 2818 is nested inside the open star cluster NGC 2818A. Both the cluster and the nebula reside over 10,000 light-years away, in the southern constellation Pyxis (the Compass).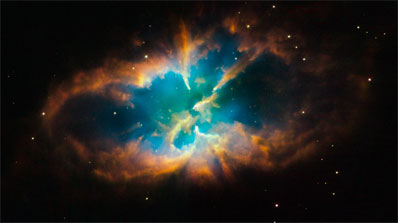 Credit: NASA, ESA, and the Hubble Heritage Team (STScI/AURA)
See larger image here



NGC 2818 is one of very few planetary nebulae in our galaxy located within an open cluster. Open clusters, in general, are loosely bound and they disperse over hundreds of millions of years. Stars that form planetary nebulae typically live for billions of years. Hence, it is rare that an open cluster survives long enough for one of its members to form a planetary nebula. This open cluster is particularly ancient, estimated to be nearly one billion years old.

The spectacular structure of NGC 2818 (also known as PLN 261+8.1) contains the outer layers of a sun-like star that were sent off into interstellar space during the star's final stages of life. These glowing gaseous shrouds were shed by the star after it ran out of fuel to sustain the nuclear reactions in its core.

Planetary nebulae can have extremely varied structures. NGC 2818 has a complex shape that is difficult to interpret. However, because of its location within the cluster, astronomers have access to information about the nebula, such as its age and distance, which might not otherwise be known.

Planetary nebulae fade away gradually over tens of thousands of years. The hot, remnant stellar core of NGC 2818 will eventually cool off for billions of years as a white dwarf. Our own sun will undergo a similar process, but not for another 5 billion years or so.

This Hubble image was taken in November 2008 with the Wide Field Planetary Camera 2. The colors in the image represent a range of emissions coming from the clouds of the nebula: red represents nitrogen, green represents hydrogen, and blue represents oxygen.

The Hubble Space Telescope is a project of international cooperation between NASA and the European Space Agency (ESA) and is managed by NASA's Goddard Space Flight Center (GSFC) in Greenbelt, Md. The Space Telescope Science Institute (STScI) conducts Hubble science operations. The institute is operated for NASA by the Association of Universities for Research in Astronomy, Inc., Washington, D.C.