NASA identifies ways to pay for Mars Science Lab rover
BY STEPHEN CLARK
SPACEFLIGHT NOW
Posted: January 20, 2009


NASA may cut funding aimed at a Mars Sample Return mission and a probe to the solar system's outer planets to help pay for delays of the agency's next Mars rover.

Officials proposed the cuts to the NASA Advisory Council's planetary science subcommittee earlier this month, said Doug McCuistion, director of NASA's Mars exploration program.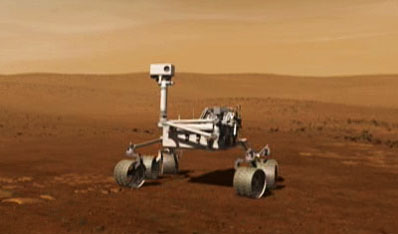 Launch of the delayed Mars Science Laboratory, as illustrated in this artwork, has been rescheduled for 2011. Credit: NASA/JPL



NASA needs the money to cover extra costs with the Mars Science Laboratory, a car-sized rover that was postponed in December from launching this year until 2011 due to technical problems and production delays.

The proposal would draw $353 million from budget line items for a Mars technology development program, studies for an Outer Planets Flagship Mission and a Mars lander in 2016. The funding was slated for use between fiscal years 2010 and 2014.

"This is NASA's position on how we can solve the problem," McCuistion said.

The planetary science subcommittee will submit their opinion to the NASA Advisory Council next month, and the consultative body will later make a recommendation to the NASA administrator.

NASA officials wanted the council to review the plan before making a final decision.

McCuistion said there would be no impact on any missions already selected for flight, calming fears that the rover's overruns would cause other science probes to be delayed or cancelled.

"There will be no delays or cancellations at all," McCuistion said. "We were extremely pleased that we were able to that. We didn't think we could do that, but we actually figured out a way to do it."

Although current and approved missions would be unaffected, other Mars and planetary science missions planned for late in the next decade could be delayed or downscaled due to the cuts, unless funding is restored in future budget cycles.

Most of the extra money would come from other Mars programs, McCuistion said.

NASA's policy is to find funding to cover Mars mission cost overruns in other Mars programs before slashing planetary science programs.

The Mars technology program was geared toward developing capabilities for an ambitious mission to return samples from the Red Planet after 2020.

Those technologies include surface sample handling equipment, precision landing systems and a Mars ascent vehicle. Much of the new know-how was slated to be tried on landers in 2016, 2018 and 2020 to prove the capabilities were ready for a costly sample return mission, McCuistion said.

The Phoenix lander that spent five months operating on Mars last year ran into early trouble delivering samples to instruments on the probe's science deck. Those kinds of problems could be disastrous on a sample return mission.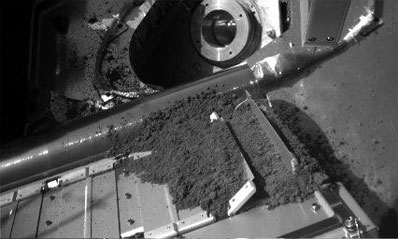 An image from the Phoenix spacecraft after its robot arm released a sample of soil onto a screened opening of the lander's Thermal and Evolved-Gas Analyzer. Credit: NASA/JPL-Caltech/University of Arizona/Max Planck Institute



A precision landing system was in the works to reduce touchdown errors to less than three kilometers, or about 1.9 miles, according to NASA.

Early development of a Mars ascent vehicle to haul soil samples from the Martian surface into orbit was also planned, but that work would not start under the new plan.

Funding in 2010 and 2011 for concept studies of an Outer Planets Flagship Mission would also be removed from the budget's out-years to help pay for MSL's delay.

NASA and the European Space Agency, along with other international partners, were scheduled to choose between orbiters to visit Jupiter or Saturn early this year. That decision may go ahead as planned.

ESA's Cosmic Vision program, which oversees Europe's mission proposals, calls for a launch of the Outer Planets Flagship Mission at the end of 2018. NASA's version of the mission had been scheduled for launch by 2017, but elimination of study funding would mean the launch would be realigned with ESA's schedule.

"Their schedule moved out a couple of years, so we were going to move ours' with it," McCuistion said.

A "significant portion" of study money for a NASA-led Mars lander in 2016 is also on the chopping block.

That cut would mean NASA will be even more compelled to contribute to ESA's ExoMars rover mission in 2016. A firm deal on Mars cooperation is expected late this year, but the agencies already announced they had reached an agreement in principle last year.

"I was going to take a NASA mission to the surface in 2016. The budget now is inadequate to do that. So partnering with them, NASA may be able to go to the surface in a slightly different way," McCuistion said.

Scientists are also interested in launching an orbiter to the Red Planet as soon as 2016 to follow-up on methane detected in the Martian atmosphere by Earth observatories. That discovery was announced last week.

"The measurements from Earth are really exciting and it's a very definitive discovery, but to really be able to understand the concentrations and localization of this, you really have to have an asset in orbit at the planet that can see it and resolve it down to a reasonable level," McCuistion said.

Officials are already discussing the potential mission, but NASA needs funding to begin studies by the end of this year. The incoming Obama administration will submit their fiscal year 2010 budget request in the next few months.

Scientists are also considering tasking MSL to land in a methane-rich zone when it arrives at Mars in 2012. A filled-in surface fracture named Nili Fossae was among landing site finalists before being ruled out last year due to unfavorable geography.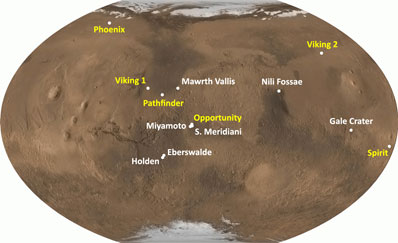 This map shows candidate landing sites. The finalists were Eberswalde Crater, Gale Crater, Holden Crater and Mawrth Vallis. Credit: NASA/JPL



Nili Fossae is now "certainly appropriate to look at" because the MSL team has an extra two years to resolve landing safety issues at the rugged site, McCuistion said.

Other locations with methane will also be studied to see if those landing zones are safer for landing.

The rover team is also using the extra time to work on troublesome actuators that were partially responsible for the mission's delay. The motors power moving parts on the mobile lab's wheels, robotic arm and other components.

Delivery deadlines for the probe's structural parts have been pushed back to more reasonable dates to avoid double- and triple-shifts, McCuistion said.

Four science instruments have already arrived at the Jet Propulsion Laboratory for integration with the rover. The rest of the sensors are due by the end of February.

"We have more time, so we're going to finish this in a more methodical and measured pace than we were before," McCuistion said.