Experimental TacSat craft struggling to reach space
BY STEPHEN CLARK
SPACEFLIGHT NOW
Posted: January 16, 2009


The Pentagon's ambition to develop inexpensive and responsive satellites, a program already riddled with setbacks, is facing a new delay due to a technical problem with a grounded satellite.

Tactical Satellite 3, or TacSat 3, was originally scheduled for launch in 2007. But the mission has endured problems with spacecraft equipment that caused cascading delays totaling nearly two years.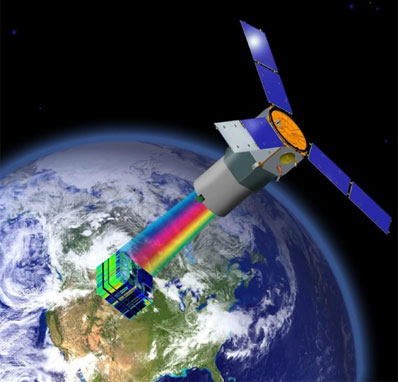 An artist's concept of the TacSat 3 spacecraft. Credit: Air Force



The $80 million project is led by the Air Force Research Laboratory at Kirtland Air Force Base, N.M. Partners include the Pentagon's Operationally Responsive Space office, which seeks to focus military space assets to meet real-time requirements of commanders in far-flung war theaters.

The ORS program was kicked off in 2007 and took an active role in several missions designed to revamp the way military space missions are designed, launched and operated.

"We were created to help focus space capabilities on assured support for the warfighting requirements of joint force commanders. That's our No. 1 job," said Army Lt. Col. James Pruneski, deputy director of the Operationally Responsive Space initiative.

Military commanders identified three tiers of capabilities for the ORS program.

Tier 1 involves finding new missions for existing space assets.

"We would consider using an existing spacecraft in a new way or perhaps re-tasking it," Pruneski said. "(That's) something that could be done to provide support to a joint force commander need in minutes or hours."

Officials envision a second tier of capabilities to select, integrate and launch payloads within weeks.

"At some point in the future, maybe in the 2015 timeframe, mission kit components could be pulled off the shelf, very rapidly assembled and tested, shipped to a launch base somewhere, and then deployed on orbit," Pruneski said.

Tier 3 is focused on developing the ability to procure new technologies or create a new sensor within a year, according to Pruneski.

The ORS program is partnering with other military agencies to launch technology demo missions aimed at paving the way for such on-demand capabilities.

"You just need to demonstrate that these capabilities are reliable, that they're safe, and they're going to get the job done," Pruneski said. "And that's what we're focusing on."

But some ORS missions have hit snags with technical problems and launch delays.

For TacSat missions, the ORS program is responsible for providing launch services, assessing the military utility of experimental technologies, and transitioning those capabilities into operational status, if needed.

TacSat 1, led by the Naval Research Laboratory, has been delayed nearly five years due to an assortment of development problems and the unavailability of its ride into space, the Falcon 1 rocket.

The mission, now called TacSat 1A, was approved in 2003 for a scheduled launch the next year and with a cost cap of $15 million. The satellite is still on the ground.

TacSat 1A's future rests in the outcome of an ongoing series of launch contract renegotiations, officials said.

"The result of these negotiations will determine if TacSat 1A is a viable program with a launch vehicle and launch date," a Naval Research Laboratory spokesperson said.

Project officials declined an interview request and released no other details on the negotiations, but confirmed the Falcon 1 was still TacSat 1A's planned launch vehicle.

The satellite's objective is to distribute visible and infrared imagery to military commanders via an experimental Internet protocol router network.

Operational Falcon 1 launches, including TacSat 1A, were postponed several years due to three consecutive failures in the booster's first three flights. The small rocket finally reached orbit on a demo mission in September.

The next launch on the Falcon 1 manifest is scheduled for this spring with a Malaysian payload. TacSat 1A is not listed on the online manifest of SpaceX, the builder of Falcon 1 rockets, and company officials would not comment on the flight.

One victim of a Falcon 1 failure was the Jumpstart mission, an ORS project designed to demonstrate launch responsiveness.

Military leaders chose three finalist payloads for Jumpstart a few months before launch. Engineers spent the time integrating the satellites and completing pre-launch environmental testing.

Officials selected the Trailblazer spacecraft for the Jumpstart mission less than a month before the scheduled launch, giving the military an opportunity to gauge the flexibility of both the rocket and satellite teams.

Pruneski said he was pleased with the performance of both teams during the final steps of processing, but the Falcon 1 was brought down by a collision between the first and second stages moments after stage separation.

"We went from having a payload in the clean room on a Sunday, to having it integrated on the rocket six days later and launched unsuccessfully. But that processing part was extremely responsive," Pruneski said.

The streamlined processing timeline showed launch teams could meet requirements defined in Tier 2 of the ORS architecture.

A second Jumpstart mission is currently being studied, but the military has not signed a contract for the flight.

Falcon and Minotaur rockets have been tapped to launch ORS missions. The Falcon 1's low cost and the Minotaur's reliance on heritage off-the-shelf hardware were attractive to officials seeking inexpensive and quick-response launch options, Pruneski said.

"We have some pretty responsive launch capabilities today," Pruneski said. "Probably not with the Falcon 1 (yet), but hopefully in the near future."

SpaceX designed the Falcon 1 with rapid call-up in mind, but military officials would like to see repeated successes before committing to purchasing multiple Falcon launches.

ORS commanders are pleased with the Falcon 1's simplified processing regime, and officials will likely turn to the launcher more often after it racks up a streak of successes.

SpaceX highlights the rocket's streamlined processing in previous flights, including the Jumpstart mission.

"Stages were integrated, rolled out and launched in less than seven days," the company said in a written statement.

The Falcon 1's fourth flight, which successfully reached orbit in September, was an even more critical test. SpaceX completed transportation, processing and licensing in less than two months.

"These accomplishments, coupled with our current goal of being able to go from hangar to liftoff in under 60 minutes, have positioned SpaceX as an ideal supplier for all customers with on-demand payloads," the company's statement read.

The ORS office's goal to rapidly call up on-demand missions will heavily rely on the availability of launch vehicles and launch sites.

"If we work on spacecraft buses and payloads such that we can get them integrated, tested and ready to launch a satellite in six days, but we don't have a responsive launch and range infrastructure, then we've kind of wasted our time," Pruneski said.

Officials believe current vehicles can do the job, but it will require some changes from business-as-usual, particularly in mission planning and launch ranges.

"I've been told by our experts that the technology exists," Pruneski said. "It's more of getting people comfortable with changing how they're used to doing business for 40-plus years on ranges."

ORS project managers have analyzed the traditional integration and test timeline for a Minotaur mission, which usually lasts 18 months. Officials identified areas for improvement that could decrease that time to six months to meet ORS Tier 2 requirements.

"We didn't necessarily decrease the amount of time for our missions, but we've identified where the impediments are. So when we go and launch future (missions), we should be able to shorten that process," said Thom Davis, TacSat 3 program manager.

Examples include reducing the number of custom parts and relying more on generic hardware and shorter processes. Bulk buying of launch vehicles could also allow launch providers to stockpile rockets that are ready to fly, Davis said.

The ORS program ordered its first operational launch vehicles in April 2008, when the military purchased three Minotaur rockets from Orbital Sciences Corp. for unidentified missions in 2010 and 2011.

"We are once again honored to be called upon by the Air Force to carry out these important launches to help further the Operationally Responsive Space initiative that will play a critical role in America's ability to respond quickly in a time of crisis," said Lou Amorosi, Minotaur program manager, in the contract announcement.

The organizational predecessors of the ORS office were part of the successful TacSat 2 mission launched aboard a Minotaur 1 rocket in 2006. The small satellite spent nearly one year operating a Navy signals intelligence experiment and beaming the data to common data link compatible ground stations around the world.

TacSat 2 also carried a high-precision GPS navigation receiver, recycled solar panels and autonomous software allowing the satellite to think for itself.

The mission was wildly successful in space, but it is the only ORS mission to reach orbit so far.

It took two years from the beginning of the TacSat 2 project until its delivery in orbit, but it was only seven months between the signing of a launch contract and liftoff.

ORS officials are tasked with cutting that time.

TacSat 3's technical issues appeared to be put to rest in December, when engineers were several days from shipping the satellite to its launch site at Wallops Island, Va.

But then a parts supplier notified TacSat 3 officials that a component inside the satellite's avionics unit needed to be repaired, according to Davis.

Davis would not identify the supplier and declined to give details on the component's role in the mission, but he said the company uncovered problems with similar units in independent testing.

"They recommended that those parts be replaced," Davis said. "Based on that, we elected to delay our shipment to the launch site and make the repairs."

The unit is critical to the mission's success, according to TacSat 3 officials.

"Had we not discovered and corrected this problem, we would have had a potential catastrophic mission failure," Davis said.

Officials don't know when the repairs will be completed, and Davis said the launch will probably slip later than March. But officials declined to offer a target launch date until the team fixes the problem.

The team hopes to formulate a plan within the next week to repair the unit, re-integrate the spacecraft and continue with pre-launch processing, according to Davis.

The satellite will be about a week away from shipment when engineers clear the problem with the suspect component.

"Everything has been checked out," Davis said.

TacSat 3 is a mission to demonstrate linking warfighters with on-demand surveillance imagery and ocean buoy data.

The satellite has been grounded since last year due to an onslaught of problems with its star tracker, flight software, and the avionics part.

Engineers have overcome the star tracker and software issues, finished environmental testing and completed their last mission dress rehearsal. One extra rehearsal may be added to the schedule due to the delay, Davis said.

TacSat 3 carries a hyperspectral camera to capture timely battlefield imagery, a Navy communications package to relay ocean buoy data, and an Air Force avionics experiment.

The spacecraft's modular bus was built by Alliant Techsystems and delivered to the Air Force in September 2007, about 15 months after receiving the go-ahead from program managers.

The high-tech imager, built by Raytheon Co., will send real-time pictures to force commanders within 10 minutes of collection, Air Force officials said.

The military also wants to develop new operation regimes to maximize the usefulness of new capabilities. TacSat 3 will help officials study those options, Pruneski said.

"What we're going to show is that you can have a spacecraft that can be tasked directly from a battlefield," Davis said. "The satellite will take images, process the image on-board the satellite and send that data down real-time back to the battlefield."

Two other TacSat missions are also slated for launch.

TacSat 4 is scheduled to launch in September aboard a Minotaur 4 rocket from Kodiak Island, Alaska.

The Navy-led mission will prove new broadband UHF communications-on-the-move technologies using a 12-foot diameter antenna and non-dedicated ground receiving stations.

TacSat 5 is in the early phases of concept definition. Launch of that satellite should occur in the spring of 2012.