Spaceflight Now +





Subscribe to Spaceflight Now Plus for access to our extensive video collections!
How do I sign up?
Video archive

"Chandra's Universe"

NASA's Chandra X-ray Observatory is providing new insights into the frontier of X-ray astronomy.

Play

Station's new toilet

Space station commander Mike Fincke shows the new U.S. toilet installed aboard the complex. The astronauts are preparing the station for larger crews beginning in 2009.

Play

The Phoenix mission

This video provides a recap of the Mars lander Phoenix and the spacecraft's mission to the frozen northern plains of the Red Planet to dig up samples of the soil and water ice.

Play

"Debrief: Apollo 8"

This is the story of NASA's first journey in orbit around the Moon with comments on the significance of the Apollo 8 flight by several prominent Americans.

Play

The Apollo 8 film report

This is the Manned Space Flight Film Report for the mission of Apollo 8 that orbited around the Moon on Christmas in 1968.

Play

Next Mars rover delayed

Launch of NASA's Mars Science Laboratory will be postponed from 2009 to 2011 due to hardware development delays.

Play

STS-126: Full coverage

More than 200 videos covering shuttle Endeavour's STS-126 mission to the space station are archived for viewing.

Play

Daily shuttle highlights

Daily highlights movies from recent space shuttle flights can be seen here.

Play

Become a subscriber
More video






NewsAlert





Sign up for our NewsAlert service and have the latest news in astronomy and space e-mailed direct to your desktop.


Privacy note: your e-mail address will not be used for any other purpose.







Baby Jupiters must gain weight fast
CENTER FOR ASTROPHYSICS NEWS RELEASE
Posted: January 5, 2009


LONG BEACH, CA - The planet Jupiter gained weight in a hurry during its infancy. It had to, since the material from which it formed probably disappeared in just a few million years, according to a new study of planet formation around young stars.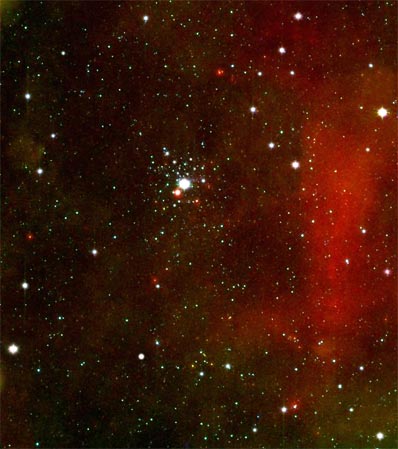 This photograph from NASA's Spitzer Space Telescope shows the young star cluster NGC 2362. By studying it, astronomers found that gas giant planet formation happens very rapidly and efficiently, within less than 5 million years, meaning that Jupiter-like worlds experience a growth spurt in their infancy. Credit: NASA/JPL-Caltech/T. Currie (CfA)



Smithsonian astronomers examined the 5 million-year-old star cluster NGC 2362 with NASA's Spitzer Space Telescope, which can detect the signatures of actively forming planets in infrared light. They found that all stars with the mass of the Sun or greater have lost their protoplanetary (planet-forming) disks. Only a few stars less massive than the Sun retain their protoplanetary disks. These disks provide the raw material for forming gas giants like Jupiter. Therefore, gas giants have to form in less than 5 million years or they probably won't form at all.

"Even though astronomers have detected hundreds of Jupiter-mass planets around other stars, our results suggest that such planets must form extremely fast. Whatever process is responsible for forming Jupiters has to be incredibly efficient," said lead researcher Thayne Currie of the Harvard-Smithsonian Center for Astrophysics. Currie presented the team's findings at a meeting of the American Astronomical Society in Long Beach, Calif.

Even though nearly all gas giant-forming disks in NGC 2362 have disappeared, several stars in the cluster have "debris disks," which indicates that smaller rocky or icy bodies such as Earth, Mars, or Pluto may still be forming.

"The Earth got going sooner, but Jupiter finished first, thanks to a big growth spurt," explained co-author Scott Kenyon.

Kenyon added that while Earth took about 20 to 30 million years to reach its final mass, Jupiter was fully grown in only 2 to 3 million years.

Previous studies indicated that protoplanetary disks disappear within 10 million years. The new findings put even tighter constraints on the time available to create gas giant planets around stars of various masses.

NASA's Jet Propulsion Laboratory, Pasadena, Calif., manages the Spitzer mission for NASA's Science Mission Directorate, Washington. Science operations are conducted at the Spitzer Science Center at the California Institute of Technology, also in Pasadena. Caltech manages JPL for NASA.

Headquartered in Cambridge, Mass., the Harvard-Smithsonian Center for Astrophysics (CfA) is a joint collaboration between the Smithsonian Astrophysical Observatory and the Harvard College Observatory. CfA scientists, organized into six research divisions, study the origin, evolution and ultimate fate of the universe.