Spaceflight Now +





Subscribe to Spaceflight Now Plus for access to our extensive video collections!
How do I sign up?
Video archive

"Chandra's Universe"

NASA's Chandra X-ray Observatory is providing new insights into the frontier of X-ray astronomy.

Play

Station's new toilet

Space station commander Mike Fincke shows the new U.S. toilet installed aboard the complex. The astronauts are preparing the station for larger crews beginning in 2009.

Play

The Phoenix mission

This video provides a recap of the Mars lander Phoenix and the spacecraft's mission to the frozen northern plains of the Red Planet to dig up samples of the soil and water ice.

Play

"Debrief: Apollo 8"

This is the story of NASA's first journey in orbit around the Moon with comments on the significance of the Apollo 8 flight by several prominent Americans.

Play

The Apollo 8 film report

This is the Manned Space Flight Film Report for the mission of Apollo 8 that orbited around the Moon on Christmas in 1968.

Play

Next Mars rover delayed

Launch of NASA's Mars Science Laboratory will be postponed from 2009 to 2011 due to hardware development delays.

Play

STS-126: Full coverage

More than 200 videos covering shuttle Endeavour's STS-126 mission to the space station are archived for viewing.

Play

Daily shuttle highlights

Daily highlights movies from recent space shuttle flights can be seen here.

Play

Become a subscriber
More video






NewsAlert





Sign up for our NewsAlert service and have the latest news in astronomy and space e-mailed direct to your desktop.


Privacy note: your e-mail address will not be used for any other purpose.







Stars forming just beyond black hole's grasp
CENTER FOR ASTROPHYSICS NEWS RELEASE
Posted: January 5, 2009


LONG BEACH, CA - The center of the Milky Way presents astronomers with a paradox: it holds young stars, but no one is sure how those stars got there. The galactic center is wracked with powerful gravitational tides stirred by a 4 million solar-mass black hole. Those tides should rip apart molecular clouds that act as stellar nurseries, preventing stars from forming in place. Yet the alternative - stars falling inward after forming elsewhere - should be a rare occurrence.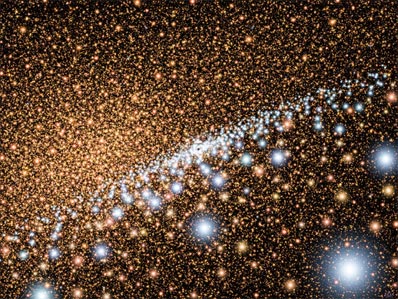 This artist's concept shows young, blue stars encircling a supermassive black hole at the core of a spiral galaxy like the Milky Way. The background stars are the typical older, redder population of stars that inhabit the cores of most galaxies (including our own). CfA astronomers caught two stars in the act of forming within a few light-years of the Milky Way's center. Their find demonstrates that stars can form at our galaxy's core despite the powerful gravitational tides generated by the black hole. Credit: NASA, ESA, and A. Schaller (for STScI)



Using the Very Large Array of radio telescopes, astronomers from the Harvard-Smithsonian Center for Astrophysics and the Max Planck Institute for Radio Astronomy have identified two protostars located only a few light-years from the galactic center. Their discovery shows that stars can, in fact, form very close to the Milky Way's central black hole.

"We literally caught these stars in the act of forming," said Smithsonian astronomer Elizabeth Humphreys. She presented the finding today at a meeting of the American Astronomical Society in Long Beach, Calif.

The center of the Milky Way is a mysterious region hidden behind intervening dust and gas, making it hard to study. Visible light doesn't make it out, leaving astronomers no choice but to use other wavelengths like infrared and radio, which can penetrate dust more easily.

Humphreys and her colleagues searched for water masers‹radio signals that serve as signposts for protostars still embedded in their birth cocoons. They found two protostars located seven and 10 light-years from the galactic center. Combined with one previously identified protostar, the three examples show that star formation is taking place near the Milky Way's core.

Their finding suggests that molecular gas at the center of our galaxy must be denser than previously believed. A higher density would make it easier for a molecular cloud's self-gravity to overcome tides from the black hole, allowing it to not only hold together but also collapse and form new stars.

The discovery of these protostars corroborates recent theoretical work, in which a supercomputer simulation produced star formation within a few light-years of the Milky Way's central black hole.

"We don't understand the environment at the galactic center very well yet," Humphreys said. "By combining observational studies like ours with theoretical work, we hope to get a better handle on what's happening at our galaxy's core. Then, we can extrapolate to more distant galaxies."

Humphreys' co-authors are Mark Reid (Harvard-Smithsonian Center for Astrophysics) and Karl Menten (Max Planck Institute for Radio Astronomy).

Headquartered in Cambridge, Mass., the Harvard-Smithsonian Center for Astrophysics (CfA) is a joint collaboration between the Smithsonian Astrophysical Observatory and the Harvard College Observatory. CfA scientists, organized into six research divisions, study the origin, evolution and ultimate fate of the universe.