Russia finishes year by launching three satellites
BY STEPHEN CLARK
SPACEFLIGHT NOW
Posted: December 25, 2008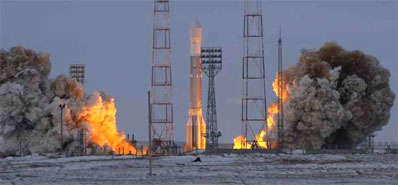 Credit: Russian Space Agency



Three new satellites blasted off from a frigid launch pad in Kazakhstan Thursday, bolstering Russia's space navigation system to help provide continuous coverage over Russian territory.

The Proton rocket launched from the snow-covered plains of Kazakhstan at 1043 GMT (5:43 a.m. EST). The silver-and-white launcher arced northeast from the Baikonur Cosmodrome and arrived in a preliminary low-altitude orbit less than 10 minutes after liftoff.

The Block DM upper stage completed two burns to place the three Glonass satellites in a circular orbit nearly 12,000 miles high with an inclination of 64.8 degrees. Spacecraft separation occurred at about 1415 GMT (9:15 a.m. EST), according to the Russian Space Agency.

The 3,000-pound satellites will be positioned in orbital planes to rejuvenate the Glonass constellation, Russia's counterpart to the U.S. Global Positioning System.

Thursday's additions to the Glonass family bring the fleet membership to 20 satellites. The constellation includes 16 fully operational spacecraft and a partially active satellite, according to an update posted this week on the Russian Space Agency's Web site.

The three satellites launched Thursday will soon begin commissioning and tests before entering service early next year. The spacecraft are designed to last at least seven years.

A group of 18 satellites is required to provide full coverage of Russia, while 24 spacecraft can reach users around the world. Russian officials want to achieve a full Glonass constellation of 30 satellites, including spares, by 2011.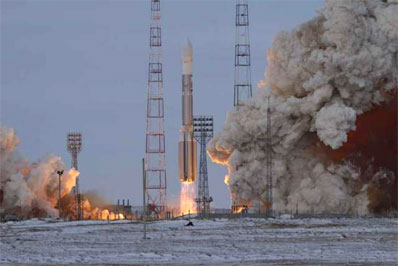 Credit: Russian Space Agency



Thursday's flight was the second Glonass launch of the year. A trio of satellites was also launched in September.

The launch was also the final announced space launch of the year, punctuating the launch industry's most successful year since 2000.

Roughly 67 space launches reached orbit this year, and at least one attempt fell short of orbit. The Falcon 1 rocket's third launch attempt failed to reach that threshold in early August.

A Proton rocket's Breeze M upper stage also stranded a commercial communications payload halfway to its target geostationary transfer orbit during a March launch.

Russian and Ukrainian vehicles flew 32 times in 2008, including the failed mission in March. American launchers blasted off 15 times. The only U.S. failure was the botched Falcon 1 mission.

Chinese rockets were 11-for-11 in 2008, setting a new record for space activity in that country. European and Indian vehicles completed six and three missions, respectively. Japan's H-2A rocket flew once early this year, rounding out the total.