Spaceflight Now +





Subscribe to Spaceflight Now Plus for access to our extensive video collections!
How do I sign up?
Video archive

STS-126: The programs

In advance of shuttle Endeavour's STS-126 mission to the station, managers from both programs discuss the flight.

Play

STS-126: The mission

A detailed preview of Endeavour's mission to deliver expanded crew accommodations to the station is provided in this briefing.

Play

STS-126: Spacewalks

Four spacewalks are planned during Endeavour's STS-126 mission to the station.

Play

STS-126: The Crew

The Endeavour astronauts, led by commander Chris Ferguson, meet the press in the traditional pre-flight news conference.

Play

Mercury science

Scientists present imagery and instrument data collected by the MESSENGER spacecraft during its second flyby of the planet Mercury.

Play

Shuttle rollaround

Space shuttle Endeavour switched launch pads on Oct. 23, traveling from pad 39B to pad 39A.

Play

Chandrayaan 1

India launches its first lunar orbiter, the Chandrayaan 1 spacecraft, from the country's Satish Dhawan Space Center.

Play

Shuttle rollback

Atlantis was moved off pad 39A and placed inside the Vehicle Assembly Building for storage to wait out the Hubble mission delay.

Play

IBEX launch

A Pegasus rocket carrying NASA's Interstellar Boundary Explorer launches over the Pacific Ocean.

Play

Become a subscriber
More video





NewsAlert





Sign up for our NewsAlert service and have the latest news in astronomy and space e-mailed direct to your desktop.


Privacy note: your e-mail address will not be used for any other purpose.







Phoenix lander weak but still communicating from Mars
NASA/JPL NEWS RELEASE
Posted: November 3, 2008


PASADENA, Calif. -- NASA's Phoenix Mars Lander has communicated with controllers daily since Oct. 30 through relays to Mars orbiters. Information received over the weekend indicates Phoenix is running out of power each afternoon or evening but reawakening after its solar arrays catch morning sunlight.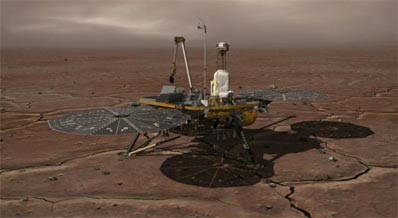 An artist concept of Phoenix. Credit: NASA/JPL-Caltech/University of Arizona



The fraction of each day with sun above the horizon is declining at the Martian arctic landing site. Dust raised by a storm last week continues to block some of the sunshine.

"This is exactly the scenario we expected for the mission's final phase, though the dust storm brought it a couple weeks sooner than we had hoped," said Phoenix Project Manager Barry Goldstein of NASA's Jet Propulsion Laboratory, Pasadena, Calif. "We will be trying to gain some additional science during however many days we have left. Any day could be our last."

Mission engineers at JPL and at Lockheed Martin Space Systems, Denver, are attempting this week to upload commands to be stored in the lander's flash memory for science activities to be conducted when the lander wakes up each day.

"Weather observations are our top priority now," said Phoenix Principal Investigator Peter Smith. "If there's enough energy, we will try to get readings from the conductivity probe that has been inserted into the soil, and possibly some images to assess frost buildup."

Phoenix landed on Mars May 25. It accomplished its main science goals during the three months originally planned as its prime mission, then continued operating, now in its sixth month.

The Phoenix mission is led by Peter Smith of the University of Arizona, Tucson, with project management at the Jet Propulsion Laboratory and development partnership at Lockheed Martin, Denver. International contributions come from the Canadian Space Agency; the University of Neuchatel, Switzerland; the universities of Copenhagen and Aarhus in Denmark; the Max Planck Institute in Germany; the Finnish Meteorological Institute; and Imperial College, London. The California Institute of Technology in Pasadena manages JPL for NASA.