After lengthy delay, rocket finally allowed to launch
BY STEPHEN CLARK
SPACEFLIGHT NOW
Posted: October 1, 2008


A Thai remote sensing satellite blasted off atop a converted ballistic missile Wednesday and finally reached orbit after being grounded for nearly a year due to political wrangling between Russia and Kazakhstan.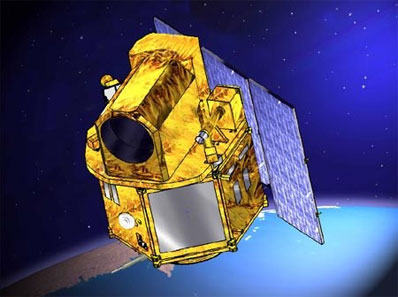 An artist's concept of THEOS. Credit: EADS Astrium



The Dnepr rocket launched out of an underground silo at the Yasny space base in southern Russia at 0637 GMT (2:37 a.m. EDT). The three-stage rocket boosted the Thailand Earth Observation Satellite into a 425-mile-high sun-synchronous orbit about a half-hour later.

The THEOS spacecraft will later use its own propulsion system to slightly raise its orbit to at an altitude of more than 500 miles.

THEOS will spend at least five years taking pictures of locations around the world, including access to any part of Thailand within two days, according to Astrium, the satellite's prime contractor.

The satellite will be operated by Thailand's Geo-Informatics and Space Technology Development Agency, or GISTDA. Astrium trained 20 Thai engineers to operate the 1,653-pound satellite during its mission.

"With THEOS, Astrium has been responsible for all phases, from manufacture to launch, and from orbit injection to utilization of satellite data for its customer," said Francois Auque, CEO of Astrium.

GISTDA will use the new satellite's imagery in cartography, land use, agricultural monitoring, forestry management, coastal zone management and flood risk management applications, officials said.

THEOS carries black-and-white and color cameras with resolutions of about 6.5 feet and 9.3 miles, respectively.

The satellite contract was signed in 2004 for a scheduled launch in 2007, but negotiations between Russia and countries south of the Yasny launch site fell apart before liftoff.

THEOS had to launch on a southerly trajectory from Yasny to reach its target orbit. Such a flight path had never been attempted from Yasny before.

The first stage of the Dnepr rocket was planned to be dropped in Uzbekistan, but talks did not reach an agreement between the countries despite "promising meetings" in 2007 and early this year, according to an Astrium spokesperson.

Engineers at Kosmotras, the international company overseeing Dnepr launch operations, began redesigning the rocket's trajectory to drop the first stage in Kazakhstan after the January launch was delayed.

Kazakhstan's national space agency, Kazcosmos, authorized the new drop zone in a June message to Russia's Defense Ministry. Astrium and Kosmotras began final flight preparations in early July.

Russian military officials informed Kazcosmos of the rescheduled Aug. 6 launch two days before blastoff, but Kazakhstan replied saying the launch was prohibited, Astrium officials said.

Further negotiations throughout August and September finally resulted in clearance to launch Wednesday.