Mission control appears to escape major damage
BY WILLIAM HARWOOD
STORY WRITTEN FOR CBS NEWS "SPACE PLACE" & USED WITH PERMISSION
Posted: September 13, 2008


A rideout team at the Johnson Space Center endured a virtual direct hit from Hurricane Ike early Saturday, firing up generators to keep sensitive computer and communications gear in mission control on line when power was lost. A detailed assessment is not yet available, but officials said no injuries were reported and the space center appeared to escape major damage.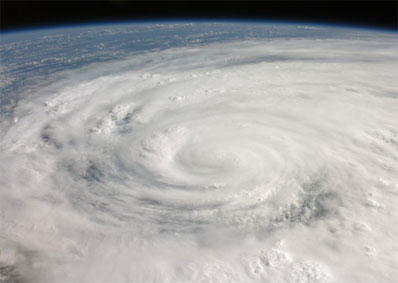 Hurricane Ike seen from the International Space Station earlier this week. Image: NASA/JSC.
A team of flight controllers based at a hotel near Austin remained in contact with the international space station throughout the storm, using laptop computers and a high-speed NASA communications system. The mood was somber, insiders said, because like other Houston residents who left the area before Ike roared ashore, the controllers do not yet know whether their homes survived or how much damage they might face when they return.
In the meantime, U.S. and Russian flight controllers hope to press ahead with the delayed docking of an unmanned Progress supply ship Wednesday at 2:43 p.m. The cargo craft was launched from the Baikonur Cosmodrome in Kazakhstan last Wednesday and originally was scheduled to dock Friday.
But NASA's backup control center is not as capable as the main space center facility and at NASA's request, Russian controllers delayed the Progress docking and put the craft in a parking orbit. Depending on the reliability of the backup center's communications gear, U.S. space station control may be switched to NASA's Marshall Space Flight Center in Huntsville, Ala., for the Progress docking.
But NASA operations will be severely constrained until power is restored at Johnson. The generators currently powering mission control, which supports the backup center near Austin, only have enough fuel for three to five days of around-the-clock operation and computer support needed by NASA personnel in Moscow is off line.
There is standing water on the grounds of the Johnson Space Center and rain intrusion through the roof of Building 30, where mission control is located, but the rideout team reported no major damage.
At nearby Ellington Field, where NASA bases its fleet of training jets, hangar damage was reported but most of the agency's planes were moved to El Paso before Ike came ashore.
There is no word yet on how long the space center will be closed or, more important, what impact Ike might have had on the homes of the NASA-contractor workforce. As such, it is too soon to say whether the storm will have any impact on NASA's plans to launch the shuttle Atlantis Oct. 10 on a mission to service and upgrade the Hubble Space Telescope.
NASA hopes to follow that mission by launching the shuttle Endeavour on a space station assembly mission Nov. 12. That flight must get off the ground by Nov. 25, or launch will slip into next year because of thermal issues related to the angle between the sun and the station's orbit.
Crew training and normal processing for both missions already were on tight schedules. Given the apparent damage to the Clear Lake area around the Johnson Space Center, the launch schedule may be difficult to maintain.