Spaceflight Now +





Subscribe to Spaceflight Now Plus for access to our extensive video collections!
How do I sign up?
Video archive

Phoenix update

Scientists report on the progress of the Phoenix lander exploring the northern plains of Mars during this July 31 update.

Briefing | Panorama

Expedition 18 crew

The American, Russian and Japanese crewmembers to serve aboard the space station during various stages of the Expedition 18 mission, plus spaceflight participant Richard Garriott hold this pre-flight news conference.

Play

STS-94: Rapid re-flight

Three months after their 1997 flight was cut short by a fuel cell problem, the same seven astronauts returned to space aboard shuttle Columbia to fulfill the Spacelab science mission. The STS-94 crew tells the story in this post-flight presentation.

Play

STS-124: In review

The STS-124 crew narrates highlights from its mission that delivered Japan's Kibo lab module to the station.

Full presentation
Mission film

Jason 2 launch

A ULA Delta 2 rocket launched the Jason 2 oceanography satellite from Vandenberg Air Force Base on June 20.

Full Coverage

Jason 2 preview

The joint American and European satellite project called Jason 2 will monitor global seal levels.

Mission | Science

STS-124 space shuttle mission coverage

Extensive video collection covering shuttle Discovery's mission to deliver the Japanese Kibo science lab to the station is available in the archives.

Full Coverage

Phoenix lands on Mars

The Phoenix spacecraft arrived at Mars on May 25, safely landing on the northern plains to examine the soil and water ice.

Full Coverage

STS-82: In review

The second servicing of the Hubble Space Telescope was accomplished in Feb. 1997 when the shuttle astronauts replaced a pair of instruments and other internal equipment on the observatory.

Play

Become a subscriber
More video





NewsAlert





Sign up for our NewsAlert service and have the latest news in astronomy and space e-mailed direct to your desktop.


Privacy note: your e-mail address will not be used for any other purpose.







Cassini returns pictures from Monday's flyby of Enceladus
NASA/JPL PHOTO RELEASE
Posted: August 12, 2008


Cassini is beaming back its first images from Monday's close encounter with Saturn's moon Enceladus. The spacecraft came within 30 miles of the moon during the flyby that was focused on the moon's south pole where parallel stripes or fissures dubbed "tiger stripes" line the region. That area is of particular interest because geysers of water-ice and vapor jet out of the fissures and supply material to Saturn's E-ring. Scientists hope to learn more about the fissures and whether liquid water is indeed the engine powering the geysers.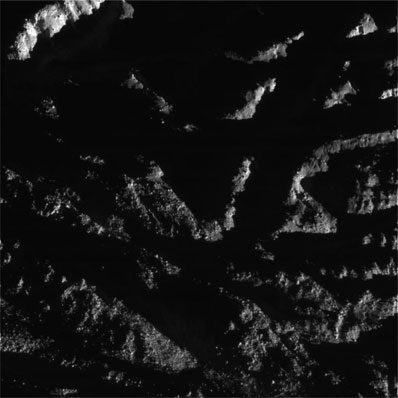 Photo No. 1: This is the first skeet-shoot image taken during Cassini's very close flyby of Enceladus on Monday. It captures a region near the Cairo Sulcus on Enceladus' south polar terrain that is littered with blocks of ice. The image was taken at a distance of approximately 800 miles. Credit: NASA/JPL/Space Science Institute
SEE LARGER IMAGE HERE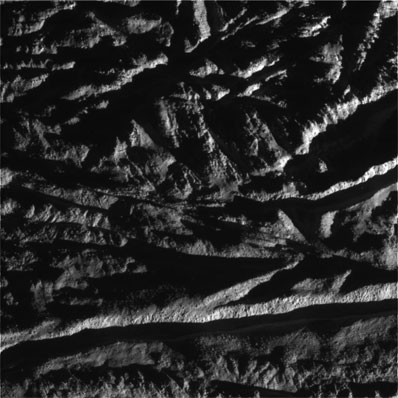 Photo No. 2: This is another image taken during Cassini's very close flyby of Enceladus on Monday. Cairo Sulcus is crossing the southern part of the image. The image was taken at a distance of approximately 974 miles. Credit: NASA/JPL/Space Science Institute
SEE LARGER IMAGE HERE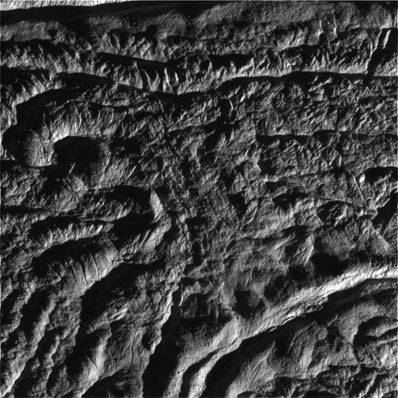 Photo No. 3: This is another image taken during Cassini's very close flyby of Enceladus on Monday. Cairo Sulcus is shown crossing the upper left portion of the image. An unnamed fracture curves around the lower right corner. The image was taken at a distance of approximately 1,629 miles. Credit: NASA/JPL/Space Science Institute
SEE LARGER IMAGE HERE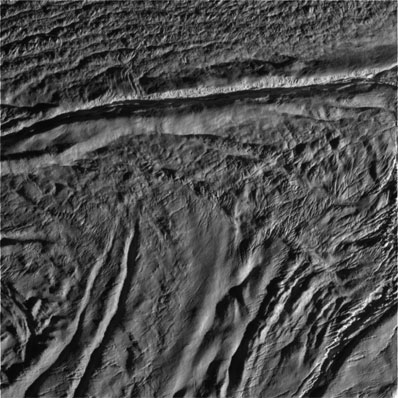 Photo No. 4: This is another image taken during Cassini's very close flyby of Enceladus on Monday. Damascus Sulcus is crossing the upper part of the image. The image was taken at a distance of approximately 2,947 miles. Credit: NASA/JPL/Space Science Institute
SEE LARGER IMAGE HERE




Additional coverage for subscribers:


VIDEO: PREVIEW OF CASSINI'S ENCELADUS FLYBY PLAY


SUBSCRIBE NOW