Radar reconnaissance spacecraft launched
BY STEPHEN CLARK
SPACEFLIGHT NOW
Posted: July 22, 2008; Updated with additional post-launch details


The capstone of a fleet of German military satellites rocketed into space from Russia early Tuesday, completing a series of five launchings of spacecraft designed to scout locations around the world.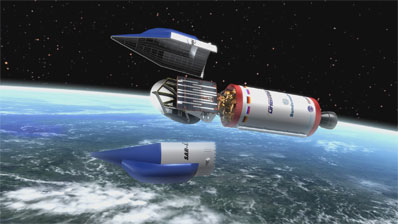 An artist's concept shows a Kosmos 3M rocket launching a SAR-Lupe spacecraft. Credit: OHB-System AG



The SAR-Lupe 5 satellite, a 1,700-pound craft outfitted with cloud-piercing and night-vision radar, launched aboard a Russian Kosmos 3M rocket at 0240 GMT Tuesday (10:40 p.m. EDT Monday), according to news reports.

The 105-foot-tall booster took off from the Plesetsk Cosmodrome, a space base in far northern Russia near the Arctic Circle.

The rocket successfully released SAR-Lupe 5 into an orbit 300 miles high about a half-hour later, according to OHB-System, the satellite's prime contractor.

German ground controllers contacted the satellite about an hour after launch, confirming the craft was in good shape after arriving in orbit.

"This is a very special day for OHB," said Manfred Fuchs, CEO of OHB-System. "With the successful launch of the fifth satellite, an important development and integration program has now come to a conclusion for our team."

Controllers will hand over command of the spacecraft to the German military in about four weeks, according to OHB-System.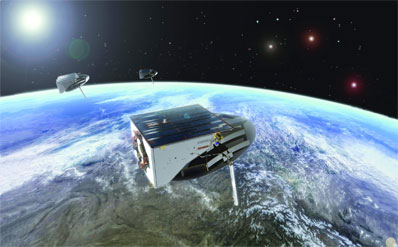 An artist's concept shows SAR-Lupe spacecraft in orbit. Credit: OHB-System AG



The spacecraft carries a large dish antenna connected to a powerful X-band radar system. The synthetic aperture radar signals can see through clouds and observe ground objects around the clock.

Optical reconnaissance satellites are hampered by weather and darkness, significantly reducing their effectiveness in spying on enemy activity.

Imagery produced by the instrument will show objects as small as three feet, according to OHB-System.

The five satellites are spread among three orbital planes to provide regular global coverage, OHB-System officials said.

SAR-Lupe launches began in December 2006. Subsequent satellites were launched in July 2007, November 2007 and March.

The German military, which took control of SAR-Lupe satellite operations in December, will use the system for the next ten years. Full scale operations of the constellation are slated to begin this fall.

"The early and unhindered access to high-resolution satellite images is making a crucial contribution to our reconnaissance activities and thus enhances our ability to assess situations, take action and make the necessary decisions," said Vice Admiral Wolfram Kuhn, deputy inspector general of the German Federal Armed Forces and inspector of the Joint Support Service.

The SAR-Lupe system is part of an international intelligence-sharing agreement between Germany and France. France will receive SAR-Lupe radar imagery and Germany will receive data from the French Helios optical and infrared reconnaissance network.

"In terms of military policy, SAR-Lupe puts Germany eye to eye with other countries with respect to satellite-based reconnaissance capabilities," Kuhn said.