Cargo ship begins flight to the space station
BY JUSTIN RAY
SPACEFLIGHT NOW
Posted: May 14, 2008


A Russian freighter packed with fresh supplies for the international space station successfully rocketed away from Earth today and immediately began plotting a two-day trek to the orbiting outpost.

The Progress M-64 spacecraft launched from the Baikonur Cosmodrome in Kazakhstan at 4:22 p.m. EDT (2022 GMT) atop a three-stage Soyuz booster.

The 24-foot long ship, known in the station's assembly matrix as Progress mission 29P, reached its preliminary orbit nine minutes after liftoff and separated from the launcher's spent upper stage.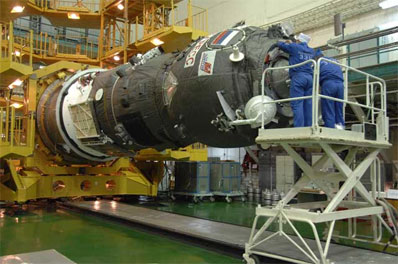 The Progress M-64 is seen here during preparations for its launch. Credit: Energia



Onboard commands extended the Progress craft's two power-generating solar arrays that span 35 feet and unfurled communications and navigation antennas.

A series of precise engine firings over the next two days will guide the Progress into the station's orbit for an automated docking around 5:36 p.m. EDT (2136 GMT) Friday. It will link up with the Earth-facing port on the Zarya control module.

The cargo craft is loaded with 4,657 pounds of supplies. The "dry" cargo amounts to 2,850 pounds in the form of spare parts, life support gear and equipment hardware.

The refueling module carries 772 pounds of propellant for transfer into the Russian segment of the complex to feed the station's maneuvering thrusters.

To replenish the station's oxygen supply, the Progress is bringing 63 pounds of oxygen and 46 pounds of air. And the vessel has 926 pounds of water.

The space station is occupied by the Expedition 17 crew of commander Sergei Volkov, flight engineer Oleg Kononenko and NASA astronaut Garrett Reisman. Volkov will be standing by Friday to manually dock the Progress if the automated system experiences a problem.

The following timeline shows the key events scheduled from launch until docking for the Progress freighter:

Day 1 events - Wednesday

Event
Mission Time
Eastern Time
LAUNCH
0/00:00:00
4:22:54 p.m.
Orbit Insertion
0/00:08:45
4:31:39 p.m.
Maneuver DV1
(18.67 m/s)
0/03:34:59
7:57:53 p.m.
Maneuver DV2
(26.12 m/s)
0/04:16:38
8:39:32 p.m.
Day 2 events -Thursday

Event
Mission Time
Eastern Time
Maneuver DV3
(2.00 m/s)
1/00:42:49
5:05:43 p.m.
Day 3 events - Friday

Event
Mission Time
Eastern Time
Start Automated
Rendezvous
1/22:54:51
3:17:45 p.m.
Station maneuver
to docking attitude
1/22:57:06
3:20:00 p.m.
DV4 / Impulse 1
(10.15 m/s)
1/23:16:42
3:39:36 p.m.
Impulse 2
(1.22 m/s)
1/23:39:57
4:02:51 p.m.
Progress Kurs-A
activation
1/23:41:06
4:04:00 p.m.
Zvezda Kurs-P
activation
1/23:43:06
4:06:00 p.m.
DV5 / Impulse 3
(9.84 m/s)
2/00:01:03
4:23:57 p.m.
Kurs-A and Kurs-P
short test
(15 km)
2/00:26:51
4:49:45 p.m.
VHF-2 activation
Range 9 km
2/00:32:31
4:55:25 p.m.
Progress TV
activation
Range 8 km
2/00:33:51
4:56:45 p.m.
Impulse 4
(6.99 m/s)
2/00:41:46
5:04:40 p.m.
Ballistic Targeting
Point
2/00:44:51
5:07:45 p.m.
Impulse 5
(5.18 m/s)
2/00:46:44
5:09:38 p.m.
Impulse 6
(2.22 m/s)
2/00:49:12
5:12:06 p.m.
Start flyaround
mode
2/00:51:09
5:14:03 p.m.
Start stationkeeping
2/01:00:09
5:23:03 p.m.
Start final approach
2/01:04:36
5:27:30 p.m.
Orbital sunset
2/01:12:31
5:35:25 p.m.
DOCKING
2/01:13:36
5:36:30 p.m.


Data source: NASA.