Old Titan launch pad gantry at Cape knocked down
BY JUSTIN RAY
SPACEFLIGHT NOW
Posted: April 27, 2008


The landscape of Cape Canaveral is changing, a fact illustrated Sunday when a Titan-era gantry was blasted to the ground to clear the historic Air Force launch pad for new commercial rockets.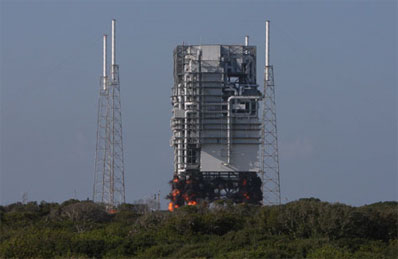 Credit: Chris Miller/Spaceflight Now
SEE MORE IMAGES HERE



With Brig. Gen. Susan Helms, a former astronaut and now commander of the 45th Space Wing at the spaceport, calling a ceremonial countdown, 200 pounds of explosives detonated at 9 a.m. to topple the Complex 40 mobile service tower.

The massive structure was built in the early 1990s to support the Air Force's Titan 4 rocket program. Weighing nearly 6,500 tons and outfitted with a satellite processing area boasting a cleanliness to rival an operating room, the gantry supported 17 flights of the big booster that deployed sophisticated surveillance and communications spacecraft for the U.S. government and NASA's Cassini space probe to Saturn.

"In its day, it was the largest rocket that launched the largest payloads," said Kevin Hooper, 45th Civil Engineering Squadron project manager for the pad demolition. "The most elaborate and expensive payloads were launched on the Titan 4 rocket by the Air Force."

The final Titan 4 flew from the Cape three years ago this week, a forced retirement of the heavy-lift rocket in favor of modernized Atlas 5 and Delta 4 vehicles.

"I worked for Lockheed Martin on the Titan program and I sat underneath that MST and worked on it many times. But we need to make way for future programs and the next generation of rockets, which will be more efficient and less expensive," Hooper said.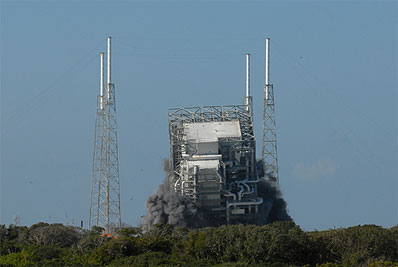 Credit: Ben Cooper/Spaceflight Now
SEE MORE IMAGES HERE



Crews have safed the Complex 40 pad, originally opened more than 40 years ago in the early Titan history, and bringing down the service tower on Sunday was one of the last steps in clearing out the now-obsolete hardware before a new tenant moves in.

Space Exploration Technologies, a company founded by Elon Musk, plans to transform the complex into the East Coast home of its Falcon 9 family of rockets now under development. Those boosters are designed to be assembled horizontally and rolled to the pad shortly before launch, making a mobile service tower no longer necessary at Complex 40.

"We are removing it so it doesn't become a danger. We don't have the funds to maintain it and it's not needed," Hooper said.

Several other old towers at the Cape have been knocked down in similar fashion over the past several years, including those at Complexes 13, 36 and 41.

"It is the safest way," Hooper said. "These structures can be dismantled, but it's much more time consuming and it's relatively dangerous to have men close to structures as you're bringing them down."

Explosives strategically placed in nearly 500 locations in the lower portion of the Complex 40 tower cut away the supports and the 265-foot-tall gantry, once called the largest moving structure in the world, came smashing down.

"It actually fell short of where we thought," Hooper said from the pad after the toppling. "It appears that it fell down, then fell over...it collapsed more."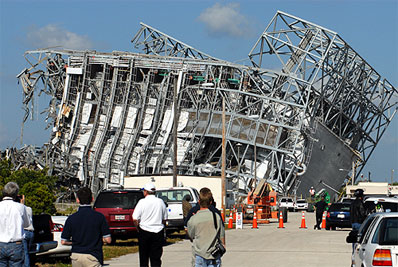 Credit: Ben Cooper/Spaceflight Now
SEE MORE IMAGES HERE



Now begins the process of chopping it up and hauling away the pieces.

"It's still a big structure laying on the ground. So they'll have to figure out now that they see it on the ground exactly the safest and most economical way ...Eventually every piece of that will be cut up into a four-foot section because you get greater salvage value if you size-reduce it," Hooper said.

"There's approximately 13 million pounds of steel that will be recycled, and that recycle value will be used to pay for the demolition efforts. So the project is self-funding. No taxpayer dollars will be used to remove this mobile service tower, and we'll actually get some credits which we can use to restore the area and to demolish some other facilities from the Titan program."

Recently, the assembly building where the Titan first and second stages were stacked was removed from the Cape skyline.

"That facility was originally planned to be explosively imploded. But due to the proximity of other processing facilities and the potential disruption to launch operations for the explosive mounting portion of it, it was decided that it would be deconstructed, which took approximately 5-6 months," Hooper said. "It was demolished in sections with men in baskets torching sections and it was brought down in pieces. That was an impressive event, it went on for months and months and no one was injured."

A newer building where the solid rocket boosters for the Titan 4B vehicle were assembled, called the SMARF, had been slated for demolition too. But Hooper said the facility, which remains in good condition and has a substantial hurricane rating, will be spared and turned over to the Atlas 5 program.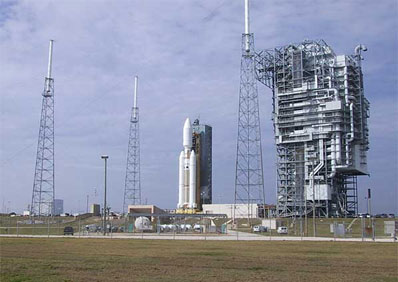 A file image of the Complex 40 mobile service tower rolling away from a Titan 4 rocket in 2004. Credit: Justin Ray/Spaceflight Now
SEE MORE IMAGES HERE



SpaceX began working at Complex 40 last October, removing the umbilical tower, propellant systems and other equipment not usable for Falcon. But other key parts of the pad will remain.

"Lots of important infrastructure is being utilized," said Tim Buzza, SpaceX's vice president of launch.

He noted the pad's the concrete deck and flame duct, the water deluge system, the site's electrical system, the lightning towers and the instrumentation bay beneath the pad will be reused, and the "Ready Building" at the complex's entrance has been refurbished for SpaceX office space.

Work still to be accomplished includes construction of the major propellant ground support areas:
Twin 28,000 gallon tanks to hold the highly refined RP-1 kerosene fuel
The liquid oxygen farm with a single 125,000 gallon sphere
Gaseous nitrogen and helium storage
And a rocket assembly hangar will be built at the site.
"Design is nearly complete, the building has been ordered and the foundation construction will start in June," Buzza said. "It is 75 feet wide by 225 feet long and 50 feet tall. It can handle a single Falcon 9 or Falcon 9 Heavy."
The first rocket is expected to arrive at the Cape by year's end.
"We process horizontally in the hangar and roll out and go vertical on a transporter erector," Buzza explained. "Our goal is to be able to roll out, erect and launch within an hour. We won't achieve this on the first few launches as we will take extra time to make sure everything is just right, but as we stabilize the design and work out the bugs we will work towards that goal."
The Falcon 9 will be powered by nine Merlin engines to generate nearly a million pounds of thrust. An on-pad engine test firing is planned for the first vehicle.


An artist's concept of the Falcon 9 rocket. Credit: SpaceX



Besides launching satellites, the future of Falcon 9 also includes NASA's commercial transportation plans to reach the international space station after the space shuttles are retired in 2010.

"There is going to be a need to resupply the space station on an ongoing basis. SpaceX is going to be one of the centerpieces of what will be used to resupply the space station," NASA spokesman George Diller said.

"In addition, we are going to be launching unmanned spacecraft for space science and planetary probes as far out as we can see. And SpaceX is going to be using Falcon to compete for some of those payloads that we are going to be launching."

So despite the service tower's destruction on Sunday, the historic Complex 40 will live on.

"The role of the pad is changing," Diller said. "Complex 40 will still have a very important role as far as NASA is concerned because a new family of rockets is coming on board."

"It is one of only a few heavy-lift pads at the Cape," Buzza said. "SpaceX is very fortunate to have been granted use of Complex 40. We will put it to good use."