Kosmos 3M rocket launches German imaging spacecraft
BY STEPHEN CLARK
SPACEFLIGHT NOW
Posted: July 3, 2007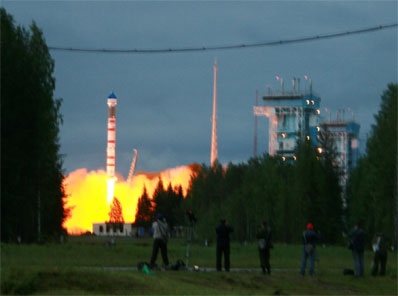 A Kosmos 3M rocket launches SAR-Lupe 2. Credit: OHB-System AG



A German radar reconnaissance satellite vaulted into space from a Russian launch site Monday, beginning a mission to collect high-resolution imagery of nearly every location on Earth for up to ten years.

The craft is the second member of a five-satellite fleet of military spy satellites under development by Germany. A large X-band radar dish antenna on each satellite can gather precise images through clouds and darkness.

The constellation uses synthetic aperture radar technology, which sends radio beams toward the ground. The pulses are reflected back into space from Earth's surface, and a receiver on the satellite collects the data.

Specialists on the ground can turn the data into detailed images for use by the German Defense Ministry. Officials project the satellite's images will allow analysts to see objects smaller than one meter, or about three feet.

SAR-Lupe 2 was launched aboard a Kosmos 3M rocket at 1938:41 GMT (3:38:41 p.m. EDT) from the Plesetsk Cosmodrome in northern Russia. After about a half-hour of powered flight, the rocket left the 1,700-pound spacecraft in a Sun-synchronous orbit at an altitude of about 300 miles.

The blastoff was postponed 24 hours from Sunday due to unfavorable upper level winds, project officials said in a statement.

Plans call for the spacecraft to deploy its radar antenna in a couple of days, and the German military will take control of the satellite in a few weeks to begin imaging operations.

The satellite was built by lead contractor OHB-System, a company based in Bremen, Germany. A group of European aerospace companies manufactured the craft's radar system.

The SAR-Lupe fleet's first satellite was launched in December and remains healthy, according to OHB-System.

Three additional satellites for the system will be launched in four-month intervals over the next year. Officials expect the constellation to be at full strength by the end of next year.

The SAR-Lupe program is part of a joint agreement between Germany and France to share data from each nation's spy satellite system.