Spaceflight Now +





Subscribe to Spaceflight Now Plus for access to our extensive video collections!
How do I sign up?
Video archive

Flight of Gemini 3

The first manned flight of Project Gemini launched on March 23, 1965 with pioneering astronauts Gus Grissom and John Young. Take a look back!

Play

Apollo 9: Spider flies

Apollo 9 put the lunar landing module Spider through the stresses of spaceflight while orbiting Earth. This documentary looks back with astronauts Jim McDivitt, Dave Scott, and Rusty Schweickart.

Play

Expedition 15 coverage
The Russian Soyuz spacecraft with Expedition 15 cosmonauts Fyodor Yurchikhin and Oleg Kotov, along with tourist Charles Simonyi, fly to the space station.

Full coverage

STS-61: Fixing Hubble

One of the most daunting yet crucial human spaceflights occurred in December 1993 as the crew of shuttle Endeavour embarked on a mission to repair the Hubble Space Telescope.

Play

STS-51: Crew report

Narrating a highlights film from their STS-51 mission, the astronauts from Discovery's September 1993 flight describe launching an advanced communications satellite and a German telescope.

Play

The Flight of Apollo 7

This documentary looks back at Apollo 7, the first manned flight of the Apollo program. Apollo 7 was designated as the essential engineering test of the spacecraft before the ambitious lunar missions could be attempted.

Play

Become a subscriber
More video







DMSP Flight 18 satellite completes vacuum test
AIR FORCE NEWS RELEASE
Posted: April 18, 2007


LOS ANGELES AIR FORCE BASE, El Segundo, Calif. -- The next DMSP satellite F-18, scheduled for launch in April, 2008, has successfully passed a significant milestone this month when it completed a 10-day system level thermal vacuum test. This is the second DMSP satellite to be processed at the Lockheed Sunnyvale facility.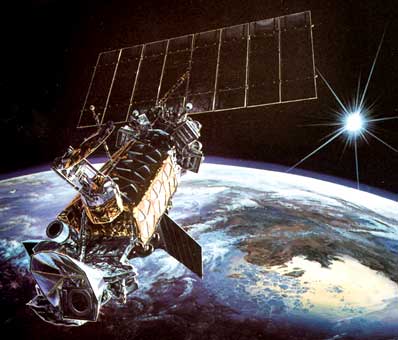 An artist's concept of a DMSP weather satellite in space. Credit: Lockheed Martin



Satellite level electrical performance was verified in near vacuum conditions and at predicted on-orbit temperature extremes. Hardware and software functionality was checked using "test as you fly" profiles that simulate launch and orbital operation.

No significant anomalies were observed and all test objectives were met.

The satellite was brought back to the ambient environment on April 10. "Processing will continue with acoustic testing in June," said Colonel Bradley Smith, Commander of the Defense Meteorological Systems Group.

"The DMSP team showed remarkable flexibility in preparing for thermal vacuum while simultaneously supporting the successful launch and early orbit checkout of F-17 last November. We're very pleased with the performance of F-18 in environmental testing to date."

DMSP F-18 will complete environmental testing in the summer and will be shipped to a Vandenberg Air Force Base launch processing facility in October. Launch will be on an Atlas V EELV in early April '08 to replace flight F-16, a DMSP satellite launched in 2003.

The Space and Missile Systems Center, located at Los Angeles Air Force Base, Calif., is the U.S. Air Force's center of acquisition excellence for acquiring and developing military space systems including six wings and three groups responsible for GPS, military satellite communications, defense meteorological satellites, space launch and range systems, satellite control network, space based infrared systems, intercontinental ballistic missile systems and space situational awareness capabilities. SMC manages more than $60 billion in contracts, executes annual budgets of $10 billion and employs more than 6,800 people worldwide.

In this year of the Air Force's 60th Anniversary, SMC teamed with launch partners from the Air Force, the Aerospace Corporation, and Industry to successfully complete its 50th launch.