Robotic satellite servicer rehearsal underway in orbit
BY STEPHEN CLARK
SPACEFLIGHT NOW
Posted: April 3, 2007


The concept of dispatching low-cost spacecraft to repair and refuel more expensive troubled satellites took a step closer to reality Sunday when two first-of-a-kind orbiting testbeds began operations to validate autonomous in-space servicing techniques.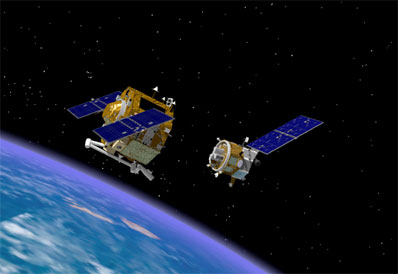 An artist's concept shows the Orbital Express satellites flying above Earth. Credit: Boeing



The two craft are part of the U.S. government's $300 million Orbital Express program, which is sponsored by the Defense Advanced Research Projects Agency, the Pentagon's primary research and development arm.

The Autonomous Space Transfer and Robotic Orbiter, or ASTRO, spacecraft serves as the active component in the mission, while the smaller NextSat plays both the role of a supply depot and of a client satellite to be serviced.

Officials tout the many firsts Orbital Express is expected to achieve in areas such as satellite servicing, autonomous robotics and on-orbit refueling using U.S. technology.

"The point of Orbital Express is to take the technical excuse off the table for autonomous on-orbit servicing," said U.S. Air Force Lt. Col. Fred Kennedy, DARPA's program manager for Orbital Express.

ASTRO and NextSat, built by Boeing Phantom Works and Ball Aerospace and Technologies Corp., respectively, have been berthed together since their March 8 launch from Cape Canaveral. Orbiting some 300 miles above Earth, the satellites will soon begin an ambitious series of experiments, including multiple rendezvous scenarios, captures and transfers using a robotic arm.

"The coolness factor is really, really great on this program," Paul Geery, Boeing's Orbital Express program manager, said in a pre-launch interview.

But engineers first scheduled a sequence of tests for the two craft while they remained mated. Called Scenario 0, the first experiment series will include several fluid transfers and robotic arm demonstrations.

On Sunday, full-scale operations began for Orbital Express as hydrazine fuel was pumped from ASTRO's propellant tanks into NextSat, according to Jan Walker, a DARPA spokesperson.

The active fuel coupler aboard ASTRO was mated to its counterpart on NextSat, and the on-board transfer system conducted leak checks and started the fuel pump.

ASTRO carries about 300 pounds of propellant to be used in the refueling tests and during rendezvous operations later in the mission.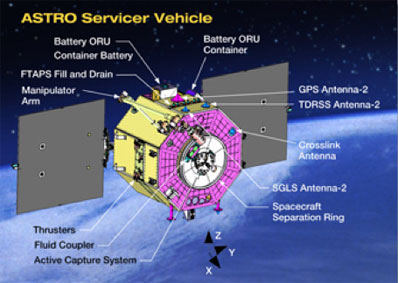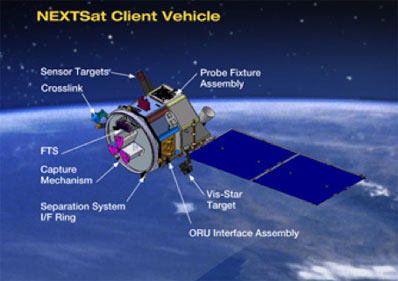 Credit: Boeing



Scenario 0 operations will continue for about 20 more days if all goes according to plan. The Orbital Express stack will execute 11 separate experiments, including nine fuel transfers between the satellites and two uses of the ten-foot-long robotic arm to move objects to NextSat.

Subsequent fuel transfers will be attempted at different flow rates and using both pump-fed and pressure-fed methods.

A battery and a secondary sensor processing computer are attached to ASTRO, and the craft will use its robot arm to grapple and move each of the objects during the mission. The spares are called Orbital Replacement Units, or ORU's.

Walker said the first experimental use of the arm will come Friday, when it will snatch the spare battery from ASTRO and plug it into NextSat.

The arm will transfer the battery to and from NextSat several times during the mission, but the battery will remain onboard NextSat to provide extra power during unmated operations.

The computer was added to the mission late in the design process and will simply be moved off ASTRO and put back to test the computer's interfaces, Geery said.

Early snag cleared
Sunday's important milestone came later than originally planned due to problems last month with ASTRO's attitude control system. The satellite's pitch momentum wheel was installed differently than the craft's software expected, according to Walker.

"This meant that when ASTRO's software commanded the pitch wheel to move and point the spacecraft in a particular direction, the wheel's commanded motion was opposite that which was intended by the software command," Walker said.

NextSat was able to keep both satellites' solar panels pointed toward the Sun for several days to charge their batteries until engineers could devise and upload a software patch. New software to compensate for the misaligned momentum wheel was uplinked to ASTRO on March 23, and the problem is now solved, Walker said.

After fixing the problem, controllers commanded ASTRO to begin flexing its robot arm, which was manufactured by the builder of the space shuttle and space station arms, Canada's MacDonald, Dettwiler and Associates. The arm, fitted with shoulder, elbow and wrist joints, completed a comprehensive survey of the two spacecraft last Wednesday, and cameras on the arm snapped more than 1,600 images during the nearly 45-minute-long test.

Controllers stitched the images together into a time lapse video of the arm's movements. The movie can be seen here.

Mission aims to crawl-walk-run
The 156-pound arm will grapple the nearly 500-pound NextSat spacecraft and move it away from ASTRO during Scenario 1, which could begin in late April and will last about 11 days. During those tests, NextSat will be unberthed so the mating ring holding the two craft together can be jettisoned.

ASTRO will then recapture NextSat for more refueling tests and robotic transfers of the spare ORU's. Captures can be performed by docking or by using ASTRO's robot arm to grapple NextSat and bring it in for a soft berthing.

Then, engineers plan a series of incremental steps that will back ASTRO away from NextSat to increasingly large distances over a three-week period during Scenarios 2 through 5.

"We sort of do a crawl-walk-run," Kennedy said. "We walk out to 10 meters, then 20, then 60, and then we do circumnavigations."

"Then we finally start getting really racy and go all the way out to seven kilometers, come back in, and meet up with NextSat," Kennedy said.

Scenarios 6 through 8 will take ASTRO up to 4.3 miles, or seven kilometers, from NextSat for a long-range rendezvous demonstration. When mated together again, ASTRO will once more transfer fuel and spare parts to and from NextSat.

"In that last scenario, it's like if you go out to your car, push a button, and the car autonomously drives to the service station, the fuel tank autonomously comes in and refuels you, and then (the car) autonomously takes you back to your garage," Geery said.

An illustration of the mission timeline is posted here

Although the plan is to allow ASTRO to fly itself back to NextSat, the autonomous software governing the rendezvous tests gives ground controllers an opportunity to abort the demonstration if something goes wrong.

"It's good to be able to intervene," Kennedy said. "If the autonomous systems onboard our ASTRO servicer don't quite get it right, that we can intervene and stop the situation."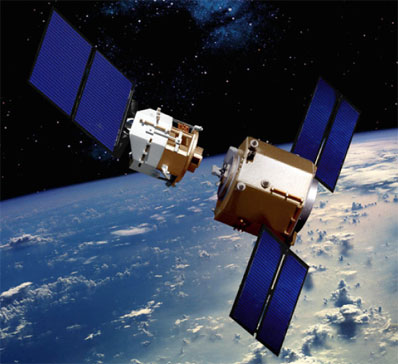 An artist's concept shows NextSat on the left and ASTRO on the right. Credit: Boeing



The software is designed to prevent problems like those that doomed NASA's DART mission in 2005. DART was supposed to automatically rendezvous with another satellite in space just hours after launch with no input from the ground to demonstrate cutting edge space guidance technologies.

But the futuristic craft experienced problems and used up its fuel supply faster than expected as it approached the target satellite, ultimately bumping into the other craft.

"DART didn't design its mission to crawl-walk-run. They went straight for the home run," Geery said.

"They designed their trajectory very aggressively. We've designed our trajectory to be slow, to make sure that there are a lot of points in the process that we can stop and make sure everything is going okay."

The Orbital Express mission is slated to last three months, but the spacecraft are designed to operate for at least one year. If the planned demonstrations are completed on time, Orbital Express will take part in up to four additional tests with the Air Force Space Command, according to Boeing.

Technologies and capabilities demonstrated by Orbital Express could find their way into upcoming commercial, civil and military operational programs, but the future of in-space servicing is in the hands of satellite operators, officials said.

"Technically, there is nothing keeping us from being able to implement (this)," Geery said. "It is more a matter of money and desire."

Communications satellites orbiting in a belt 22,300 miles above the Equator provide a strong case for using orbital servicing technology, Geery said.

"You can hop from one to another in the belt fairly easily," he said. "We've done some business case analysis and it looks like it would pay for itself that way."

Kennedy said the same logic also applies to spacecraft components. Operators could plan on replacing a battery or computer - both common factors limiting satellite lifetimes - at regular intervals to keep their satellite in service or upgrade systems if they are becoming obsolete.

Another key use of satellite servicing programs could be found in military satellites. The military could maneuver their craft over crisis areas without worrying about propellant usage because refueling spacecraft could be launched, Kennedy said.

Satellites placed in the wrong orbit due to a launch problem could also benefit from orbital refueling craft. The propellant reserve expended by a wayward satellite to overcome a low orbit would be replenished by a servicer, allowing the spacecraft to fulfill its mission and not be written off as a total loss.

An operational version of Orbital Express would likely include a network of satellites in orbit.

"We came up with some architectural concepts as part of the program to try and kick-start a second-generation program," Geery said. "You'd put some gas tanks up there, a servicer, maybe even a depot for storing batteries."

Kennedy said in-orbit servicing and refueling could revolutionize the satellite industry.

"We'd like to let mission designers have the opportunity to look at a different way, maybe a better way, of how we do space."

But the prospects for programs like Orbital Express heavily depend on the decisions of satellite owners, who would have to adopt mating adapters to accept visiting servicing satellites.

"Are (they) going to use it? I think the jury's still out," Kennedy said. "We'll see."