Spaceflight Now +





Premium video content for our Spaceflight Now Plus subscribers.

STS-54: TDRS and toys
Space shuttle Endeavour lofted another Tracking and Data Relay Satellite into orbit for NASA during a January 1993 mission. An Inertial Upper Stage boosted the craft toward geosynchronous orbit. Other highlights from STS-54 included a mobility-testing spacewalk and an educational project to demonstrate the physics behind toys in space. The crew narrates this post-flight film.

Play

STS-52: Lofting LAGEOS
The Laser Geodynamics Satellite (LAGEOS), a small ball-shaped spacecraft designed to help earthquake research by monitoring the movements of the Earth's crustal plates, was launched from space shuttle Columbia in October 1992. The crew of STS-52 narrate the highlights of the mission, which included Canadian and microgravity experiments.

Play

Expedition 15 briefing
In advance of launching the Expedition 15 mission to the International Space Station, NASA officials preview the flight's objectives and challenges in this news briefing held March 27 at Johnson Space Center.

Play

Expedition 14 recap
As the International Space Station's Expedition 14 winds down, officials managing the flight from Mission Control in Houston hold this retrospective briefing to talk about the mission.

Play

STS-47: Spacelab Japan
The 50th flight of the space shuttle took place in September 1992. Endeavour's mission featured the Spacelab-J research module for Japan, as well as the first black female astronaut and the first married couple to fly together in space. The crew narrates the highlights in their post-flight film.

Play

STS-46: Unreeling the tethered satellite
Shuttle Atlantis' summer 1992 flight provided the chance to test a revolutionary payload -- the Tethered Satellite System. A snag in the tether prevented a small satellite from reeling miles away from the shuttle as planned, the partial deployment showed power generation using the shoelace-size tether could work. The STS-46 mission also released the European Retrievable Carrier spacecraft to begin a year-long stay in orbit. The astronauts narrate highlights from the flight in this movie.

Play

Become a subscriber
More video







Orbiter images suggest possible caves on Mars
NORTHERN ARIZONA UNIVERSITY NEWS RELEASE
Posted: April 2, 2007


Northern Arizona University researchers Glen Cushing and Jut Wynne, working at the U.S. Geological Survey, propose that photos from the Mars Odyssey mission reveal football-field size holes that could be entrances to caves.

"If there is life on Mars, there is a good chance you'd find it in caves," said Wynne, an NAU graduate student in biological sciences and project leader for the USGS Earth-Mars Cave Detection Program.

He said the possible discovery could lead to more focused Mars explorations.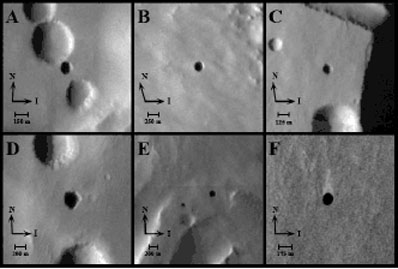 Researchers propose these images of seven black spots near a massive Martian volcano may actually be caves rather than impact craters. The images were taken from the Thermal Emission Imaging System aboard NASA's Mars Odyssey orbiter.



Martian caves are considered the "best potential havens for life" because they would be protected from surface radiation and other factors, he said.

"The Martian surface is an extremely harsh environment, so the significance of caves is in their protective nature," said Cushing, a graduate teaching assistant in NAU's Department of Physics and Astronomy, who was the first to spot the black areas on the photographs. "Caves on Mars could become habitats for future explorers, or could be the only structures that preserve evidence of past or present microbial life."

Cushing and Wynne, along with Tim Titus, an astrophysicist with USGS, and Phil Christensen, the chief scientist for the NASA imaging instrument and a researcher from Arizona State University, recently submitted their findings in a research paper at the 38th Lunar and Planetary Science Conference.

"We're suggesting that the seven black spots are skylights to areas where the surface may have collapsed into a chamber below," Wynne said. "Preserved evidence of past life on Mars might only be found in caves, and such discovery would be of unparalleled significance."

The claim for caves is based on an analysis of photographs from the Thermal Emission Imaging System aboard NASA's Mars Odyssey orbiter, which revealed seven black spots near a massive Martian volcano, Arsia Mons. Although this area of Mars is known for geological occurrences, the researchers said the dark spots do not look like impact craters because they don't have raised rims or blast patterns.

"This is a very interesting discovery with positive implications," said Nadine Barlow, an associate professor in physics and astronomy at NAU and expert on Martian impact craters. "Caves on Mars could be good places for long-term ice accumulation and that would make them ideal locations to look for life on Mars as well as valuable reservoirs for water to support future human exploration of the planet."

The Earth-Mars Cave Detection Program's overall objective is to develop techniques for systemically detecting caves on Earth in the thermal infrared and then applying these techniques to searching for caves on Mars, Wynne explained.

The team reported possible caverns ranging from 330 to 825 feet wide and 425 feet deep They've been named after loved ones of the researchers: Dena, Chloe, Wendy, Annie, Abbey, Nikki and Jeanne.

Christensen said the first avenue for further observations could be provided by NASA's latest Red Planet probe, the Mars Reconnaissance Orbiter.

"The spacecraft's high-resolution camera could take a closer look at the seven sisters‹including sidelong glances that might show whether the features open up into wider chambers beneath," Christensen said.