Spaceflight Now +





Premium video content for our Spaceflight Now Plus subscribers.

MRO early images
Some of the initial pictures and data from NASA's Mars Reconnaissance Orbiter since the craft entered its mapping orbit around the Red Planet are presented in this news briefing held October 16 from the Jet Propulsion Laboratory.

PLAY

Soyuz moves ports
The three-man Expedition 14 crew of the International Space Station complete a short trip, flying their Soyuz capsule to another docking port in preparation for receiving a resupply ship.

Undock | Re-dock

STS-39: Military maneuvers
Space shuttle Discovery's STS-39 flight, launched in April 1991, served as a research mission for the U.S. Department of Defense. An instrument-laden spacecraft for the Strategic Defense Initiative Organization was released to watch Discovery perform countless rocket firings and maneuvers, as well as canisters releasing clouds of gas. The crew tells the story of the mission in this post-flight film presentation.

Small | Large

STS-37: Spacewalkers help Gamma Ray Observatory
Seeking to study explosive forces across the universe, the Gamma Ray Observatory was launched aboard shuttle Atlantis in April 1991. But when the craft's communications antenna failed to unfold, spacewalking astronauts ventured outside the shuttle to save the day. The rescue EVA was followed by a planned spacewalk to test new equipment and techniques. The crew of STS-37 narrate this post-flight mission film.

Small | Large

Mars rover seen by orbiter
Dazzling images from Mars are revealed by scientists. The robotic rover Opportunity has reached the massive Victoria crater with its steep cliffs and layers of rock exposing the planet's geologic history. Meanwhile, the new Mars Reconnaissance Orbiter has photographed the rover and its surroundings from high above.

PLAY

Hubble discovery
n this news conference from NASA Headquarters, scientists announce the Hubble Space Telescope's discovery of 16 extrasolar planet candidates orbiting a variety of distant stars in the central region of our Milky Way galaxy. Five of the newly found planets represent a new extreme type of planet not found in any nearby searches.

Small | Large

Become a subscriber
More video







Cargo ship ready for flight to International Space Station
BY JUSTIN RAY
SPACEFLIGHT NOW
Posted: October 21, 2006


A freighter packed with fresh supplies bound for the International Space Station will rocket away from Earth on Monday and begin plotting a three-day trek to the orbiting outpost.

Liftoff of the Russian Progress M-58 spacecraft aboard a three-stage Soyuz booster from the Baikonur Cosmodrome in Kazakhstan is scheduled for 9:41 a.m. EDT (1341 GMT).

A train hauled the rocket from the assembly building to the launch pad Saturday morning. The Soyuz was erected and then enclosed within the servicing gantry for final testing.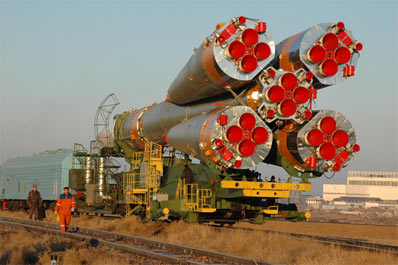 The Soyuz rocket with Progress M-58 was rolled to the launch pad Saturday. Credit: Energia



The 24-foot long supply ship, known in the station's assembly matrix as Progress mission 23P, should reach its preliminary orbit nine minutes after liftoff and separate from the launcher's spent upper stage.

Onboard commands will extend the Progress craft's two power-generating solar arrays that span 35 feet and unfurl communications and navigation antennas.

A series of precise engine firings over the next three days will guide the Progress into the station's orbit for the automated docking at 10:28 a.m. EDT (1428 GMT) Thursday. It will link up with the preferred Progress parking spot at the station -- the Zvezda service module's aft port.

The cargo craft is carrying 4,812 pounds of supplies. The "dry" cargo amounts to 2,784 pounds in the form of spare parts, repair gear, life support and equipment hardware. The payload includes new spare parts for the Russian Elektron oxygen-generation system, which has been shut down since last month.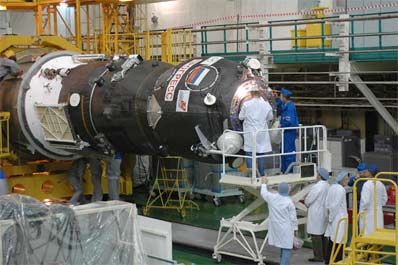 Specialists prepare the Progress M-58 for its launch. Credit: Energia



The refueling module carries 1,918 pounds of propellant for transfer into the Russian segment of the station to feed the outpost's maneuvering thrusters.

To replenish the station's oxygen supply, the Progress is bringing 110 pounds of oxygen.

The International Space Station is occupied by the Expedition 14 crew of commander Mike Lopez-Alegria and flight engineers Mikhail Tyurin and Thomas Reiter. Lopez-Alegria and Tyurin are beginning their second month on the complex, while Reiter has been there since July.

The following timeline shows the key events scheduled from launch until docking for the Progress freighter:

Day 1 events - Monday

Event
Mission Time
Eastern Time
GMT
LAUNCH
0/00:00:00
9:40:34 a.m.
1340:34
Orbit Insertion
0/00:08:45
9:49:19 a.m.
1349:19
Maneuver DV1
(11.60 m/s)
0/03:35:08
1:15:42 p.m.
1715:42
Maneuver DV2
(3.83 m/s)
0/04:14:31
1:55:05 p.m.
1755:05
Day 3 events -Wednesday

Event
Mission Time
Eastern Time
GMT
Maneuver DV3
(2.00 m/s)
1/00:13:25
10:14:35 a.m.
1414:35
Day 4 events - Thursday

Event
Mission Time
Eastern Time
GMT
Start Automated
Rendezvous
2/22:30:37
8:11:11 a.m.
1211:11
Station maneuver
to docking attitude
2/22:41:26
8:22:00 a.m.
1222:00
DV4 / Impulse 1
(19.250 m/s)
2/22:50:56
8:31:30 a.m.
1231:30
Impulse 2
(1.136 m/s)
2/23:13:25
8:53:59 a.m.
1253:59
Progress Kurs-A
activation
2/23:15:06
8:55:40 a.m.
1255:40
Zvezda Kurs-P
activation
2/23:17:06
8:57:40 a.m.
1257:40
DV5 / Impulse 3
(30.626 m/s)
2/23:36:22
9:16:56 a.m.
1316:56
Kurs-A and Kurs-P
short test
(15 km)
3/00:04:37
9:45:11 a.m.
1345:11
VHF-2 activation
Range 9 km
3/00:09:57
9:50:31 a.m.
1350:31
Progress TV
activation
Range 8 km
3/00:11:17
9:51:51 a.m.
1351:51
Impulse 4
(7.211 m/s)
3/00:18:10
9:58:44 a.m.
1358:44
Ballistic Targeting
Point
3/00:20:37
10:01:11 a.m.
1401:11
Impulse 5
(5.280 m/s)
3/00:23:17
10:03:51 a.m.
1403:51
Impulse 6
(2.368 m/s)
3/00:25:56
10:06:30 a.m.
1406:30
Start flyaround
mode
3/00:27:59
10:08:33 a.m.
1408:33
Start stationkeeping
3/00:36:59
10:17:33 a.m.
1417:33
Start final approach
3/00:38:26
10:19:00 a.m.
1419:00
DOCKING
3/00:47:26
10:28:00 a.m.
1428:00
Orbital sunset
3/00:55:46
10:36:20 a.m.
1436:20


Data source: NASA.