Spaceflight Now +





Premium video content for our Spaceflight Now Plus subscribers.

STS-61A: German Spacelab
Eight astronauts, the largest crew in history, spent a week in space during the fall of 1985 aboard shuttle Challenger for mission STS-61A, the first flight dedicated to the German Spacelab. The crew worked in the Spacelab D-1 laboratory conducting a range of experiments, including a quick-moving sled that traveled along tracks in the module. A small satellite was ejected from a canister in the payload bay as well. The astronauts narrate the highlights of the mission in this post-flight film.

Small | Medium | Large

Discovery moves to VAB
Perched atop a trailer-like transporter, space shuttle Discovery was moved May 12 from its hangar to the 52-story Vehicle Assembly Building for mating to its external fuel tank and twin solid rocket boosters in preparation for the STS-121 mission.

Full coverage

Astronaut Hall of Fame 2006 induction
The U.S. Astronaut Hall of Fame inducted its 2006 class of shuttle commanders Henry Hartsfield, Brewster Shaw and Charles Bolden. The ceremony was held inside the Saturn 5 museum at Kennedy Space Center.

Full coverage

STEREO arrival
NASA's twin Solar Terrestrial Relations Observatory satellites (STEREO) arrive via truck at the Astrotech processing facility outside Kennedy Space Center for final pre-launch testing and preparations. They will be launched this summer aboard a Boeing Delta 2 rocket to provide the first 3-D "stereo" views of the sun and solar wind.

Arriving | Unpacking

Become a subscriber
More video







Lunar Reconnaissance Orbiter launch approved
NASA NEWS RELEASE
Posted: May 18, 2006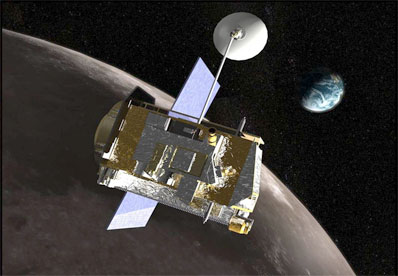 An artist's rendering of LRO. Credit: NASA



After successful completion of its mission confirmation review on Wednesday, May 17, NASA's Lunar Reconnaissance Orbiter project has been given the authority to proceed to the implementation phase.

The confirmation review represents NASA's formal decision for authorizing additional work and sets the project's cost estimate. The mission was deemed to be within budget and on schedule to launch in October 2008.

After a 30-year hiatus, the orbiter represents NASA's first step towards returning humans to the moon. The spacecraft will spend an unprecedented year mapping the moon from an average altitude of approximately 30 miles. It will carry six instruments and one technology demonstration to conduct investigations specifically targeted at preparing for future human exploration.

The orbiter is being built at NASA's Goddard Space Flight Center in Greenbelt, Md. The instruments are being provided by various organizations throughout the U.S. and one in Russia. The instruments will generate a global map of the moon; to determine which potential landing sites are free from hazards; to measure light and temperature patterns at the moon's poles; to search for potential resources, such as water; and to assess the deep-space radiation environment and its potential effects on humans.

The next spacecraft milestone is the critical design review, scheduled for later this year. This review represents the completion of detailed system designs and marks the transition into the manufacturing, assembly, and integration phase of the mission development cycle.