Spaceflight Now +





Premium video content for our Spaceflight Now Plus subscribers.

STS-1 anniversary event
This 25th anniversary celebration of the first space shuttle launch took place April 12 at Space Center Houston. Speakers included Johnson Space Center Director Mike Coats, NASA Administrator Mike Griffin, Congressman Tom DeLay, Senator Kay Bailey Hutchison, STS-1 commander John Young and pilot Bob Crippen.

Dial-up: Part 1 | Part 2
Broadband: Part 1 | 2

New lunar mission
During this NASA news conference on April 10, agency officials unveil the Lunar Crater Observation and Sensing Satellite, or LCROSS, that will launch piggyback with the Lunar Reconnaissance Orbiter spacecraft in October 2008. LCROSS will use the launch vehicle's spent upper stage to crash into the moon's south pole in an explosive search for water.

Dial-up | Broadband

LCROSS mission plan
Daniel Andrews, the LCROSS project manager from NASA's Ames Research Center, narrates this animation depicting the mission from launch through impact on the lunar surface.

Play video

STS-1 crew looks back
In this highly entertaining program, commander John Young and pilot Bob Crippen of the first space shuttle crew tell stories and memories from STS-1. The two respected astronauts visited Kennedy Space Center on April 6 to mark the upcoming 25th anniversary of Columbia's maiden voyage.

Dial-up | Broadband

STS-41G crew film
The October 1984 flight of space shuttle Challenger featured a diverse set of accomplishments. The Earth Radiation Budget Satellite environmental spacecraft was deployed and a planet-mapping radar was tested. The seven-person crew was led by Bob Crippen and included the first Canadian in space, Marc Garneau, and the first time two women, Sally Ride and Kathryn Sullivan, had flown aboard one flight. Sullivan and Dave Leestma also conducted a spacewalk to demonstrate techniques for refueling satellites. The crew narrates this post-flight film of STS-41G.

Small | Medium | Large

STS-37 anniversary
On April 5, 1991, space shuttle Atlantis lifted off from Kennedy Space Center carrying the Compton Gamma Ray Observatory -- NASA's second Great Observatory. Launch occurred at 9:23 a.m. from pad 39B.

Play video

Crew news conference
The combined Expedition 12 and 13 crews, along with visiting Brazilian astronaut Marcos Pontes, hold this in-flight news conference with reporters in Houston, Cape Canaveral and Moscow on April 3. The crews are handing over duties during this week-long handover before Expedition 12 returns to Earth from the space station.

Dial-up | Broadband

Next station crew
Full coverage of the Expedition 13 crew's launch aboard a Russian Soyuz spacecraft to begin a six-month mission aboard the International Space Station.

Play video

Become a subscriber
More video







Unexpected detail in first Venus south pole images
ESA NEWS RELEASE
Posted: April 15, 2006


The European Space Agency's Venus Express has returned the first-ever images of the hothouse planet's south pole from a distance of 206,452 kilometres, showing surprisingly clear structures and unexpected detail. The images were taken 12 April during the spacecraft's initial capture orbit after successful arrival on 11 April 2006.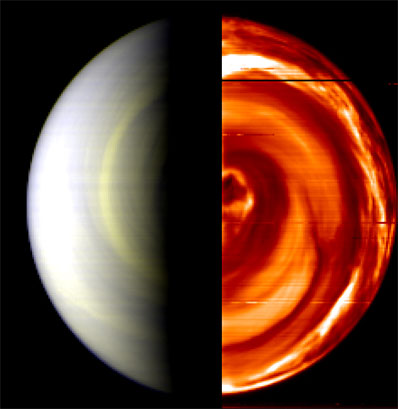 Composite, false-colour view of Venus south pole captured by VIRTIS onboard Venus Express. Credits: ESA/INAF-IASF, Rome, Italy, and Observatoire de Paris, France



Engineers have lost no time in switching on several of the instruments and yesterday the VMC (Venus Monitoring Camera) and VIRTIS (Visible and Infrared Thermal Imaging Spectrometer) imaged, for the first time in space history, the southern hemisphere of Venus as the spacecraft passed below the planet in an elliptical arc.

Scientists are especially intrigued by the dark vortex shown almost directly over the south pole, a previously suspected but until now unconfirmed structure that corresponds to a similar cloud structure over the north pole.

"Just one day after arrival, we are already experiencing the hot, dynamic environment of Venus," said Dr Hakan Svedhem, Venus Express project scientist. "We will see much more detail at an unprecedented level as we get over 100 times better resolution as we get closer to Venus, and we expect to see these spiral structures evolve very quickly."

The initial, low-quality images were taken from an extreme distance of 206,452 kms from the planet, yet caught scientists' attention, particularly with the surprisingly clear structures and unexpected details shown in the VIRTIS spectrometer images.

The false-colour VIRTIS composite image shows Venus's day side at left and night side at right, and corresponds to a scale of 50 kms per pixel.

The day half is itself a composite of images taken via wavelength filters and chiefly shows sunlight reflected from the tops of clouds, down to a height of about 65 km above the planet's surface.

Dynamic spiral cloud structures

The more spectacular night half, shown in reddish false colour, was taken via an IR filter at a wavelength of 1.7 microns, and chiefly shows dynamic spiral cloud structures in the lower atmosphere, around 55 km altitude. The darker regions correspond to thicker cloud cover, while the brighter regions correspond to thinner cloud cover, allowing hot thermal radiation from lower down to be imaged.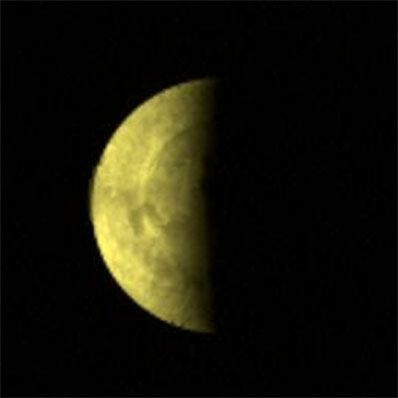 False-colour view imaged in ultraviolet of Venus south pole captured by VMC 12 April 2006 onboard Venus Express. Credits: ESA/MPS, Katlenburg-Lindau, Germany



The smaller VMC image shows Venus at a scale of 150 kms per pixel and is also shown in false colour. It was recorded in ultraviolet.

Venus Express fired its main engine to enter Venus orbit on 11 April 2006 and is now in the first 9-day capture orbit taking it to apocentre (maximum height) at 350,000 kilometres below the south pole. It will swing back up to pass pericentre (minimum height) at an altitude of 250 kilometres over the planet's north pole.

Towards the 24-hour final orbit

In the first capture orbit, Venus Express will have 5 additional opportunities for gathering data until reaching pericentre. These observations represent a great opportunity because, at apocentre, the full disc of Venus is fully visible for the spacecraft's imagers. Such opportunities will not occur again during the nominal mission, starting on 4 June 2006, when the range of distances from the planet will be much smaller.

In addition to VMC and VIRTIS, the spacecraft's MAG (Venus Express Magnetometer) has been switched on for initial verification and is operating nominally. Together with the ASPERA (Analyser of Space Plasma and Energetic Atoms), the two instruments are expected to gather information about the unperturbed solar wind and the atmospheric escape processes on Venus, a planet with no magnetic protection.

A series of further engine and thruster burns are planned to gradually reduce the apocentre during the following 16 orbital loops around the planet and the spacecraft is due to attain its final 24-hour polar orbit on 7 May, ranging from 66 000 to 250 kilometres above Venus.