Spaceflight Now +





Premium video content for our Spaceflight Now Plus subscribers.

STS-1 crew looks back
In this highly entertaining program, commander John Young and pilot Bob Crippen of the first space shuttle crew tell stories and memories from STS-1. The two respected astronauts visited Kennedy Space Center on April 6 to mark the upcoming 25th anniversary of Columbia's maiden voyage.

Dial-up | Broadband

STS-41G crew film
The October 1984 flight of space shuttle Challenger featured a diverse set of accomplishments. The Earth Radiation Budget Satellite environmental spacecraft was deployed and a planet-mapping radar was tested. The seven-person crew was led by Bob Crippen and included the first Canadian in space, Marc Garneau, and the first time two women, Sally Ride and Kathryn Sullivan, had flown aboard one flight. Sullivan and Dave Leestma also conducted a spacewalk to demonstrate techniques for refueling satellites. The crew narrates this post-flight film of STS-41G.

Small | Medium | Large

STS-37 anniversary
On April 5, 1991, space shuttle Atlantis lifted off from Kennedy Space Center carrying the Compton Gamma Ray Observatory -- NASA's second Great Observatory. Launch occurred at 9:23 a.m. from pad 39B.

Play video

Crew news conference
The combined Expedition 12 and 13 crews, along with visiting Brazilian astronaut Marcos Pontes, hold this in-flight news conference with reporters in Houston, Cape Canaveral and Moscow on April 3. The crews are handing over duties during this week-long handover before Expedition 12 returns to Earth from the space station.

Dial-up | Broadband

Soyuz docking
The Russian Soyuz TMA-8 spacecraft carrying the Expedition 13 resident crew successfully docks to the Zarya module of the International Space Station under automated control.

Play video

Next station crew
Full coverage of the Expedition 13 crew's launch aboard a Russian Soyuz spacecraft to begin a six-month mission aboard the International Space Station.

Play video

Solar eclipse from ISS
External cameras on the International Space Station captured this incredible footage of the March 29 solar eclipse. The station flew through the eclipse over the Middle East as the moon passed in front of the sun and cast its shadow on the Earth.

Play video

Total solar eclipse
A total solar eclipse occurred March 29. This video from Side, Turkey shows the period of totality when the moon slid between the Earth and Sun. The eclipse revealed the Sun's glowing outer halo of million-degree gas, called the solar corona.

Play video

Become a subscriber
More video







Hubble corrects size of solar system's tenth planet
SPACE TELESCOPE SCIENCE INSTITUTE NEWS RELEASE
Posted: April 11, 2006


NASA's Hubble Space Telescope has resolved the "tenth planet," nicknamed "Xena" for the first time, and has found that it is only just a little larger than Pluto.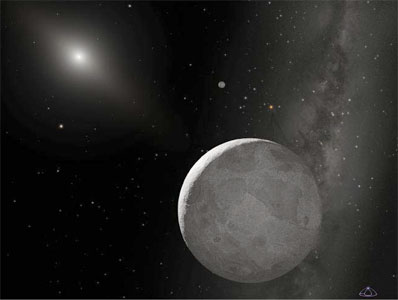 This is an artist's concept of Kuiper Belt object 2003 UB313 (nicknamed "Xena") and its satellite "Gabrielle." Credit: NASA, ESA, and A. Schaller (for STScI)



Though previous ground-based observations suggested that Xena was about 30 percent greater in diameter than Pluto, Hubble observations taken on Dec. 9 and 10, 2005, yield a diameter of 1,490 miles (with an uncertainty of 60 miles) for Xena. Pluto's diameter, as measured by Hubble, is 1,422 miles.

"Hubble is the only telescope capable of getting a clean visible-light measurement of the actual diameter of Xena," said Mike Brown, planetary scientist at the California Institute of Technology in Pasadena, Calif. Brown's research team discovered Xena, and their results have been accepted for publication in the Astrophysical Journal.

It only required a couple of Hubble images to nail Xena's diameter. Located 10 billion miles away, but with a diameter that is a little more than half the width of the United States, the object is 1.5 pixels across in Hubble's view. That's enough to precisely make a size measurement.

Because Xena is smaller than earlier thought, but comparatively bright, it must be one of the most reflective objects in the solar system. The only object more reflective is Enceladus, a geologically active moon of Saturn whose surface is continuously recoated with highly reflective ice by active geysers.

Xena's bright reflectivity is possibly due to fresh methane frost overlying the surface. It is possible that Xena had an atmosphere when it was closer to the Sun, but "froze out" at its current large distance, and material settled on its surface as frost.

Another possibility is that Xena is also continuously leaking methane gas from its warmer interior. When this methane makes it to the cold surface it immediately freezes solid, covering craters and other features to make this Kuiper Belt object (KBO) uniformly bright to Hubble's telescopic eye.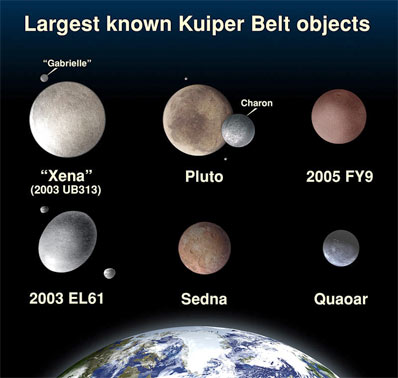 This is an illustration of the largest known Kuiper Belt objects. "Xena," officially catalogued at 2003 UB313, is slightly larger than Pluto. Credit: NASA, ESA, and A. Feild (STScI)



Xena is officially catalogued as 2003 UB313. Its orbital period is about 560 years, and the KBO is now very close to aphelion (the point on its orbit that is farthest from the Sun).

Brown next plans to use Hubble and other telescopes to study other recently discovered KBOs that are almost as large as Pluto and Xena. The Kuiper Belt is a vast ring of primordial icy comets and larger bodies encircling Neptune's orbit.

Finding that the largest known KBO is a virtual twin to Pluto may only further complicate the debate about whether to categorize the large icy worlds that dwell in the Kuiper Belt as planets. If Pluto were considered to be the minimum size for a planet, then Xena would fulfill this criterion, too.