Station crew gets away for short trip in Soyuz capsule
BY SPACEFLIGHT NOW
Posted: March 20, 2006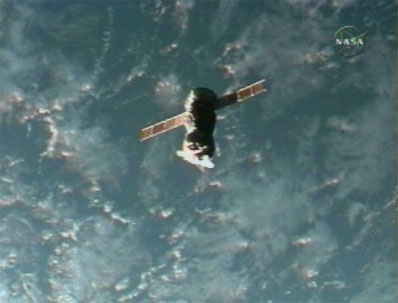 The Soyuz capsule backs away from the station this morning.



The International Space Station's two-man crew took a little drive aboard a Soyuz spacecraft today, leaving their orbital home for a short time while moving the capsule from one docking port to another in preparation for visitors due next week.

Expedition 12 commander Bill McArthur and flight engineer Valery Tokarev floated inside the Soyuz parked at the Earth-facing port of the station's Zarya control module Sunday evening. They had secured the station's systems in case a problem prevented them from returning.

With the approval of Russian flight controllers, the crew undocked at 1:49 a.m. EST (0649 GMT). The craft backed 100 feet away from the station, moved laterally along the length of the station and then maneuvered into position to face the aft port of the Zvezda service module.

Docking to the back end of the station successfully occurred at 2:11 (0711 GMT).

The excursion clears the Zarya port to receive the next Soyuz spacecraft. That capsule is scheduled for launch on Wednesday, March 29 at about 9:30 p.m. EST to ferry the Expedition 13 commander Pavel Vinogradov and flight engineer Jeff Williams, along with Brazilian Space Agency astronaut Marcos Pontes, to the station. Their arrival is scheduled for the evening of Friday, March 31.

McArthur and Tokarev are wrapping up a half-year mission on the station. They will be handing over duties to Vinogradov and Williams, then riding their Soyuz back to Earth on April 8 along with Pontes.

The Expedition 12 crew's departure from the Zvezda module next month will leave that port available for use by a Russian Progress cargo freighter later in April.

Today's Soyuz move was not the first for Expedition 12. In fact, this crew has now docked with all three Russian ports on the station.

They arrived at the station last year by docking to the Pirs module. Later, the Soyuz capsule was moved to Zarya so that Pirs could be used as a spacewalk airlock. Pirs is now occupied by a Progress supply ship.

The Russian mission control outside Moscow congratulated the crew for becoming the first to accomplish the unusual feat of linking up to Pirs, Zarya and Zvezda during a single mission.


Additional coverage for subscribers:


VIDEO: SOYUZ UNDOCKS FROM THE SPACE STATION PLAY


SUBSCRIBE NOW