Spaceflight Now +





Premium video content for our Spaceflight Now Plus subscribers.

Mars orbiter briefing
With two weeks until its arrival at the red planet, NASA and Lockheed Martin officials hold this Feb. 24 news conference on the Mars Reconnaissance Orbiter. The briefing explains how the MRO spacecraft will fire its engines to enter into orbit around Mars and the mission's scientific goals to examine the planet like never before.

Play video:
Dial-up | Broadband

Download audio:
For iPod

Lockheed's CEV plans
As part of Lockheed Martin's plans for the Crew Exploration Vehicle, the company has announced that final assembly and testing of the capsules will be performed at the Kennedy Space Center's Operations and Checkout Building. Lockheed Martin officials, Florida's lieutenant governor, the local congressman and a county economic development leader held this press conference Feb. 22 to unveil the plans.

Play video

STS-8: Night launch
The space shuttle program performed its first dazzling nighttime launch with Challenger's August 1983 mission. A cockpit camera mounted beside commander Dick Truly captured amazing footage of night turning to day inside the shuttle from the brilliant flame of ascent. STS-8 also featured the first African-American astronaut, Guion Bluford. Challenger's astronauts tell the story of their six-day mission, which deployed an Indian satellite, used the robot arm to look at the orbiter's belly and examined the glow around the shuttle, during this narrated post-flight film.

Small | Medium | Large

STS-7: America's first woman astronaut
The seventh flight of the space shuttle is remembered for breaking the gender barrier for U.S. spaceflight. Sally Ride flew into space and the history books with her historic June 1983 mission, becoming America's first woman astronaut. STS-7 also launched a pair of commercial communications spacecraft, then deployed a small platform fitted with experiments and camera package that captured iconic pictures of Challenger flying above the blue Earth and black void of space. The crew members narrate highlights from the mission in this post-flight film presentation.

Small | Medium | Large

STS-6: Challenger debut
The space shuttle program became a two-orbiter fleet on April 4, 1983 when Challenger launched on its maiden voyage from Kennedy Space Center. The STS-6 mission featured the first ever spacewalk from a space shuttle and the deployment of NASA's first Tracking and Data Relay Satellite. The four astronauts narrate a movie of highlights from their five-day mission in this post-flight presentation.

Small | Medium | Large

STS-121 crew press chat
Commander Steve Lindsey and his crew, the astronauts set to fly the second post-Columbia test flight, hold an informal news conference with reporters at Kennedy Space Center on Feb. 17. The crew is in Florida to examine hardware and equipment that will be carried on the STS-121 flight of shuttle Discovery.

Play video:
Dial-up | Broadband

Download audio:
For iPod

House hearing on NASA
NASA Administrator Mike Griffin and his No. 2, Shana Dale, appear before the House Science Committee on Feb. 16 to defend President Bush's proposed 2007 budget for the space agency. Congressmen grill Griffin and Dale about the budget's plans to cut funding for some science programs.

Play video

Become a subscriber
More video







A blast to chase
EUROPEAN SOUTHERN OBSERVATORY NEWS RELEASE
Posted: February 26, 2006


Possibly similar to what our own Milky Way looks like, Messier 100 [1] is a grand design spiral galaxy that presents an intricate structure, with a bright core and two prominent arms, showing numerous young and hot massive stars as well as extremely hot knots (HII regions). Two smaller arms are also seen starting from the inner part and reaching towards the larger spiral arms.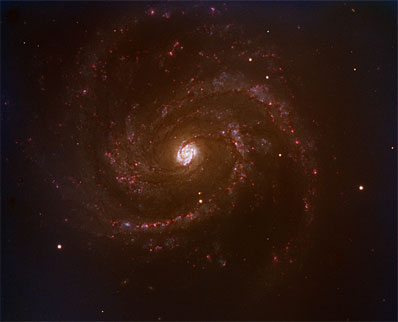 Credit: ESO



The galaxy, located 60 million light-years away, is slightly larger than the Milky Way, with a diameter of about 120 000 light-years.

The galaxy was the target of the FORS1 multi-mode instrument on ESO's Very Large Telescope, following the request of ESO astronomers Dietrich Baade and Ferdinando Patat, who, with their colleagues Lifan Wang (Lawrence Berkeley National Laboratory, US) and Craig Wheeler (University of Texas, Austin, US), performed detailed observations of the newly found supernova SN 2006X.

SN 2006X was independently discovered early February by Japanese amateur astronomer Shoji Suzuki and Italian astronomer Marco Migliardi. Found on 4 February as the 24th supernova of the year, it had a magnitude 17, meaning it was 1000 times fainter than the galaxy. It was soon established that this was another example of a Type-Ia supernova [3], observed before it reached its maximum brightness. The supernova indeed brightened up by a factor 25 in about two weeks.

Since SN 2006X became so bright and since it is located inside the very much studied Messier 100 galaxy, there is no doubt that a great wealth of information will be collected on this supernova and, possibly, on the system that exploded. As such, SN 2006X may prove an important milestone in the study of Type Ia supernovae. This is particularly important as these objects are used to measure the expansion of the universe because they all have about the same intrinsic luminosity.

This is not the first supernova ever found in Messier 100. Indeed, this is one of the most prolific galaxies as far as supernovae are concerned. Since 1900, four others have been discovered in it: SN 1901B, SN 1914A, SN 1959E, and SN 1979C. Recent observations with ESA's XMM-Newton space observatory have shown quite surprisingly that SN 1979C is still as bright in X-ray light as it was 25 years ago. In visible light, however, SN 1979C has since then faded by a factor 250. SN 1979C belongs to the class of Type II supernovae and is the result of the explosion of a star that was 18 times more massive than our Sun.

Notes

[1] Messier 100, the 100th entry in Charles Messier catalogue, was discovered in 1781 by French astronomer Pierre Mechain. Located in the Coma Berenices (Berenice's Hair) constellation, slightly north of the celestial equator, it is one of the brightest members of the Virgo-Coma cluster of galaxies, about 60 million light-years away. Its visual magnitude is about 9, meaning it is about 15 times fainter than what the unaided eye can see. Messier 100 is one of the more distant galaxies where accurate measurements of Cepheid variables have been made.

[3] Such a supernova is thought to be the result of the explosion of a small and dense star - a white dwarf - inside a binary system. As its companion was continuously spilling matter onto the white dwarf, the white dwarf reached a critical mass, leading to a fatal instability and the supernova.