Spaceflight Now +





Premium video content for our Spaceflight Now Plus subscribers.

STS-95: John Glenn flight
The flight of shuttle Discovery in October 1998 captured the public's attention with the triumphant return to space by John Glenn. The legendary astronaut became the first American to orbit the Earth some 36 years earlier. His 9-day shuttle mission focused on science experiments about aging. This post-flight presentation of highlights from the STS-95 mission is narrated by the astronauts.

Small | Medium | Large

STS-71: First Mir docking
Space shuttle Atlantis and a multinational crew flew to the Russian space station Mir in June 1995 for the first in a series of joint docking missions, launching a new era of cooperation in space between the United States and Russia that would pave the way for the International Space Station. This post-flight presentation of highlights from the historic STS-71 mission is narrated by the astronauts.

Small | Medium | Large

Challenger anniversary
On the 20th anniversary of the space shuttle Challenger tragedy, a memorial service was held at the Kennedy Space Center's Space Mirror. Speakers at the tribute to honor the lost Challenger, Columbia and Apollo 1 astronauts included the widow and son of Challenger commander Francis "Dick" Scobee, officials with the Astronauts Memorial Foundation, two local U.S. Representatives, commander of the first shuttle flight after Challenger and the Kennedy Space Center director.

Play video

Future Mars rover
NASA's next mobile rover that will be sent to the Red Planet is Mars Science Laboratory. Roughly the size of a Mini Cooper car and designed to operate on the Martian surface for two Earth years, this large rover is scheduled for launch in 2009. Project manager Richard Cook unveils a model of the rover and talks about the mission in this video clip.

Play video

Mars rover anniversary
The remarkable rovers Spirit and Opportunity remain alive and well on the surface of the Red Planet, far outlasting their planned 90-day missions. On Jan. 24, the second anniversary of Opportunity's landing, project officials and scientists held this celebration event at the Jet Propulsion Laboratory.

Dialup | Broadband 1 2

Launch of New Horizons
The New Horizons spacecraft begins a voyage across the solar system to explore Pluto and beyond with its successful launch January 19 aboard a Lockheed Martin Atlas 5 rocket from Cape Canaveral, Florida.

Full coverage

Stardust comes home
NASA's Stardust spacecraft returns samples of cometary dust to Earth with its safe landing in Utah on January 15.

Full coverage

NASA administrator
NASA Administrator Mike Griffin and his deputy Shana Dale hold a news conference at Kennedy Space Center in the final hours of the countdown to the New Horizons launch. Questions from reporters ranged from the Pluto-bound mission, the agency's budget and the space shuttle program.

Dialup | Broadband | iPod

STS-32: LDEF retrieval
Space shuttle Columbia's mission in January 1990 sought to retrieve the Long Duration Exposure Facility -- a bus-size platform loaded with 57 experiments -- that had been put into orbit six years earlier. LDEF was supposed to be picked up within a year of its launch. But plans changed and then the Challenger accident occurred. Columbia's STS-32 crew got into space, deployed a Navy communications satellite, then fulfilled their LDEF recovery mission, carried out a host of medical tests and returned to Earth with a nighttime touchdown in the California desert. The crew presents this post-flight film of mission highlights.

Small | Medium | Large

NASA through the decades
This film looks at the highlights in NASA's history from its creation in the 1950s, through the glory days of the Mercury, Gemini and Apollo programs, birth of the space shuttle and the loss of Challenger, launch of Hubble and much more.

Small | Medium | Large

Become a subscriber
More video







Ice exists on surface of comet, but most lies deeper
UNIVERSITY OF MARYLAND NEWS RELEASE
Posted: February 2, 2006


Scientists for Deep Impact, the University of Maryland-led NASA mission that made history when it smashed into a comet this past July 4th, have added another first to their growing list: the first finding of water ice on the surface of a comet.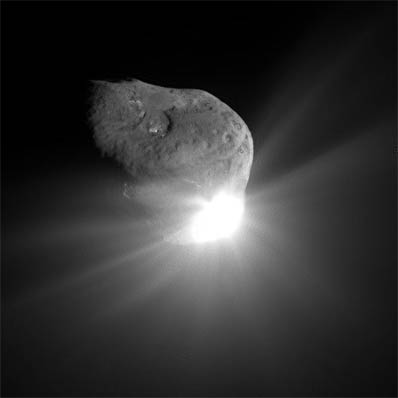 The projectile from Deep Impact hits the comet July 4, as seen from the mothership. Credit: NASA/JPL



By analyzing data and images taken prior to impact, Deep Impact scientists have detected water ice in three small areas on the surface of comet Tempel 1. This is the first time ice has been detected on the nucleus, or solid body, of a comet. The findings are published today in the online version of the journal Science.

"These results show that there is ice on the surface, but not very much and definitely not enough to account for the water we see in the out-gassed material that is in the coma [the cloud of gas and dust that surrounds the comet]," said lead author Jessica Sunshine of Science Applications International Corporation.

"These new findings are significant because they show that our technique is effective in finding ice when it is on the surface and that we can therefore firmly conclude that most of the water vapor that escapes from comets is contained in ice particles found below the surface," said Deep Impact Principal Investigator Michael A'Hearn of the University of Maryland.

Where's the ice?

Through observations of ice grains and water vapor in the coma of comets, scientists have long known that "dirty snowballs," as comets are sometimes described, must indeed contain substantial amounts of water ice. However, prior to Deep Impact they didn't have any knowledge about how such ice was distributed between the surface, subsurface and inner core of a comet's nucleus.

In the Science article, the authors say that prior to Deep Impact there existed few observations of nuclei not obscured by the coma. Among previous cometary missions, the most notable of such observations was the Deep Space-1 mission to comet Borrelly, which searched unsuccessfully for evidence of water ice and other volatiles on that comet's surface. Limited ground based observations of possibly bare cometary nuclei have also failed to find clear evidence of surface ice.

The fact that the Deep Impact team found water on the surface, but only in a few scattered places, all but eliminates the possibility that there is a lot of undetectable surface ice "just hiding in the surface darkness," explained Sunshine.

The surface ice that the team detected was not located where the impact later occurred. This means, Sunshine explained, that the water ice and water vapor the team already had found in analyses of material ejected by the July 4 impact must have come from ice located close to, but not on, the surface of the comet.

Bright spots in a dark landscape

As a comet approaches the Sun, it releases gas and dust forming a cloud (coma) that obscures the nucleus from view unless spacecraft can get very close. Deep Impact did just that. The Deep Impact science team used four types of data in their search for ice on the mostly coal black surface of Tempel 1.

First, images from Deep Impacts high resolution and medium resolution instruments (the HRI and MRI) showed three small regions that were about 30 percent brighter than surrounding areas. After scaling the images to the average brightness value of the nucleus, these three discrete areas on the nucleus where found to be brighter in the ultraviolet and darker in the near-infrared, a combination that is consistent with water ice. In addition, Sunshine's analysis of the spectra of light emitted and absorbed in those regions showed the distinctive spectral signature of water ice. The combination of the relative colors and the spectral signature make a powerful case that there is water ice at these specific locations on Tempel 1.

Using visual images and spectral mapping of the impact side of the surface of Tempel 1, the team found that the patches of surface ice represented only 0.5 percent of the total observed surface.

Team member Olivier Groussin, a University of Maryland research scientist, made a temperature map and combined it with the color map to show that two of the three ice patches regions were in colder regions of the nucleus. Stereo images show the largest area of ice to be a depression 80 meters below surrounding areas.

"Water Ice on the Surface of Comet Tempel 1," J. M. Sunshine, Science Applications International Corporation (SAIC); M. F. A'Hearn, University of Maryland; O. Groussin, University of Maryland; J.-Y. Li2, University of Maryland; M. J. S. Belton, Belton Space Exploration Initiatives; W. A. Delamere, Delamere Support Services'; J. Kissel, Max-Planck-Institute for Solar System Research; K. P. Klaasen, Jet Propulsion Laboratory; L. A. McFadden, University of Maryland; K. J. Meech, University of Hawaii; H. J. Melosh, University of Arizona; P. H. Schultz, Brown University; P. C. Thomas, Cornell University; J. Veverka, Cornell University; D. K. Yeomans6, I. C. Busko, Space Telescope Science Institute; M. Desnoyer, Cornell University; T. L. Farnham, University of Maryland; L. M. Feaga, University of Maryland; D. L. Hampton, Ball Aerospace & Technology Corporation; D. J. Lindler, Sigma Scientific; C. M. Lisse, Applied Physics Laboratory, Johns Hopkins University; D. D. Wellnitz, University of Maryland. Published in Science Express, February 2, 2006.


Additional coverage for subscribers:


VIDEO: IMPACT MOVIES FROM MOTHERSHIP (NARRATED) PLAY


VIDEO: RIDE ALONG AS THE IMPACTOR SLAMS INTO TARGET PLAY


VIDEO: LEAD SCIENTISTS PRESENT RESULTS PLAY


VIDEO: AFTERNOON NEWS BRIEFING DIAL-UP | BROADBAND


AUDIO: LISTEN TO NEWS CONFERENCE MP3


VIDEO: DEEP IMPACT SMASHES INTO COMET PLAY


VIDEO: NARRATION OF IMPACTOR'S FINAL IMAGES PLAY


VIDEO: IMPACT PICTURES EXPLAINED BY COMET EXPERT PLAY


VIDEO: POST-IMPACT NEWS CONFERENCE DIAL-UP | BROADBAND


AUDIO: LISTEN TO POST-IMPACT NEWS CONFERENCE MP3


VIDEO: "DEEP IMPACT: THE MISSION" MOVIE PLAY


VIDEO: "DIGGING OUT THE SCIENCE" PLAY


VIDEO: RECAP OF IMPACTOR DEPLOY ACTIVITIES PLAY


VIDEO: PREVIEW OF THE ENCOUNTER TIMELINE PLAY


VIDEO: LEARN MORE ABOUT THE SPACECRAFT PLAY


VIDEO: SCIENCE DATA FROM COMET OUTBURSTS PLAY


VIDEO: STATUS REPORT BEFORE IMPACT DIAL-UP | BROADBAND 1 & 2


VIDEO: MISSION ENGINEERING BRIEFING DIAL-UP | BROADBAND


VIDEO: SCIENCE PREVIEW CONFERENCE DIAL-UP | BROADBAND


MORE: DEEP IMPACT VIDEO COLLECTION!


SUBSCRIBE NOW