Spaceflight Now +





Premium video content for our Spaceflight Now Plus subscribers.

Challenger anniversary
On the 20th anniversary of the space shuttle Challenger tragedy, a memorial service was held at the Kennedy Space Center's Space Mirror. Speakers at the tribute to honor the lost Challenger, Columbia and Apollo 1 astronauts included the widow and son of Challenger commander Francis "Dick" Scobee, officials with the Astronauts Memorial Foundation, two local U.S. Representatives, commander of the first shuttle flight after Challenger and the Kennedy Space Center director.

Play video

Future Mars rover
NASA's next mobile rover that will be sent to the Red Planet is Mars Science Laboratory. Roughly the size of a Mini Cooper car and designed to operate on the Martian surface for two Earth years, this large rover is scheduled for launch in 2009. Project manager Richard Cook unveils a model of the rover and talks about the mission in this video clip.

Play video

Mars rover anniversary
The remarkable rovers Spirit and Opportunity remain alive and well on the surface of the Red Planet, far outlasting their planned 90-day missions. On Jan. 24, the second anniversary of Opportunity's landing, project officials and scientists held this celebration event at the Jet Propulsion Laboratory.

Dialup | Broadband 1 2

Launch of New Horizons
The New Horizons spacecraft begins a voyage across the solar system to explore Pluto and beyond with its successful launch January 19 aboard a Lockheed Martin Atlas 5 rocket from Cape Canaveral, Florida.

Full coverage

Stardust comes home
NASA's Stardust spacecraft returns samples of cometary dust to Earth with its safe landing in Utah on January 15.

Full coverage

NASA administrator
NASA Administrator Mike Griffin and his deputy Shana Dale hold a news conference at Kennedy Space Center in the final hours of the countdown to the New Horizons launch. Questions from reporters ranged from the Pluto-bound mission, the agency's budget and the space shuttle program.

Dialup | Broadband | iPod

NASA through the decades
This film looks at the highlights in NASA's history from its creation in the 1950s, through the glory days of the Mercury, Gemini and Apollo programs, birth of the space shuttle and the loss of Challenger, launch of Hubble and much more.

Small | Medium | Large

Become a subscriber
More video







Stardust mothership goes to sleep with unknown future
MISSION STATUS REPORT
Posted: January 30, 2006


NASA's Stardust spacecraft was placed into hibernation mode January 29. Stardust successfully returned to Earth samples of a comet via its sample return capsule on January 15. The spacecraft has logged almost seven years of flight.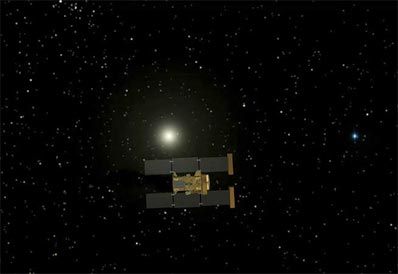 This artist's concept shows the Stardust spacecraft. Credit: NASA/JPL



"We sang our spacecraft to sleep today with a melody of digital ones and zeros," said Tom Duxbury, Stardust project manager at NASA's Jet Propulsion Laboratory, Pasadena, Calif. "Stardust has performed flawlessly these last seven years and 2.88 billion miles and deserves a rest for a while, like the rest of the team."

The "song" was actually a series of commands that was sent up to the spacecraft yesterday, Jan. 29 at 4 p.m. Pacific time (7 p.m. Eastern time). The commands deactivated all but a few essential systems, such as Stardust's solar arrays and receive antenna - which will remain powered on. This long-term hibernation state could allow for almost indefinite (tens of years) out-of-contact operations while maintaining the spacecraft health.

"Placing Stardust in hibernation gives us options to possibly reuse it in the future," said Dr. Tom Morgan, Stardust Program Executive at NASA Headquarters, Washington. "The mission has already been a great success, but if at all possible we may want to add even more scientific dividends to this remarkable mission's record of achievement."

The Stardust spacecraft is currently in an orbit that travels from a little closer to the Sun than that of the Earth to well beyond the orbit of Mars. It will next fly past Earth on January 14, 2009, at a distance of about 1 million kilometers (621,300 miles).

NASA's Stardust sample return mission successfully concluded its prime mission on Jan. 15, 1006, when its sample return capsule carrying cometary and interstellar particles successfully touched down at 2:10 a.m. Pacific time (3:10 a.m. Mountain time) in the desert salt flats of the Utah Test and Training Range.

Stardust scientists at NASA's Johnson Space Center in Houston are currently analyzing what could be considered a treasure-trove of cometary and interstellar dust samples that exceeded their grandest expectations. Scientists believe these precious samples will help provide answers to fundamental questions about comets and the origins of the solar system.

NASA's Jet Propulsion Laboratory, Pasadena, Calif., manages the Stardust mission for NASA's Science Mission Directorate, Washington. Lockheed Martin Space Systems, Denver, developed and operated the spacecraft.