Spaceflight Now +





Premium video content for our Spaceflight Now Plus subscribers.

Distant space explosion
Astronomers announce the detection by NASA's Swift satellite of the most distant explosion yet, a gamma-ray burst from the edge of the visible universe, during this media teleconference held Monday, September 12. (54min 01sec file)

Full coverage

Hill-climbing Mars rover
The Mars Exploration Rover Spirit has reached the summit of Husband Hill, returning a spectacular panorama from the hilltop in the vast Gusev Crater. Scientists held a news conference Sept. 1 to reveal the panorama and give an update on the twin rover mission.

Full coverage

Planes track Discovery
To gain a new perspective on space shuttle Discovery's ascent and gather additional imagery for the return to flight mission, NASA dispatched a pair of high-flying WB-57 aircraft equipped with sharp video cameras in their noses.

Full coverage

Rocket booster cams
When space shuttle Discovery launched its two solid-fuel booster rockets were equipped with video cameras, providing dazzling footage of separation from the external fuel tank, their free fall and splashdown in the sea.

Full coverage

Discovery ferried home
Mounted atop a modified Boeing 747, space shuttle Discovery was ferried across the country from Edwards Air Force Base, California, to Kennedy Space Center, Florida.

Full coverage

Become a subscriber
More video







Boeing gets contract to feed ISS power to docked shuttles
NASA NEWS RELEASE
Posted: September 12, 2005


NASA signed a $68.35 million modification to the International Space Station contract with The Boeing Company. The modification provides a system to supply Station electrical power to docked Space Shuttles, enabling the Orbiter to stay longer at the complex.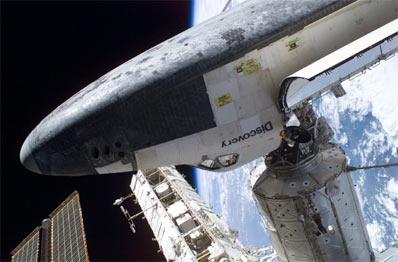 Shuttle Discovery, docked to the Destiny laboratory of the International Space Station, is featured in this photograph taken by spacewalking astronaut Steven Robinson on STS-114. Credit: NASA



The Station-Shuttle Power Transfer System (SSPTS) allows the Orbiter to use electricity generated by the Station's solar arrays. The additional Station power supplements Shuttle fuel cells, saving onboard supplies of hydrogen and oxygen.

The Station power will allow Shuttles to dock up to 12 days instead of up to eight days. The longer stay allows additional time for spacewalks, Station maintenance performed by Shuttle crews, Orbiter thermal protection system inspection, contingency repairs, logistics transfers and science operations.

The change includes the design, development, manufacture, qualification, testing, delivery and instructions for installation of the SSPTS hardware, software and support equipment into the Station and Shuttle. The SSPTS will be installed in the first Shuttle in spring 2006. The first flight is targeted for Shuttle mission STS-119, the mission to deliver the final component of the truss and solar array structure that provides the Station's power.

The contract modification culminates with delivery of all SSPTS components, integration and testing of the hardware and software in spring 2007. The work will be performed at Boeing facilities in Houston; Kennedy Space Center, Fla.; Canoga Park, Calif.; Huntington Beach, Calif.; and Seattle.