Spaceflight Now +





Premium video content for our Spaceflight Now Plus subscribers.

Hill-climbing Mars rover
The Mars Exploration Rover Spirit has reached the summit of Husband Hill, returning a spectacular panorama from the hilltop in the vast Gusev Crater. Scientists held a news conference Sept. 1 to reveal the panorama and give an update on the twin rover mission.

Full coverage

Planes track Discovery
To gain a new perspective on space shuttle Discovery's ascent and gather additional imagery for the return to flight mission, NASA dispatched a pair of high-flying WB-57 aircraft equipped with sharp video cameras in their noses.

Full coverage

Rocket booster cams
When space shuttle Discovery launched its two solid-fuel booster rockets were equipped with video cameras, providing dazzling footage of separation from the external fuel tank, their free fall and splashdown in the sea.

Full coverage

Discovery ferried home
Mounted atop a modified Boeing 747, space shuttle Discovery was ferried across the country from Edwards Air Force Base, California, to Kennedy Space Center, Florida.

Full coverage

Shuttle tank returned
Shuttle fuel tank ET-119 is loaded onto a barge at Kennedy Space Center for the trip back to Lockheed Martin's Michoud Assembly Facility in New Orleans. The tank will be used in the investigation to determine why foam peeled away from Discovery's tank on STS-114 in July.

Full coverage

Delta 4 launch delayed
Launch of the GOES-N weather observatory aboard a Boeing Delta 4 rocket is postponed at Cape Canaveral, Florida.

Full coverage

Mars probe leaves Earth
The Mars Reconnaissance Orbiter lifts off aboard a Lockheed Martin Atlas 5 rocket from Cape Canaveral's Complex 41.

Full coverage

Launch pad demolition
Explosives topple the abandoned Complex 13 mobile service tower at Cape Canaveral Air Force Station. This video was shot from the blockhouse roof at neighboring Complex 14 where John Glenn was launched in 1962.

Play video:
Full view | Close-up

Become a subscriber
More video







Rapid-born planets a 'baby picture' of early solar system
UNIVERSITY OF ROCHESTER NEWS RELEASE
Posted: September 11, 2005


Using NASA's Spitzer Space Telescope, a team of astronomers led by the University of Rochester has detected gaps ringing the dusty disks around two very young stars, which suggests that gas-giant planets have formed there. A year ago, these same researchers found evidence of the first "baby planet" around a young star, challenging most astrophysicists's models of giant-planet formation.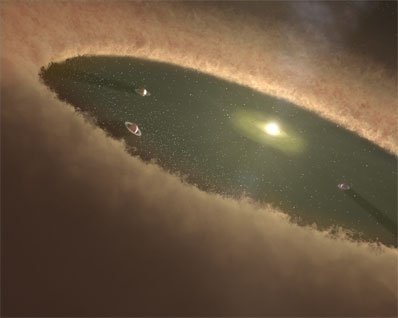 An artist's concept depicts planets sweeping away a clearing in mass of dust surrounding a fledgling star. Credit: NASA/JPL-Caltech



The new findings in the Sept. 10 issue of Astrophysical Journal Letters not only reinforce the idea that giant planets like Jupiter form much faster than scientists have traditionally expected, but one of the gas-enshrouded stars, called GM Aurigae, is analogous to our own solar system. At a mere 1 million years of age, the star gives a unique window into how our own world may have come into being.

"GM Aurigae is essentially a much younger version of our Sun, and the gap in its disk is about the same size as the space occupied by our own giant planets," says Dan Watson, professor of physics and astronomy at the University of Rochester and leader of the Spitzer IRS Disks research team. "Looking at it is like looking at baby pictures of our Sun and outer solar system," he says.

"The results pose a challenge to existing theories of giant-planet formation, especially those in which planets build up gradually over millions of years," says Nuria Calvet, professor of astronomy at the University of Michigan and lead author of the paper. "Studies like this one will ultimately help us better understand how our outer planets, as well as others in the universe, form."

The new "baby planets" live within the clearings they have scoured out in the disks around the stars DM Tauri and GM Aurigae, 420 light years away in the Taurus constellation. These disks have been suspected for several years to have central holes that might be due to planet formation. The new spectra, however, leave no doubt: The gaps are so empty and sharp-edged that planetary formation is by far the most reasonable explanation for their appearance.

The new planets cannot yet be seen directly, but Spitzer's Infrared Spectrograph (IRS) instrument clearly showed that an area of dust surrounding certain stars was missing, strongly suggesting the presence of a planet around each. The dust in a protoplanetary disk is hotter in the center near the star, and so radiates most of its light at shorter wavelengths than the cooler outer reaches of the disk. The IRS Disks team found that there was an abrupt deficit of light radiating at all short infrared wavelengths, strongly suggesting that the central part of the disk was absent. These stars are very young by stellar standards, about a million years old, still surrounded by their embryonic gas disks. The only viable explanation for the absence of gas that could occur during the short lifetime of the star is that a planet--most likely a gas giant like our Jupiter--is orbiting the star and gravitationally "sweeping out" the gas within that distance of the star.

As with last year's young-planet findings, these observations represent a challenge to all existing theories of giant-planet formation, especially those of the "core-accretion" models in which such planets are built up by accretion of smaller bodies, which require much more time to build a giant planet than the age of these systems.

The IRS Disks team discovered something else curious about GM Aurigae. Instead of a simple central clearing of the dust disk, as in the other cases studied, GM Aurigae has a clear gap in its disk that separates a dense, dusty outer disk from a tenuous inner one. This could be either an intermediate stage as the new planet clears out the dust surrounding it and leading to a complete central clearing like the other "baby planet" disks, or it could be the result of multiple planets forming within a short time and sweeping out the dust in a more complex fashion.

GM Aurigae has 1.05 times the mass of our Sun-a near twin--so it will develop into a star very similar to the Sun. If it were overlaid onto our own Solar System, the discovered gap would extend roughly from the orbit of Jupiter (460 million miles) to the orbit of Uranus (1.7 billion miles). This is the same range in which the gas-giant planets in our own system appear. Small non-gas-giant planets, rocky worlds like Earth, would not sweep up as much material, and so would not be detectable from an absence of dust.

The Spitzer Space Telescope was launched into orbit on Aug. 25, 2003. The IRS Disks research team is led by members that built Spitzer's Infrared Spectrograph, and includes astronomers at the University of Rochester, Cornell University, the University of Michigan, the Autonomous National University of Mexico, the University of Virginia, Ithaca College, the University of Arizona, and UCLA. NASA's Jet Propulsion Laboratory in Pasadena, Calif., manages the Spitzer Space Telescope mission for NASA's Science Mission Directorate, in Washington. Science operations are conducted at the Spitzer Science Center at the California Institute of Technology, also in Pasadena.