Spaceflight Now +





Premium video content for our Spaceflight Now Plus subscribers.

Hill-climbing Mars rover
The Mars Exploration Rover Spirit has reached the summit of Husband Hill, returning a spectacular panorama from the hilltop in the vast Gusev Crater. Scientists held a news conference Sept. 1 to reveal the panorama and give an update on the twin rover mission.

Full coverage

Planes track Discovery
To gain a new perspective on space shuttle Discovery's ascent and gather additional imagery for the return to flight mission, NASA dispatched a pair of high-flying WB-57 aircraft equipped with sharp video cameras in their noses.

Full coverage

Rocket booster cams
When space shuttle Discovery launched its two solid-fuel booster rockets were equipped with video cameras, providing dazzling footage of separation from the external fuel tank, their free fall and splashdown in the sea.

Full coverage

Discovery ferried home
Mounted atop a modified Boeing 747, space shuttle Discovery was ferried across the country from Edwards Air Force Base, California, to Kennedy Space Center, Florida.

Full coverage

Shuttle tank returned
Shuttle fuel tank ET-119 is loaded onto a barge at Kennedy Space Center for the trip back to Lockheed Martin's Michoud Assembly Facility in New Orleans. The tank will be used in the investigation to determine why foam peeled away from Discovery's tank on STS-114 in July.

Full coverage

Delta 4 launch delayed
Launch of the GOES-N weather observatory aboard a Boeing Delta 4 rocket is postponed at Cape Canaveral, Florida.

Full coverage

Mars probe leaves Earth
The Mars Reconnaissance Orbiter lifts off aboard a Lockheed Martin Atlas 5 rocket from Cape Canaveral's Complex 41.

Full coverage

Launch pad demolition
Explosives topple the abandoned Complex 13 mobile service tower at Cape Canaveral Air Force Station. This video was shot from the blockhouse roof at neighboring Complex 14 where John Glenn was launched in 1962.

Play video:
Full view | Close-up

Become a subscriber
More video







Hubble makes movie of Neptune's atmosphere
SPACE TELESCOPE SCIENCE INSTITUTE NEWS RELEASE
Posted: September 4, 2005


New NASA Hubble Space Telescope images of the distant planet Neptune show a dynamic atmosphere and capture the fleeting orbits of its satellites. The images have been assembled into a time-lapse movie revealing the orbital motion of the satellites.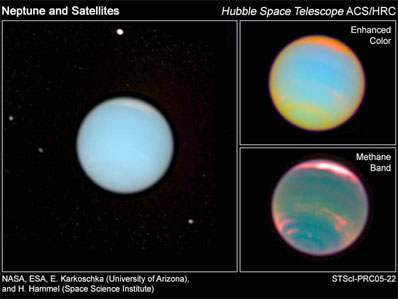 Credit: NASA, ESA, E. Karkoschka (University of Arizona), and H.B. Hammel (Space Science Institute, Boulder, Colorado). Download larger image
Watch movie in QuickTime dial-up | broadband



Images were taken in 14 different colored filters probing various altitudes in Neptune's deep atmosphere so that scientists can study the haze and clouds in detail.

These are several snapshots from the Neptune movie.

The natural-color view of Neptune (to left), common to naked eye telescopic views by amateur astronomers, reveals a cyan colored planet. Methane gas in Neptune's atmosphere absorbs most of the red sunlight hitting the planet, making it look blue-green. The image was created by combining images in red, green, and blue light.

Neptune's subtle features are more visible in the enhanced-color view (top right). Images taken in special methane filters show details not visible to the human eye (bottom right). The features seen in this enhanced image must be above most of the sunlight-absorbing methane to be detectable through these special filters.

The planet is so dark at the methane wavelengths that long exposures can be taken, revealing some of Neptune's smaller moons. Clockwise from the top (in composite image at left), these moons are Proteus (the brightest), Larissa, Despina, and Galatea. Neptune had 13 moons at last count.

Neptune is the most distant giant planet in our Solar System, orbiting the Sun every 165 years. It is so large tht nearly 60 Earths could fit inside it. A day on Neptune is between 14 hours and 19 hours. The inner two thirds of Neptune is composed of a mixture of molten rock, water, liquid ammonia and methane. The outer third is a mixture of heated gases comprised of hydrogen, helium, water and methane.

On April 29 and 30, 2005, Hubble images were taken every 4-5 hours, spaced at about a quarter of Neptune's rotational period. These where combined to create a time-lapse movie of the dynamic planet.

The Space Telescope Science Institute (STScI) is operated by the Association of Universities for Research in Astronomy, Inc. (AURA), for NASA, under contract with the Goddard Space Flight Center, Greenbelt, MD. The Hubble Space Telescope is a project of international cooperation between NASA and the European Space Agency (ESA).