Spaceflight Now +





Premium video content for our Spaceflight Now Plus subscribers.

Rocket booster cams
When space shuttle Discovery launched its two solid-fuel booster rockets were equipped with video cameras, providing dazzling footage of separation from the external fuel tank, their free fall and splashdown in the sea.

Full coverage

Discovery ferried home
Mounted atop a modified Boeing 747, space shuttle Discovery was ferried across the country from Edwards Air Force Base, California, to Kennedy Space Center, Florida.

Full coverage

Shuttle tank returned
Shuttle fuel tank ET-119 is loaded onto a barge at Kennedy Space Center for the trip back to Lockheed Martin's Michoud Assembly Facility in New Orleans. The tank will be used in the investigation to determine why foam peeled away from Discovery's tank on STS-114 in July.

Full coverage

Delta 4 launch delayed
Launch of the GOES-N weather observatory aboard a Boeing Delta 4 rocket is postponed at Cape Canaveral, Florida.

Full coverage

Mars probe leaves Earth
The Mars Reconnaissance Orbiter lifts off aboard a Lockheed Martin Atlas 5 rocket from Cape Canaveral's Complex 41.

Full coverage

Launch pad demolition
Explosives topple the abandoned Complex 13 mobile service tower at Cape Canaveral Air Force Station. This video was shot from the blockhouse roof at neighboring Complex 14 where John Glenn was launched in 1962.

Play video:
Full view | Close-up

Become a subscriber
More video







Shuttle fuel tank facility endures Hurricane Katrina
BY WILLIAM HARWOOD
STORY WRITTEN FOR CBS NEWS "SPACE PLACE" & USED WITH PERMISSION
Posted: August 29, 2005


Lockheed Martin's Michoud Assembly Facility, the sprawling New Orleans plant where space shuttle external tanks are built, may have escaped catastrophic damage from Hurricane Katrina. The status of NASA's Stennis Space Center near Bay St. Louis, Miss., is not yet known.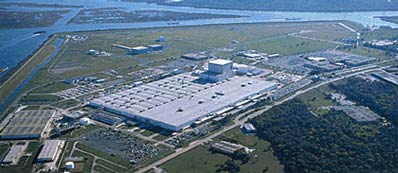 The 832-acre Michoud Assembly Facility is located in New Orleans, Louisiana some 24 miles from New Orleans International Airport and 15 miles from the sounds of Dixieland jazz in the French Quarter. Credit: Lockheed Martin



A NASA official said the MAF endured peak wind gusts up to 125 mph during the height of the storm, but nearby levies appeared to hold and the only immediately obvious signs of damage were an inch or so of water in a security building, "some roof damage" and "widespread minor leaks."

Some 65 people rode out the storm at the tank facility, 37 of them Lockheed Martin and NASA representatives. The rest were local fire fighters. A more detailed inspection will be carried out after the wind dies down.

The NASA official said MAF employees began making storm preparations Friday and that all spare shuttle hardware was either boxed up or raised off the floor. Eight external tanks in various stages of assembly are on site at Michoud with netting in place below the ceilings to provide a second level of protection. In addition, the MAF is equipped with four large diesel-powered 42-inch drainage pumps for use as needed.

The Michoud Assembly Facility will not reopen until Wednesday at the earliest.

At the Stennis Space Center, where NASA test fires space shuttle main engines, hundreds of employees, family members and the public took shelter in the center's six major buildings, along with a limited rideout crew. There was no immediate word on how Stennis weathered Katrina's passage.