Hurricane Katrina threatens shuttle external tank facility
BY WILLIAM HARWOOD
STORY WRITTEN FOR CBS NEWS "SPACE PLACE" & USED WITH PERMISSION
Posted: August 28, 2005


A small "rideout" crew is in place at Lockheed Martin's sprawling external tank production facility in New Orleans, braced for potentially catastrophic flooding and destructive winds from Hurricane Katrina. A powerful category 5 hurricane, Katrina was packing sustained winds of 175 mph Sunday afternoon, making it one of the most potentially destructive storms to ever threaten the U.S. coast.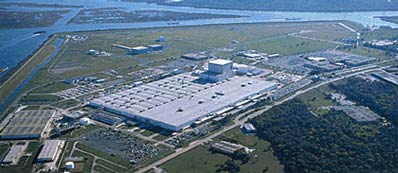 The 832-acre Michoud Assembly Facility is located in New Orleans, Louisiana some 24 miles from New Orleans International Airport and 15 miles from the sounds of Dixieland jazz in the French Quarter. Credit: Lockheed Martin



Seven substantially complete space shuttle external tanks are on site at the Michoud Assembly Facility with another eight to 10 in various stages of production. Any major damage to the facility could impact NASA's plans to resume shuttle flights next year.

Marion Lanasa, a spokesman for the plant, was in the process of evacuating his family Sunday when contacted by cell phone. Stuck in heavy traffic, Lanasa had spent the previous two hours covering 24 miles.

"The lowest spot on our levies are 19.3 feet above sea level," he said of the Michoud tank factory. "The facility has been shut since 8 a.m. this morning. At this point, we will be shut through Tuesday and we'll see how it goes from there.

"We've got about two dozen folks as members of a rideout crew that will remain on site during the storm to make sure that whatever systems they can keep operational will stay operational. But of course, once you get into a storm, they're sort of in a lockdown mode. The building they're in is a protected structure, it's the safest we've got out there."

The Michoud Assembly Facility covers some 832 acres just 15 miles or so east-northeast of downtown New Orleans.

(Background info from Lockheed Martin is available here)

"We have seven substantially completed tanks that are on site and another eight or 10 tanks in various stages of production," Lanasa said. "They're in various buildings and various locations within the building. Our main production facility is 43 acres under one roof and those tanks are located in several different areas, they're not all congregated and they're not all in one building."

He said engineers were unsure about how the various buildings would stand up to category 5 winds.

"They're looking at perhaps the most powerful storm (ever to) hit the continental U.S.," he said. "It's actual landfall and the course that it takes is going to be critical. We're certainly familiar with the fact that the northeast quadrant (of a hurricane) is usually where the most destructive winds are. Ten or 15 miles difference in that ultimate path could play a significant role in the amount of damage that we see."

Three external tanks retrofitted with post-Columbia improvements were shipped to the Kennedy Space Center earlier this year. One of them was launched with the shuttle Discovery in July. The other two must be shipped back to Michoud for additional work to fix problems with foam insulation that were observed during Discovery's flight. One of those tanks had been scheduled to ship out last week, but the barge trip around the tip of Florida was held up because of Katrina's approach to the Sunshine State.

Given the delay getting the tank back to Louisiana, and any potential damage suffered by the Michoud facility after landfall Monday, NASA will be extremely hard pressed to launch Discovery next March as currently planned. To make the opening of the March launch window, the first of the two KSC tanks must be fixed and back at Kennedy by around Nov. 12.