Mars-bound probe to make major trajectory adjustment
BY JUSTIN RAY
SPACEFLIGHT NOW
Posted: August 25, 2005


NASA's Mars Reconnaissance Orbiter will take aim at the Red Planet Saturday by firing its six main engines during the first in a series of trajectory-changing maneuvers planned throughout the craft's seven-month cruise through interplanetary space.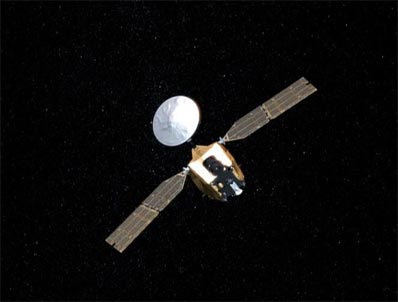 An artist's concept shows Mars Reconnaissance Orbiter cruising to Mars. Credit: NASA/JPL



Successfully launched August 12 aboard a Lockheed Martin Atlas 5 rocket from Cape Canaveral, Florida, the two-and-a-half ton probe was deliberately placed on a path off target from Mars. This weekend's engine burn, called Trajectory Correction Maneuver 1, will move MRO's course closer to its eventual destination.

MRO left Earth with its spent rocket motor following behind. To prevent that Centaur upper stage from crashing into Mars, mission designers dispatched the spacecraft on a pre-planned miss trajectory knowing that TCM 1 would re-plot the course.

"We never point directly at Mars (at launch)," said Steve Jolly, chief engineer and deputy MRO program manager at Lockheed Martin. "We don't want the Centaur stage, or whatever launch vehicle you are using, to go to Mars also. We want it to fly past. The reason is mostly for planetary protection purposes, meaning we don't want to be depositing biological material down on the same planet that we are searching for such things."

The Lockheed Martin-built spacecraft's current path misses Mars by 50,000 miles. Saturday's 15-second engine firing will steer MRO toward a target 250 miles off the planet. It will be the spacecraft's largest maneuver until next year's Mars Orbit Insertion and offers the one and only in-flight test of the engine cluster needed for that MOI burn.

Over the next few months, three more trajectory correction maneuvers as planned using smaller thrusters to tweak the course and fine tune the arrival time at Mars.

A last-minute contingency maneuver in the final day before reaching Mars is possible, if navigators think MRO is coming in too high or shallow for a successful insertion into orbit around the planet.

MRO officials consider Saturday's maneuver something of a short dress rehearsal for the make-or-break Mars Orbit Insertion event.

"It will be an anxious moment because we want to make sure our ability to get into orbit is there," said Jim Neuman, Lockheed Martin's mission operations manager for space exploration spacecraft.

A successful MOI on March 10 will slow MRO, allowing Mars to capture the instrument-laden spacecraft into an initial looping orbit, setting the stage for extensive observations and research. A botched burn would kill the $720 million mission, causing the craft to streak past the planet.

The MOI burn's anticipated duration is 25 minutes. Although the TCM will last just 15 seconds, officials say that's plenty of time to gain confidence in MRO's propulsion system.

"Even though it's a short burn, the six-engine cluster is going to fire. You're going to see the propulsion system work. So it doesn't have to be 20 minutes long for us to be certain it is going to work," Jolly said.

Ground controllers at Lockheed Martin's facilities near Denver have been busy preparing and testing the commands for Saturday's TCM.

"We just approved the sequence for uplink (to the spacecraft)," Wayne Sidney, MRO mission operations lead at Lockheed Martin, said Thursday afternoon. "Everybody seems to be happy on the navigation team and the spacecraft team. Management blessed it, and away we go."

The MRO engines were connected the spacecraft's fuel tanks Wednesday with the opening of a latch valve, Jolly said.

The onboard computer sequence will start issuing commands two hours before the TCM. The spacecraft will perform a desaturation of its control-orienting reaction wheels, swap from one low-gain communications antenna to another, ensuring telemetry relay to Earth during the burn, and turn itself to the burn position.

Smaller thrusters fire for 30 seconds to settle propellant inside the fuel system for the TCM. Then the main engines on the bottom of MRO begin igniting at 2200 GMT (6 p.m. EDT), coming to life in pairs staggered every two seconds until all six are up and burning.

"We'll light the engines and it'll be over before we know it," Sidney said.

MRO will reorient to the sun-point attitude, return to the low-gain antenna 1 and begin replaying stored engineering data to Earth.

"Probably within a couple of hours (of) getting the data down we'll have a pretty good assessment of how well we did with the burn."

Remarkably, the main engines were built for the Mars lander slated to launch in 2001. But that mission was cancelled after the Mars Climate Orbiter and Mars Polar Lander failures in 1999. The engines each produce about 170 newtons (38 pounds) of thrust.


Additional coverage for subscribers:


VIDEO: LAUNCH OF MARS ORBITER SHORT | LONGER VERSION


VIDEO: LIFTOFF AS SEEN FROM SHUTTLE VAB ROOF PLAY


VIDEO: PLAYALINDA BEACH TRACKING CAMERA PLAY


VIDEO: TRACKING CAMERA POSITIONED SOUTH OF PAD PLAY


VIDEO: STATIC TEST ROAD VIEWING MOUND PLAY


VIDEO: POST-FLIGHT INTERVIEW NASA LAUNCH DIRECTOR PLAY


VIDEO: WATCH POST-LAUNCH NEWS CONFERENCE PLAY



VIDEO: THE FIRST LAUNCH ATTEMPT IS SCRUBBED PLAY


VIDEO: ROCKET IS ROLLED TO PAD PLAY


VIDEO: ATLAS 5 ROCKET PRE-LAUNCH PREPS PLAY


VIDEO: MARS RECONNAISSANCE ORBITER PRE-LAUNCH PREPS PLAY


VIDEO: NARRATED ATLAS 5 LAUNCH ANIMATION PLAY


VIDEO: SCIENCE PREVIEW BRIEFING DIAL-UP | BROADBAND 1 & 2


VIDEO: PRE-LAUNCH NEWS CONFERENCE DIAL-UP | BROADBAND 1 & 2


SUBSCRIBE NOW