Japanese satellites launched atop converted missile
BY STEPHEN CLARK
SPACEFLIGHT NOW
Posted: August 23, 2005


A Russian rocket formerly tipped with nuclear warheads blasted out of its missile silo shrouded in smoke and fire overnight Tuesday bound for space with a pair of Japanese technology demonstration satellites.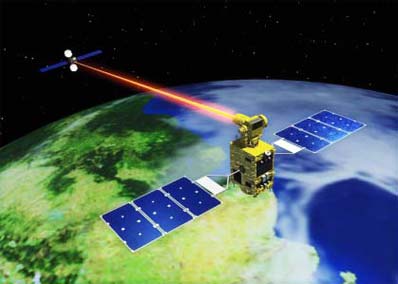 An artist's concept of OICETS testing its laser communications link with Europe's Artemis spacecraft. Credit: JAXA



Liftoff of the Dnepr booster was at 2110 GMT (5:10 p.m. EDT) from complex 109 at the Baikonur Cosmodrome in central Kazakhstan. The rocket flew south away from Baikonur over Iran and the Arabian Peninsula before releasing its cargo off the east coast of Somalia.

Officials confirmed that the two craft separated from the Dnepr rocket's third stage a little over 15 minutes after its mission began, leaving the satellites to go through a process of powering up their systems and readying for normal operations.

The launcher was due to deliver the testbeds into a circular orbit some 379 miles high with an inclination of about 97.8 degrees.

It was the fifth orbital mission for the converted Ukrainian ballistic missile, known as the SS-18 to Western observers. The rockets are marketed by the international space corporation Kosmotras for the launch of small to medium-class satellites mostly to low Earth orbit.

The primary payload for the launch was the Optical Inter-orbit Communications Engineering Test Satellite being flown by the Japanese Aerospace Exploration Agency, or JAXA. Riding piggyback below was JAXA's Innovative Technology Demonstration Experiment Satellite, dubbed INDEX.

OICETS was to have passed over the Kiruna tracking station in Sweden about 90 minutes after launch to make first contact with ground controllers after arriving in orbit. By that time, the craft's twin power-producing solar arrays should have been deployed and tracking the Sun.

INDEX's ground track will not take it over a communications site until over six hours later when it passes above a JAXA station at the Uchinoura Space Center. Its health could not be verified until then.

After an activation and checkout period, OICETS will set off on a one-year mission to perform communications tests in space using powerful lasers and sensitive detectors to demonstrate the feasibility of such links.

The 1,254-pound craft carries a large optical communications package mounted on the space-facing side of the satellite bus, called the Laser Utilizing Communications Equipment. The LUCE instrument contains a 10-inch telescope essentially serving as an antenna, a receiver, and transmitter to conduct two-way tests with Europe's Artemis advanced communications testbed launched in 2001.

Artemis was left in a low orbit after its Ariane 5 rocket upper stage shut down early. Engineers devised a plan to raise its orbit over a lengthy period of time using its electric propulsion system, and Artemis finally arrived in geostationary orbit 22,300 miles above central Africa in early 2003.

Artemis has has already used its laser system to establish an optical communications connection with the French Spot 4 Earth-observing satellite, which downlinked an image to the ground via Artemis. Since the communications link became operational in October 2003, Artemis and Spot 4 have made contact through optical means on a nearly daily basis to relay images back to Earth, totaling over a thousand connections.

The craft also linked with the Japanese ADEOS-2 environmental satellite using its microwave communications system.

An engineering model of the LUCE instrument was taken to the European Space Agency's optical ground station in the Spanish Canary Islands in September 2003 for compatibility tests with Artemis. The successful outcome of the dry-run will pave the way for the space-to-space connection.

OICETS will study the effects of normal spacecraft-induced vibrations and movements on the fine optical path that must be precisely pointed at Artemis for the dual-route communications to occur. The laser beam must travel over 20,000 miles through space with a pointing accurary of less than one-thousandth of a degree.

Part of the list of objectives for OICETS is simply tracking and acquiring the Artemis satellite in optical communication bands, but engineers hope to keep the connection long enough to gather information on the characteristics of the cutting edge technology.

Demonstrating and advancing the knowledge base of optical communications in space could lead to the development of more compact communications systems on next-generation satellites that provide more capacity and higher transmission rates than those currently in use. Interference and data security concerns with radio communications could also be eased using laser-based systems.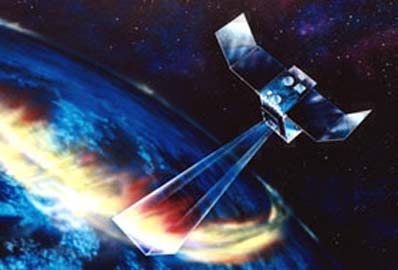 This artist's concept shows the INDEX spacecraft in orbit. Credit: ISAS



Tucked beneath the OICETS satellite during launch was the 154-pound INDEX microsatellite embarking on a test flight to expose a number of components and technologies to the harsh environment of space.

The spacecraft contains an improved computer processor, a fiber optical gyroscope to improve attitude control, and a smaller GPS receiver for navigation obtained at low cost. Engineers will also evaluate the performance of more efficient solar panels and a manganese lithium ion battery.

Equipment aboard INDEX will also observe the planet's polar auroras to study the energies of the electrons and ions responsible for the beautiful light shows visible at Earth's higher latitudes.