Explosives to topple Cape launch pad this weekend
BY JUSTIN RAY
SPACEFLIGHT NOW
Posted: August 4, 2005


One of Cape Canaveral's oldest launch pad structures, crippled by corrosion after standing idle for a quarter century, will come crashing down Saturday.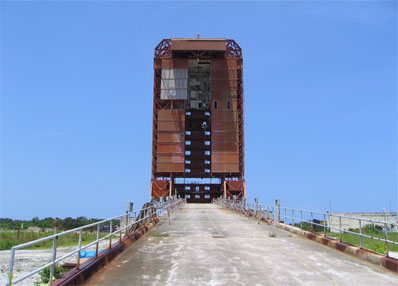 The Complex 13 mobile service tower will be blown to the ground by 171 pounds of explosives. Credit: Justin Ray/Spaceflight Now



The 179-foot tall mobile service tower that helped ready Atlas rockets for blastoff from Complex 13 is being knocked to the ground due to safety and environmental concerns.

"In a way, it's sort of sad to see one of the old launch towers come down, but due to the extreme corrosion on the tower, it's just not safe to leave it standing," said Ken Dinally, 45th Space Wing explosives safety manager at the air station.

The Air Force opted to explosively topple the structure, giving crews easier access to chop up the 2.6-million pound tower for underground burial. The riskier option of dismantling the standing tower piece by piece was ruled out given its weakened condition that has made the structure unsafe to climb.

"The tower was abandoned in 1978 and hasn't been maintained since. Salt air has caused significant corrosion, causing pieces of it to fall to the ground," said Teresa Fiorillo, 45th Space Wing project officer.


| | |
| --- | --- |
| | Credit: Justin Ray/Spaceflight Now |
The unusual demolition comes nearly six years after Complex 41's Titan rocket umbilical and service towers were imploded in similar fashion to make way for Lockheed Martin's new Atlas 5 pad.

Workers have strategically placed nearly 50 charges amounting to 171 pounds of explosives on the Complex 13 tower that will fire within a second. The first explosions will occur at the structure's 43-foot level, followed milliseconds later by detonations at the bottom to destroy the support legs and causing the tower to fall over, project officials explained.

"The tower will appear to topple in one piece and fall to the north of its current standing location," said Dinally.

The explosive moment is scheduled to happen sometime between 11:45 a.m. and 12:45 p.m.

"We'll establish a 2,500-foot cordon around Complex 13 to ensure safety. In fact, this demolition is of such magnitude, we reserved time on the Eastern Range schedule to ensure we didn't interfere with launches or other range operations," added Dinally.

Complex 13 was one of four Atlas ballistic missile pads built side by side at the Cape. Construction of the complex began in August 1956 for $4.5 million, and it hosted its first Atlas missile liftoff on August 2, 1958. Over the next four years, 29 additional missiles were test-fired from there.

New structures, including the tower being demolished Saturday, were built when the pad was modified to support Atlas rockets with Agena upper stages for launches of satellites starting in October 1963. Pairs of nuclear-detection spacecraft, called VELA, were flown on the first missions from the overhauled pad, followed by NASA's Mariner 3 probe bound for Mars.

NASA took control of the complex from the Air Force in 1966, leading to launches of several Lunar Orbiter craft to map the moon's surface as a precursor to Apollo.


| | |
| --- | --- |
| | Credit: Justin Ray/Spaceflight Now |
The Air Force regained the pad in 1968, using it to launch a series of military payloads on Atlas-Agena rockets.

The site was deactivated in April 1978 after serving as the starting point for 51 Atlas missile and Atlas-Agena boosters.

But why after 27 years is the tower being demolished now?

"Safety," said Fiorillo. "And because (PCB and lead-laden) paint keeps chipping off. It gets into the soil."

What's more, the cleared site will be made available for commercial rocket-makers to build a new launch pad in the future.

The umbilical tower was torn down earlier this year. Once the service tower pieces are deposited into a special underground cell in the Cape's landfill, workers plan soil and groundwater remediation at the launch complex through next spring.