Spaceflight Now +





Premium video content for our Spaceflight Now Plus subscribers.

Shuttle collection
As excitement builds for the first space shuttle launch in over two years, this comprehensive video selection captures the major pre-flight events for Discovery and her seven astronauts.
See selection

What is NASA's future?
Administrator Mike Griffin is the sole witness testifying before the House Science Committee in this hearing on the future of NASA. (2hr 01min 09sec file)
Play video

Address to NASA
One day before beginning the space shuttle Flight Readiness Review, Administrator Mike Griffin gives a televised address to agency workers and answers questions. (26min 09sec file)

Play video:
Dial-up| Broadband

Download audio:
For iPod

Shuttle task group
The Stafford-Covey Task Group holds a news conference from NASA Headquarters following the panel's final public hearing on the space shuttle program. (55min 58sec file)

Play video:
Dial-up| Broadband

Download audio:
For iPod

Supply ship docking
The 18th Progress resupply ship launched to the International Space Station is guided to docking with the Zvezda service module's aft port via manual control from commander Sergei Krikalev. A problem thwarted plans for an automated linkup.

Play video:
Short | Extended version

House hearing on ISS
The House Science Committee, Subcommittee on Space and Aeronautics, begins its hearing on the International Space Station. (29min 59sec file)
Play video

Phillips testifies
House members question Expedition 11 crew member John Phillips living on the International Space Station. (16min 33sec file)
Play video

Past ISS astronauts
The hearing continues with questioning by House members of former station astronauts Peggy Whitson and Mike Fincke. (31min 33sec file)
Play video

Become a subscriber
More video







Satellites measure and monitor sea level changes
NASA NEWS RELEASE
Posted: July 7, 2005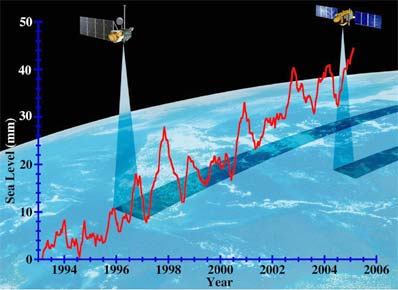 The observed rate of sea level increase year over year, in millimeters. Credit: NASA/JPL



For the first time, NASA has the tools and expertise to understand the rate at which sea level is changing, some of the mechanisms that drive those changes and the effects that sea level change may have worldwide.

"It's estimated that more than 100 million lives are potentially impacted by a one-meter increase in sea level," said Dr. Waleed Abdalati, head of the Cryospheric Sciences Branch at NASA's Goddard Space Flight Center, Greenbelt, Md. "When you consider this information, the importance of learning how and why these changes are occurring becomes clear," he added.

Although scientists have directly measured sea level since the early part of the 20th century, it was not known how many of the observed changes in sea level were real and how many were related to upward or downward movement of the land. Now satellites have changed that by providing a reference by which changes in ocean height can be determined regardless of what the nearby land is doing. With new satellite measurements, scientists are able to better predict the rate at which sea level is rising and the cause of that rise.

"In the last fifty years sea level has risen at an estimated rate of .07 of an inch per year, but in the last 12 years that rate appears to be .12 of an inch per year. Roughly half of that is attributed to the expansion of ocean water as it has increased in temperature, with the rest coming from other sources," said Dr. Steve Nerem, Associate Professor, Colorado Center for Astrodynamics Research, University of Colorado, Boulder.

Another source of sea level rise is the increase in ice melting. Evidence shows that sea levels rise and fall as ice on land grows and shrinks. With the new measurements now available, it's possible to determine the rate at which ice is growing and shrinking.

"We've found the largest likely factor for sea level rise is changes in the amount of ice that covers the earth. Three-fourths of the planet's freshwater is stored in glaciers and ice sheets or the equivalent of about 220 feet of sea level," said Dr. Eric Rignot, Principal Scientist for the Radar Science and Engineering Section at NASA's Jet Propulsion Laboratory, Pasadena, Calif. "Ice cover is shrinking much faster than we thought, with over half of recent sea level rise due to the melting of ice from Greenland, West Antarctica's Amundsen Sea and mountain glaciers," he said.

Additionally, NASA scientists and partner researchers now are able to measure and monitor the world's waters globally in a sustained and comprehensive way using a combination of satellite observations and sensors in the ocean. By integrating the newly available satellite and surface data, scientists are better able to determine the causes and significance of current sea level changes.

"Now the challenge is to develop an even deeper understanding of what is responsible for sea level rise and to monitor for possible future changes. That's where NASA's satellites come in, with global coverage and ability to examine the many factors involved," said Dr. Laury Miller, Chief of the National Oceanic and Atmospheric Administration (NOAA) Laboratory for Satellite Altimetry, Washington.

NASA works with agency partners such as NOAA and the National Science Foundation to explore and understand sea level change. Critical resources that NASA brings to bear on this issue include such satellites as:
Ocean TOPography Experiment (TOPEX/Poseidon), which uses radar to map the precise features of the oceans' surface;


Jason, which measures ocean height and monitors ocean circulation;


Ice, Cloud and Land Elevation Satellite (ICESat), which studies the mass of polar ice sheets and their contributions to global sea level change;


Gravity Recovery And Climate Experiment (GRACE), which maps Earth's gravitational Field, allowing us to better understand movement of water throughout the Earth.