Spaceflight Now +





Premium video content for our Spaceflight Now Plus subscribers.

House hearing on ISS
The House Science Committee, Subcommittee on Space and Aeronautics, begins its hearing on the International Space Station. (29min 59sec file)
Play video

Phillips testifies
House members question Expedition 11 crew member John Phillips living on the International Space Station. (16min 33sec file)
Play video

Past ISS astronauts
The hearing continues with questioning by House members of former station astronauts Peggy Whitson and Mike Fincke. (31min 33sec file)
Play video

Station update
A status report on the Expedition 11 crew's mission aboard the International Space Station is given during this news conference Monday. (55min 54sec file)

Play video:
Dial-up | Broadband

Shuttle collection
As excitement builds for the first space shuttle launch in over two years, this comprehensive video selection captures the major pre-flight events for Discovery and her seven astronauts.
See selection

Tropical Storm Arlene
A camera on the International Space Station captured this view of Tropical Storm Arlene moving into the Gulf of Mexico as the orbiting complex flew above the weather system at 2:33 p.m. EDT on Friday, June 10. (3min 06sec file)
Play video

Hurricane research
NASA's space-based research into how hurricanes form and move is explained in this narrated movie from the agency. (8min 02sec file)
Play video

Volcano on Titan?
Dr. Bonnie Buratti, team member of the Cassini visual and infrared mapping spectrometer, discusses a possible volcano discovered on Saturn's moon Titan. (2min 12sec file)
Play video

Shuttle oversight
The co-chairs and other members of the Stafford-Covey Return to Flight Task Group, which is overseeing NASA's space shuttle program, hold a news conference in Houston on June 8.

Play video:
Presentation | Questions

Become a subscriber
More video







Hybrid rocket test at Edwards AFB is successful
AIR FORCE NEWS RELEASE
Posted: June 14, 2005


A hybrid rocket motor intended to provide a low-cost responsive small launch vehicle (SLV) was recently tested for the second time here at Edwards Air Force Base, California.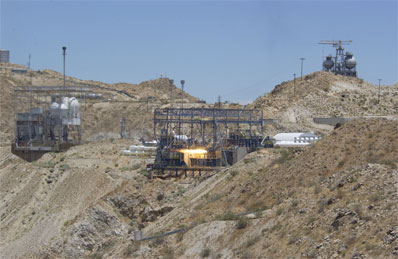 The second in a series of hybrid rocket motor firings on Air Force Research Laboratory's massive Edwards Research Site test stands provided a preview of future small satellite launch capabilities and missions. Credit: Air Force



The test took place on the Air Force Research Laboratory's Test Stand 2-A, which sits on Leuhman Ridge overlooking Edward's Rodgers dry lakebed and the surrounding Mojave Desert. The hybrid motor, which uses a rubberized fuel and liquid oxygen to create approximately 23,500 pounds of thrust was successfully tested on June 10 at 1304 local time. The test ran for the planned duration of 120 seconds and an initial review of the data indicated that the program objectives were met.

The test was part of the joint Defense Advanced Research Projects Agency (DARPA) and Air Force program called Falcon/SLV. Its goal is to develop an affordable, responsive launcher capable of placing a small satellite into a low earth orbit.

Lockheed Martin Space Systems - Michoud Operations, one of four companies awarded the DARPA/AF contracts to explore a range of SLV designs, successfully tested a similar hybrid rocket for the first time, January 21, this year, on the Lab's Test Stand 2-A. As the program progresses, Falcon/SLV candidates will be selected for additional development efforts that will culminate in a launch demonstration.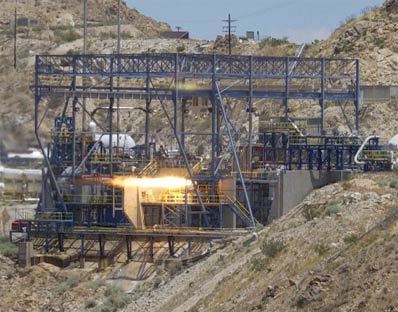 Credit: Air Force



Test Stand 2-A is the Department of Defense's most capable rocket component development facility, able to test the family of rockets proposed for the program. The AFRL's Edwards Research Site encompasses 65 square miles of Edwards AFB. Its personnel and unique research and development facilities provide state-of-the-art capabilities for researchers who generate the latest rocket propulsion technology possible for the nation.