Spaceflight Now +





Premium video content for our Spaceflight Now Plus subscribers.

Shuttle oversight
The co-chairs and other members of the Stafford-Covey Return to Flight Task Group, which is overseeing NASA's space shuttle program, hold a news conference in Houston on June 8.

Play video:
Presentation | Questions

Volcano on Titan?
Dr. Bonnie Buratti, team member of the Cassini visual and infrared mapping spectrometer, discusses a possible volcano discovered on Saturn's moon Titan. (2min 12sec file)
Play video

Discovery demate preps
Technicians ready space shuttle Discovery for demating from the external fuel tank inside the Vehicle Assembly Building. (1min 24sec file)
Play video

Shuttle removed from tank
Space shuttle Discovery is demated from its original external fuel tank and solid rocket boosters. The ship is lowered to its transport trailer in the Vehicle Assembly Building. (2min 38sec file)
Play video

Discovery in the VAB
Shuttle Discovery enters into the Vehicle Assembly Building after a 10-hour journey from launch pad 39B. (4min 29sec file)
Play video

Memorial Day message
The International Space Station's Expedition 11 crew pays tribute to our fallen heroes for Memorial Day. (1min 00sec QuickTime file)
Play video

Apollo-era transporter
In the predawn hours, the Apollo-era crawler-transporter is driven beneath shuttle Discovery's mobile launch platform at pad 39B in preparation for the rollback to the Vehicle Assembly Building. (2min 37sec QuickTime file)
Play video

Unplugging the shuttle
Workers disconnect a vast number of umbilicals running between launch pad 39B and Discovery's mobile launch platform for the rollback. The cabling route electrical power, data and communications to the shuttle. (2min 32sec file)
Play video

Shuttle rollback
The crawler-transporter begins rolling space shuttle Discovery off launch pad 39B at 6:44 a.m. EDT May 26 for the 4.2-mile trip back to the Vehicle Assembly Building. (7min 28sec file)
Play video

Voyager adventures
This animation shows the Voyager spacecraft heading into the solar system's final frontier and the edge of interstellar space. (1min 24sec file)
Play video

Mike Griffin at KSC
NASA Administrator Mike Griffin and Kennedy Space Center Director Jim Kennedy chat with reporters at the Cape on a wide range of topics. The press event was held during Griffin's tour of the spaceport. (27min 48sec file)
Play video

Delta rocket blasts off
The NOAA-N weather satellite is launched aboard a Boeing Delta 2 rocket from Vandenberg Air Force Base, California.

Play video:
Liftoff | Extended clip
Umbilicals | IR tracker

Become a subscriber
More video







World's largest satellite delivered to launch base
LORAL NEWS RELEASE
Posted: June 9, 2005


Space Systems/Loral (SS/L) today announced that the iPSTAR-1 satellite has arrived at the Arianespace spaceport in Kourou, French Guiana, and is undergoing preparations for launch aboard an Ariane 5 rocket on July 7. Weighing in with a launch weight of 14,341 pounds (6505 kilograms), iPSTAR-1 will be the heaviest commercial satellite ever delivered to geosynchronous orbit.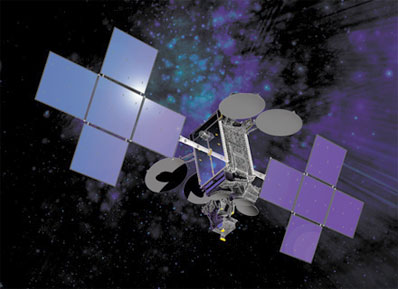 An artist's concept shows the iPSTAR spacecraft deployed in orbit. Credit: SS/L



"iPSTAR-1 is one of the largest and most technologically advanced satellites ever built for a commercial customer," said C. Patrick DeWitt, president of Space Systems/Loral. "SS/L's 1300 platform is becoming an industry standard when it comes to developing highly-powered satellites for direct-to-user applications like broadband access. We're pleased to be working with Shin on this important project and look forward to the satellite's launch next month."

Built for Shin Satellite, Plc of Thailand, iPSTAR-1 is designed to provide both enterprises and consumers throughout Asia, Australia and New Zealand with various levels of Internet access services, competing with cable modems and digital subscriber lines (DSL).

iPSTAR-1 has a massive total data throughput capacity of over 40 Gbps. The satellite will provide users with data speeds of up to eight Mbps on the forward link and four Mbps on the return link. From its 119.5 degrees East longitude orbital position, iPSTAR-1 will use its seven on-board antennas to create 112 spot and regional beams in the Ku and Ka frequency bands. The satellite will generate 14 kW of electrical power throughout its planned 12-year service life.

Shin Satellite, a turnkey satellite operator, provides C- and Ku-band transponder leasing, teleport and other value-added and engineering services to users in Asia, Africa, Europe and Australia. Shin Satellite owns and operates Thaicom 1A, located at 120 degrees East, and Thaicom 2 and 3, co-located at 78.5 degrees East. The satellites carry a total of 49 C-band and 20 Ku-band transponders offering over 70 channels. Thaicom is the Hotbird for Indochina and India, an emerging platform of choice for transcontinental satellite television broadcasts from Europe to Australia. The company has spent years researching and developing new technology to make Internet via satellite more efficient, thus reducing costs and improving the service to end-users.

Space Systems/Loral, a subsidiary of Loral Space & Communications (OTCBB: LRLSQ), is a premier designer, manufacturer, and integrator of powerful satellites and satellite systems. SS/L also provides a range of related services that include mission control operations and procurement of launch services. Based in Palo Alto, Calif., the company has an international base of commercial and governmental customers whose applications include broadband digital communications, direct-to-home broadcast, defense communications, environmental monitoring, and air traffic control. SS/L satellites have amassed more than 1,200 years of reliable on-orbit service. SS/L is ISO 9001:2000 certified.

Loral Space & Communications is a satellite communications company. In addition to Space Systems/Loral, through its Skynet subsidiary Loral owns and operates a fleet of telecommunications satellites used to broadcast video entertainment programming, and for broadband data transmission, Internet services and other value-added communications services.