Spaceflight Now +





Premium video content for our Spaceflight Now Plus subscribers.

Discovery demate preps
Technicians ready space shuttle Discovery for demating from the external fuel tank inside the Vehicle Assembly Building. (1min 24sec file)
Play video

Shuttle removed from tank
Space shuttle Discovery is demated from its original external fuel tank and solid rocket boosters. The ship is lowered to its transport trailer in the Vehicle Assembly Building. (2min 38sec file)
Play video

Discovery in the VAB
Shuttle Discovery enters into the Vehicle Assembly Building after a 10-hour journey from launch pad 39B. (4min 29sec file)
Play video

Memorial Day message
The International Space Station's Expedition 11 crew pays tribute to our fallen heroes for Memorial Day. (1min 00sec QuickTime file)
Play video

Apollo-era transporter
In the predawn hours, the Apollo-era crawler-transporter is driven beneath shuttle Discovery's mobile launch platform at pad 39B in preparation for the rollback to the Vehicle Assembly Building. (2min 37sec QuickTime file)
Play video

Unplugging the shuttle
Workers disconnect a vast number of umbilicals running between launch pad 39B and Discovery's mobile launch platform for the rollback. The cabling route electrical power, data and communications to the shuttle. (2min 32sec file)
Play video

Shuttle rollback
The crawler-transporter begins rolling space shuttle Discovery off launch pad 39B at 6:44 a.m. EDT May 26 for the 4.2-mile trip back to the Vehicle Assembly Building. (7min 28sec file)
Play video

Voyager adventures
This animation shows the Voyager spacecraft heading into the solar system's final frontier and the edge of interstellar space. (1min 24sec file)
Play video

Delta rocket blasts off
The NOAA-N weather satellite is launched aboard a Boeing Delta 2 rocket from Vandenberg Air Force Base, California.

Play video:
Liftoff | Extended clip
Umbilicals | IR tracker

Become a subscriber
More video







Hubble reveals 'supernova remnant menagerie'
SPACE TELESCOPE SCIENCE INSTITUTE NEWS RELEASE
Posted: June 7, 2005


A violent and chaotic-looking mass of gas and dust is seen in this Hubble Space Telescope image of a nearby supernova remnant. Denoted N 63A, the object is the remains of a massive star that exploded, spewing its gaseous layers out into an already turbulent region.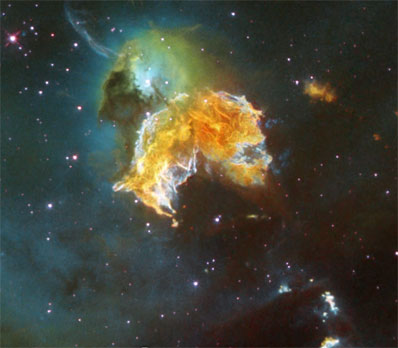 Credit: NASA, ESA, HEIC, and The Hubble Heritage Team (STScI/AURA)
Download larger image version here



The supernova remnant is a member of N 63, a star-forming region in the Large Magellanic Cloud (LMC). Visible from the southern hemisphere, the LMC is an irregular galaxy lying 160,000 light-years from our own Milky Way galaxy. The LMC provides excellent examples of active star formation and supernova remnants to be studied with Hubble.

Many of the stars in the immediate vicinity of N 63A are extremely massive. It is estimated that the progenitor of the supernova that produced the remnant seen here was about 50 times more massive than our own Sun. Such a massive star has strong stellar winds that can clear away its ambient medium, forming a wind-blown bubble. The supernova that formed N 63A is thought to have exploded inside the central cavity of such a wind-blown bubble, which was itself embedded in a clumpy portion of the LMC's interstellar medium.

Images in the infrared, X-ray, and radio emission of this supernova remnant show the much more expanded bubble that totally encompasses the optical emission seen by Hubble. Odd-shaped mini-clouds or cloudlets that were too dense for the stellar wind to clear away are now engulfed in the bubble interior. The supernova generated a propagating shock wave, that continues to move rapidly through the low-density bubble interior, and shocks these cloudlets, shredding them fiercely.

Supernova remnants have long been thought to set off episodes of star formation when their expanding shock encounters nearby gas. As the Hubble images have illustrated, N 63A is still young and its ruthless shocks destroy the ambient gas clouds, rather than coercing them to collapse and form stars. Data obtained at various wavelengths from other detectors reveal on-going formation of stars at 10 to 15 light-years from N 63A. In a few million years, the supernova ejecta from N 63A would reach this star-formation site and may be incorporated into the formation of planets around solar-type stars there, much like the early history of the solar system.

The Hubble image of N 63A is a color representation of data taken in 1997 and 2000 with Hubble's Wide Field Planetary Camera 2. Color filters were used to sample light emitted by sulfur (shown in red), oxygen (shown in blue), and hydrogen (shown in green).

The Space Telescope Science Institute (STScI) is operated by the Association of Universities for Research in Astronomy, Inc. (AURA), for NASA, under contract with the Goddard Space Flight Center, Greenbelt, MD. The Hubble Space Telescope is a project of international cooperation between NASA and the European Space Agency (ESA).