Spaceflight Now +





Premium video content for our Spaceflight Now Plus subscribers.

Discovery in the VAB
Shuttle Discovery enters into the Vehicle Assembly Building after a 10-hour journey from launch pad 39B. (4min 29sec file)
Play video

Memorial Day message
The International Space Station's Expedition 11 crew pays tribute to our fallen heroes for Memorial Day. (1min 00sec QuickTime file)
Play video

Apollo-era transporter
In the predawn hours, the Apollo-era crawler-transporter is driven beneath shuttle Discovery's mobile launch platform at pad 39B in preparation for the rollback to the Vehicle Assembly Building. (2min 37sec QuickTime file)
Play video

Unplugging the shuttle
Workers disconnect a vast number of umbilicals running between launch pad 39B and Discovery's mobile launch platform for the rollback. The cabling route electrical power, data and communications to the shuttle. (2min 32sec file)
Play video

Shuttle rollback
The crawler-transporter begins rolling space shuttle Discovery off launch pad 39B at 6:44 a.m. EDT May 26 for the 4.2-mile trip back to the Vehicle Assembly Building. (7min 28sec file)
Play video

Voyager adventures
This animation shows the Voyager spacecraft heading into the solar system's final frontier and the edge of interstellar space. (1min 24sec file)
Play video

Mike Griffin at KSC
NASA Administrator Mike Griffin and Kennedy Space Center Director Jim Kennedy chat with reporters at the Cape on a wide range of topics. The press event was held during Griffin's tour of the spaceport. (27min 48sec file)
Play video

Delta rocket blasts off
The NOAA-N weather satellite is launched aboard a Boeing Delta 2 rocket from Vandenberg Air Force Base, California.

Play video:
Liftoff | Extended clip
Umbilicals | IR tracker

NOAA pre-launch
Officials from NASA, NOAA, the Air Force and Boeing hold the pre-launch news conference at Vandenberg Air Force Base to preview the mission of a Delta 2 rocket and the NOAA-N weather satellite. (29min 54sec file)

Play video:
Dial-up | Broadband

Countdown culmination
Watch shuttle Discovery's countdown dress rehearsal that ends with a simulated main engine shutdown and post-abort safing practice. (13min 19sec file)
Play video

Going to the pad
The five-man, two-woman astronaut crew departs the Operations and Checkout Building to board the AstroVan for the ride to launch pad 39B during the Terminal Countdown Demonstration Test countdown dress rehearsal. (3min 07sec file)
Play video

Suiting up
After breakfast, the astronauts don their launch and entry partial pressure suits before heading to the pad. (3min 14sec file)
Play video

Become a subscriber
More video







NASA's space eyes focus on Deep Impact comet target
NASA NEWS RELEASE
Posted: June 2, 2005


On July 4, NASA's Deep Impact spacecraft will attempt an extraordinarily daring encounter with the far-flung comet Tempel 1 hurtling through space at tens of thousands of miles per hour. As if that is not challenging enough, the comet's size, shape and other characteristics are not entirely known.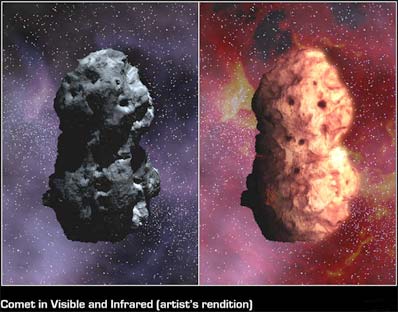 Artist's concepts of Tempel 1, simulating an optical view of the comet (left), next to the simulated infrared view (right), based on information from NASA's Hubble Space Telescope and Spitzer Space Telescope.



Two of NASA's eyes in the sky, the Spitzer and Hubble Space Telescopes, helped scientists prepare for the comet encounter. From their orbits high above Earth, the telescopes watched Tempel 1 in early 2004. Together they came up with the best estimates of the comet's size, shape, reflectivity and rotation rate. The data may help Deep Impact snap pictures of the dramatic rendezvous and increase the probability of making contact with the comet.

"Even tiny adjustments to our model of Tempel 1 are crucial to hitting the target and setting camera exposure times," said Dr. Carey Lisse, Johns Hopkins University Applied Physics Laboratory, Laurel, Md. Lisse is team leader for the Tempel 1 Spitzer studies.

Previous observations of Tempel 1 taken with ground-based telescopes indicated the comet is dark and oblong, with a width of a few miles. Spitzer and Hubble refined these measurements, revealing a matte black comet approximately 8.7 by 2.5 miles, or roughly one-half the size of Manhattan Island, N.Y.

"Spitzer was crucial in pinning down the comet's size," said Dr. Michael A'Hearn, University of Maryland, College Park. He is principal investigator for Deep Impact and the Hubble observations. "We'll know exactly what it looks like when we get there," he said.

The Deep Impact spacecraft was launched on January 12, 2005. Its mission is to study the primordial soup of our solar system, which is sealed away inside comets.

On July 3, as it approaches Tempel 1, the spacecraft will separate into two parts. The impactor will attempt the tricky task of placing itself in the path of the speeding snowball, while the second part, the flyby spacecraft, swings around for a ringside view.

After the impactor is released, its specialized software will steer it toward the sunlit portion of Tempel 1's nucleus. To program the software, mission planners at NASA's Jet Propulsion Laboratory (JPL) needed to know the size and reflectivity of Tempel 1's surface. Since its surface can't be observed directly from Earth, scientists turned to Spitzer's infrared eyes to measure its size.

When viewing a comet in visible light from very far away, only reflected sunlight can be seen, so a big, dark comet can look the same as a highly reflective, small comet. In infrared light, a comet's radiated heat is measured, providing a direct look at its size.

Once the size of Tempel 1 was known, scientists could calculate surface reflectivity. They calculated the amount of reflected, visible light observed by Hubble and found Tempel 1 reflects only four percent of the sunlight that falls on it.

"Knowing the reflectivity also tells us how to set up our cameras," Lisse said. "Like photographers, it's important for us to know our subject before the shoot."

Tempel 1's shape and two-day rotation rate were derived from long-term observations made by various telescopes, including Hubble, Spitzer and the University of Hawaii's 2.2-meter telescope at Mauna Kea.

In addition to the flyby spacecraft images, at least 30 telescopes around the world, including Spitzer, Hubble and the Chandra X-ray Observatory, will be watching the dramatic impact. By analyzing the material blown out of the interior of the comet, this global network of telescopes will assemble a list of the raw ingredients that went into making the planets in our solar system.