Spaceflight Now +





Premium video content for our Spaceflight Now Plus subscribers.

Discovery in the VAB
Shuttle Discovery enters into the Vehicle Assembly Building after a 10-hour journey from launch pad 39B. (4min 29sec file)
Play video

Memorial Day message
The International Space Station's Expedition 11 crew pays tribute to our fallen heroes for Memorial Day. (1min 00sec QuickTime file)
Play video

Apollo-era transporter
In the predawn hours, the Apollo-era crawler-transporter is driven beneath shuttle Discovery's mobile launch platform at pad 39B in preparation for the rollback to the Vehicle Assembly Building. (2min 37sec QuickTime file)
Play video

Unplugging the shuttle
Workers disconnect a vast number of umbilicals running between launch pad 39B and Discovery's mobile launch platform for the rollback. The cabling route electrical power, data and communications to the shuttle. (2min 32sec file)
Play video

Shuttle rollback
The crawler-transporter begins rolling space shuttle Discovery off launch pad 39B at 6:44 a.m. EDT May 26 for the 4.2-mile trip back to the Vehicle Assembly Building. (7min 28sec file)
Play video

Voyager adventures
This animation shows the Voyager spacecraft heading into the solar system's final frontier and the edge of interstellar space. (1min 24sec file)
Play video

Mike Griffin at KSC
NASA Administrator Mike Griffin and Kennedy Space Center Director Jim Kennedy chat with reporters at the Cape on a wide range of topics. The press event was held during Griffin's tour of the spaceport. (27min 48sec file)
Play video

Delta rocket blasts off
The NOAA-N weather satellite is launched aboard a Boeing Delta 2 rocket from Vandenberg Air Force Base, California.

Play video:
Liftoff | Extended clip
Umbilicals | IR tracker

NOAA pre-launch
Officials from NASA, NOAA, the Air Force and Boeing hold the pre-launch news conference at Vandenberg Air Force Base to preview the mission of a Delta 2 rocket and the NOAA-N weather satellite. (29min 54sec file)

Play video:
Dial-up | Broadband

Countdown culmination
Watch shuttle Discovery's countdown dress rehearsal that ends with a simulated main engine shutdown and post-abort safing practice. (13min 19sec file)
Play video

Going to the pad
The five-man, two-woman astronaut crew departs the Operations and Checkout Building to board the AstroVan for the ride to launch pad 39B during the Terminal Countdown Demonstration Test countdown dress rehearsal. (3min 07sec file)
Play video

Suiting up
After breakfast, the astronauts don their launch and entry partial pressure suits before heading to the pad. (3min 14sec file)
Play video

Become a subscriber
More video







Stars flooding space with gravitational waves
NASA NEWS RELEASE
Posted: June 1, 2005


A scientist using NASA's Chandra X-ray Observatory has found evidence that two white dwarf stars are orbiting each other in a death grip, destined to merge.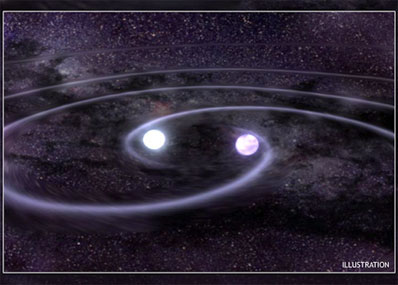 Chandra data from observations of RX J0806.3+1527 (or J0806), show that its X-ray intensity varies with a period of 321.5 seconds. This implies that J0806 is a binary star system where two white dwarf stars are orbiting each other (above, illustration) approximately every 5 minutes. Credit: GSFC/D. Berry



The data indicate gravitational waves are carrying energy away from the star system at a prodigious rate, making it a prime candidate for future missions designed to directly detect these ripples in space-time.

Einstein's General Theory of Relativity predicted a binary star system should emit gravitational waves that rush away at the speed of light and cause the stars to move closer together. As the stars move closer together, the orbital period decreases, and it can be measured by Chandra. The orbital period of this system is decreasing by 1.2 milliseconds every year. This is a rate consistent with the theory that predicted loss of energy due to gravitational waves.

The system is known as RX J0806.3+1527 or J0806. The white dwarf pair in J0806 might have the smallest orbit of any known binary system. The stars are only about 50,000 miles apart, a fifth of the distance from the Earth to the moon. As the stars swirl closer together, traveling in excess of one million mph, the production of gravitational waves increases.

"If confirmed, J0806 could be one of the brightest sources of gravitational waves in our galaxy," said Tod Strohmayer of NASA's Goddard Space Flight Center, Greenbelt, Md. He presented data at the American Astronomical Society meeting in Minneapolis. "It could be among the first to be directly detected with an upcoming space mission called LISA, the Laser Interferometer Space Antenna," he added.

White dwarfs are remnants of stars that have used up all their fuel. Along with neutron stars and black holes, white dwarfs are called compact objects, because they pack a lot of mass into a small volume. The white dwarfs in the J0806 system each have an estimated mass of one-half the sun, yet are only about the size of Earth.

Optical and X-ray observations of J0806 showed periodic variations of 321.5 seconds, barely more than five minutes. The observation in J0806 is most likely the orbital period of the white dwarf system. However the possibility that it represents the spin of one of its white dwarfs cannot be completely ruled out.

"It's either the most compact binary known or one of the most unusual systems we've ever seen. Either way it's got a great story to tell," Strohmayer said.

Strohmayer's Chandra X-ray observations tighten orbital decay estimates made through optical independent observations by other research teams. Strohmayer's data will be published in an upcoming issue of The Astrophysical Journal.

NASA's Marshall Space Flight Center, Huntsville, Ala., manages the Chandra program for NASA's Science Mission Directorate. The Smithsonian Astrophysical Observatory controls science and flight operations from the Chandra X-ray Center in Cambridge, Mass.