Spaceflight Now +





Premium video content for our Spaceflight Now Plus subscribers.

Discovery in the VAB
Shuttle Discovery enters into the Vehicle Assembly Building after a 10-hour journey from launch pad 39B. (4min 29sec file)
Play video

Memorial Day message
The International Space Station's Expedition 11 crew pays tribute to our fallen heroes for Memorial Day. (1min 00sec QuickTime file)
Play video

Apollo-era transporter
In the predawn hours, the Apollo-era crawler-transporter is driven beneath shuttle Discovery's mobile launch platform at pad 39B in preparation for the rollback to the Vehicle Assembly Building. (2min 37sec QuickTime file)
Play video

Unplugging the shuttle
Workers disconnect a vast number of umbilicals running between launch pad 39B and Discovery's mobile launch platform for the rollback. The cabling route electrical power, data and communications to the shuttle. (2min 32sec file)
Play video

Shuttle rollback
The crawler-transporter begins rolling space shuttle Discovery off launch pad 39B at 6:44 a.m. EDT May 26 for the 4.2-mile trip back to the Vehicle Assembly Building. (7min 28sec file)
Play video

Voyager adventures
This animation shows the Voyager spacecraft heading into the solar system's final frontier and the edge of interstellar space. (1min 24sec file)
Play video

Mike Griffin at KSC
NASA Administrator Mike Griffin and Kennedy Space Center Director Jim Kennedy chat with reporters at the Cape on a wide range of topics. The press event was held during Griffin's tour of the spaceport. (27min 48sec file)
Play video

Delta rocket blasts off
The NOAA-N weather satellite is launched aboard a Boeing Delta 2 rocket from Vandenberg Air Force Base, California.

Play video:
Liftoff | Extended clip
Umbilicals | IR tracker

NOAA pre-launch
Officials from NASA, NOAA, the Air Force and Boeing hold the pre-launch news conference at Vandenberg Air Force Base to preview the mission of a Delta 2 rocket and the NOAA-N weather satellite. (29min 54sec file)

Play video:
Dial-up | Broadband

Countdown culmination
Watch shuttle Discovery's countdown dress rehearsal that ends with a simulated main engine shutdown and post-abort safing practice. (13min 19sec file)
Play video

Going to the pad
The five-man, two-woman astronaut crew departs the Operations and Checkout Building to board the AstroVan for the ride to launch pad 39B during the Terminal Countdown Demonstration Test countdown dress rehearsal. (3min 07sec file)
Play video

Suiting up
After breakfast, the astronauts don their launch and entry partial pressure suits before heading to the pad. (3min 14sec file)
Play video

Become a subscriber
More video







Spitzer captures fruits of massive stars' labors
NASA NEWS RELEASE
Posted: May 30, 2005


The saga of how a few monstrous stars spawned a diverse community of additional stars is told in a new image from NASA's Spitzer Space Telescope.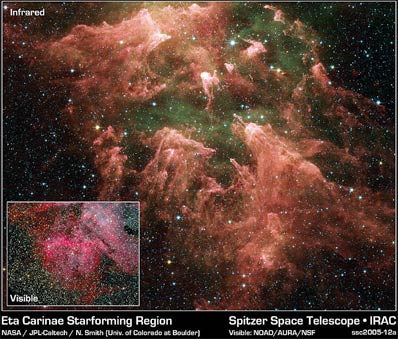 This false-color image taken by NASA's Spitzer Space Telescope shows the "South Pillar" region of the star-forming region called the Carina Nebula. The inset visible-light picture of the Carina Nebula shows quite a different view. Dust pillars are fewer and appear dark because the dust is soaking up visible light. Spitzer's infrared detectors cut through this dust, allowing it to see the heat from warm, embedded star embryos, as well as deeper, more buried pillars. Credit: NASA/JPL-Caltech/N. Smith (Univ. of Colorado at Boulder); NOAO
Download larger image version here



The striking picture reveals an eclectic mix of embryonic stars living in the tattered neighborhood of one of the most famous massive stars in our Milky Way galaxy, Eta Carinae. Astronomers say that radiation and winds from Eta Carinae and its massive siblings ripped apart the surrounding cloud of gas and dust, shocking the new stars into being.

"We knew that stars were forming in this region before, but Spitzer has shown us that the whole environment is swarming with embryonic stars of an unprecedented multitude of different masses and ages," said Dr. Robert Gehrz, University of Minnesota, Twin Cities, a member of the team that made the Spitzer observations.

The results were presented at the 206th meeting of the American Astronomical Society in Minneapolis by Dr. Nathan Smith, lead investigator of the Spitzer findings, University of Colorado, Boulder.

Previous visible-light images of this region, called the Carina Nebula, show cloudy finger-like pillars of dust, all pointing toward Eta Carinae at the center. Spitzer's infrared eyes cut through much of this dust to expose incubating stars embedded inside the pillars, as well as new star-studded pillars never before seen.

Eta Carinae, located 10,000 light-years from Earth, was once the second brightest star in the sky. It is so massive, more than 100 times the mass of our Sun, it can barely hold itself together. Over the years, it has brightened and faded as material has shot away from its surface. Some astronomers think Eta Carinae might die in a supernova blast within our lifetime.

Eta Carinae's home, the Carina Nebula, is also quite big, stretching across 200 light-years of space. This colossal cloud of gas and dust not only gave birth to Eta Carinae, but also to a handful of slightly less massive sibling stars. When massive stars like these are born, they rapidly begin to shred to pieces the very cloud that nurtured them, forcing gas and dust to clump together and collapse into new stars. The process continues to spread outward, triggering successive generations of fewer and fewer stars. Our own Sun may have grown up in a similar environment.

The new Spitzer image offers astronomers a detailed "family tree" of the Carina Nebula. At the top of the hierarchy are the grandparents, Eta Carinae and its siblings, and below them are the generations of progeny of different sizes and ages.

"Now we have a controlled experiment for understanding how one giant gas and dust cloud can produce such a wide variety of stars," said Gehrz.

The false colors in the Spitzer picture correspond to different infrared wavelengths. Red represents dust features and green shows hot gas. Embryonic stars are yellow or white and foreground stars are blue. Eta Carinae itself lies just off the top of image. It is too bright for infrared telescopes to observe.

JPL manages the Spitzer Space Telescope mission for NASA's Science Mission Directorate, Washington. Science operations are conducted at the Spitzer Science Center at the California Institute of Technology in Pasadena. JPL is a division of Caltech. Spitzer's infrared array camera, which took the picture of the Carina Nebula, was built by NASA Goddard Space Flight Center, Greenbelt, Md.; its development was led by Dr. Giovanni Fazio, Smithsonian Astrophysical Observatory, Cambridge, Mass.