Mars probe uses solar heating to fix boom glitch
BY STEPHEN CLARK
SPACEFLIGHT NOW
Posted: May 11, 2005


Scientists around the world can breathe easier after engineers devised a fix to lock a 65-foot radar boom in place aboard Europe's Mars Express probe in orbit around the Red Planet.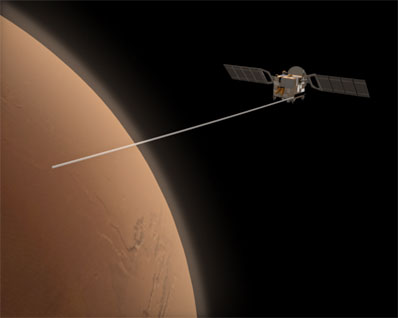 This artist's concept shows the boom deployment for the Mars Express MARSIS experiment. Credit: ESA



Teams at the Mars Express ground control center in Germany had first attempted to deploy the first of three such structures last week. By May 7 ­ as one boom the so-called "dipole" antenna extended and testing commenced ­ officials noticed data from the spacecraft indicating that one of 13 segments had not fully locked in place.

Controllers determined there was an issue from downlinked telemetry showing disturbances in the performance of the craft's three laser gyroscopes, mission manager Fred Jansen explained.

Engineers traced the anomaly to the location around segment 10, and immediately halted the planned operation to extend another 65-foot boom component on the opposite side of the spacecraft.

After studying the problem for several days, the ground team commanded Mars Express to turn Tuesday to place the suspect part in sunlight in hopes of allowing heat expansion to nudge the segment into the locked position.

As programmed, the spacecraft then began to swing back toward Earth to re-establish radio contact, controllers could confirm on Wednesday that the boom was fully secured.

The past few weeks of troubleshooting "slightly" impacted normal science observations with other payloads, Jansen said.

"We are already focusing on getting back to science operations as soon as possible."

These two antenna booms and another downward-facing 23-foot extension also awaiting deployment make up the joint Italian-American Mars Advanced Radar for Sub-surface and Ionosphere Sounding instrument, or MARSIS. This is the final science payload aboard Mars Express to be activated since the probe arrived at the planet in December 2003.

Made of a series of folding fiberglass tubes about 1.5 inches in diameter surrounding electrical and data wiring, the two 65-foot "dipole" booms act as both transmission and reception antennas for radar waves sent deep inside Mars to search for evidence of water. The smaller 23-foot "monopole" extension simply receives and cancels out "clutter signals" to improve the accuracy of the results.

Officials had originally expected to have all three antennas deployed by this Friday, but plans now call for a comprehensive review and investigation of the problem uncovered last week to ensure it does not occur again.

"This particular failure case was not identified before," said Jansen.

Deployments of the two remaining booms could resume over the next few weeks, according to a European Space Agency statement. Three weeks of subsequent commissioning activities will take place before science observations begin.

The first-of-its-kind MARSIS instrument works by emitting radio waves toward the surface of Mars and analyzing the beams reflected back to the spacecraft to search for signs of underground reservoirs of liquid water. Today, water does not exist on the surface in its liquid form, but instead is permanently trapped in polar ice caps.

Such long antennas are needed for the transmission and reception of radio waves due to the extremely low frequencies and long wavelengths associated with the radar beams. These waves will be able to penetrate the surface up to a depth of up to three miles to search for the signature of water. As the signals are bounced back into space, data will be gathered that could also map out ancient lava flows and other rock boundaries.