India launches 3-D land mapping spacecraft
BY STEPHEN CLARK
SPACEFLIGHT NOW
Posted: May 5, 2005


The newest member of India's Earth-watching satellite constellation roared away from a brand new launch pad this morning to kick off a mission planned to generate precise maps for use in a wide variety of disciplines.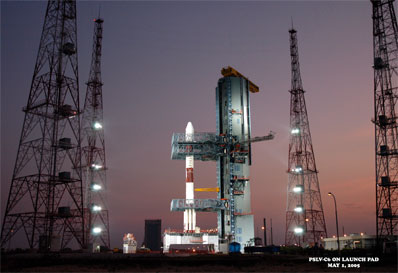 Credit: ISRO



India's ninth Polar Satellite Launch Vehicle vaulted into space at 0444 GMT (12:44 a.m. EDT) from a new state-of-the-art pad at the Satish Dhawan Space Center at Sriharikota along the Bay of Bengal. The final hours of the countdown was plagued with numerous weather problems including heavy rains and gusty winds, but engineers eventually caught a break long enough to send the rocket skyward.

The Cartosat 1 satellite was successfully delivered into its Sun-synchronous 618-kilometer target orbit about 18 minutes later, the Indian Space Research Organization reported.

Cartosat 1's two power-producing solar panels were expected to be deployed shortly after launch, followed by an extended period of system testing and checkout before the satellite enters service in the next few months.

Indian President APJ Abdul Kalam spent much of the week at the launch site and witnessed the blastoff from a viewing site a short distance away. Kalam worked in the nation's space and missile industry during its early days.

As the sixth operational member of the Indian Remote Sensing satellite fleet, Cartosat 1 will fill a niche to provide precise three-dimensional images worldwide with the capability to revisit the same location about every five days. Two cameras mounted on opposite sides of the spacecraft will snap black-and-white images with resolutions of 2.5 meters, while pivot mechanisms will allow the cameras to be accurately pointed across the flight path.

This panning ability gives the camera pair uniquely sharp vision to capture stereo images that add a third dimension compared to pictures previously gathered with more basic devices whose positions were static.

The high-resolution stereo data gathered by the 1,560-kg satellite during its five-year mission - the first such Earth-imaging ever attempted in the civilian world - will be downlinked to ground stations for immediate use to form detailed digital topographic maps and elevation models. These tools will then serve needs such as resource management, disaster monitoring, and urban and agricultural planning.

The U.S. firm Space Imaging has struck a deal with Antrix Corp., a division of the Indian Space Research Organization, to market and sell imagery from a number of India's Earth observation satellites commercial customers across the globe.

"Cartosat 1 will soon become a well-known resource in the global Earth observation market, and Space Imaging and Antrix together will lead its adoption and growth," said Robert Dalal, CEO of Space Imaging.

A follow-on craft known as Cartosat 2 is planned for launch within a year with a new suite of instruments capable of taking images with up to one-meter resolutions. In addition, a radar imaging satellite is in development for launch in about 2007.

The four-stage PSLV rocket also carried a small microsatellite called Hamsat designed to provide space-based amateur services to HAM radio operators worldwide for a mission of at least two years. The 43-kg piggyback payload features two transponders - one built by Indian hobbyists and another from a student in The Netherlands.

India's first launch of 2005 also marked another important milestone for the nation's space program. It was the maiden flight from a new launch pad at the Satish Dhawan Space Center designed to support not only the PSLV, but also India's larger Geostationary Satellite Launch Vehicle and future rockets still on the drawing board.

Launchers are assembled in an integration building before rolling one kilometer on rails to reach the pad for final testing and countdown operations. The new facility is located about a kilometer from the older launch pad.