Spaceflight Now +





Premium video content for our Spaceflight Now Plus subscribers.

Griffin goes before press
Michael Griffin, NASA's new administrator, holds his first news conference from agency headquarters to discuss shuttle return to flight, exploration plans and Hubble servicing. (46min 44sec file)
Play video

Download audio:
For iPod

NASA's new boss
During his first day on the job, Michael Griffin, NASA's new administrator, addresses agency employees and answers questions on a variety of topics on April 14. (28min 50sec file)
Play video

Griffin in his own words
Nominated to become the new administrator of NASA, Michael Griffin gives an opening statement to a Senate committee about his thoughts on the agency. (6min 38sec file)
Play video

Senators quiz Griffin
Senators ask a wide range of questions to NASA administrator nominee Michael Griffin concerning the future exploration, the space shuttle and space station programs, Hubble servicing options and aeronautics funding. (27min 06sec file)
Play video

Soyuz docking
The Russian Soyuz TMA-6 capsule docks to the space station's Pirs module, delivering the Expedition 11 to the outpost for a half-year mission. (4min 15sec file)
Play video

Launch of Expedition 11
The Russian Soyuz TMA-6 spacecraft is launched to put the International Space Station's Expedition 11 crew in Earth orbit.
Short | Full Length

Shuttle external tank
Highlights of pre-flight work involving the redesigned external fuel tank for the space shuttle return to flight mission is packaged into this movie with narration. (6min 32sec file)
Play video

Become a subscriber
More video







NASA says key Genesis science collectors are OK
NASA NEWS RELEASE
Posted: April 21, 2005


Scientists have closely examined four Genesis spacecraft collectors, vital to the mission's top science objective, and found them in excellent shape, despite the spacecraft's hard landing last year.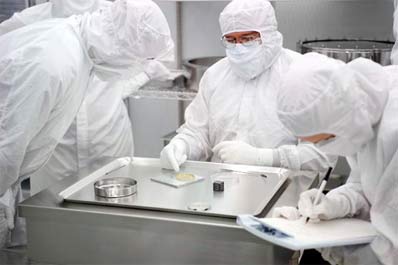 Every step is carefully planned and thoroughly documented in the Genesis lab at Johnson Space Center as scientists extract solar wind collectors from the Genesis spacecraft's "concentrator" and prepare them for analysis. Credit: NASA/JSC



Scientists at NASA's Johnson Space Center (JSC) in Houston removed the four solar-wind collectors from an instrument called the concentrator. The concentrator targets collected solar-oxygen ions during the Genesis mission. Scientists will analyze them to measure solar-oxygen isotopic composition, the highest-priority measurement objective for Genesis. The data may hold clues to increase understanding about how the solar system formed.

"Taking these concentrator targets out of their flight holders and getting our first visual inspection of them is very important," said Karen McNamara, Genesis curation recovery lead. "This step is critical to moving forward with the primary science Genesis was intended to achieve. All indications are the targets are in excellent condition. Now we will have the opportunity to show that quantitatively. The preliminary assessment of these materials is the first step to their allocation and measurement of the composition of the solar wind," she said.

The targets were removed at JSC by a team from Los Alamos National Laboratory, Los Alamos, N.M., where the concentrator was designed and built.

"Finding these concentrator targets in excellent condition after the Genesis crash was a real miracle," said Roger Wiens, principal investigator for the Los Alamos instruments. "It raised our spirits a huge amount the day after the impact. With the removal of the concentrator targets this week, we are getting closer to learning what these targets will tell us about the sun and our solar system," he added.

The Los Alamos team was assisted by JSC curators and Quality Assurance personnel from NASA's Jet Propulsion Laboratory in Pasadena, Calif. Curators at JSC will examine the targets and prepare a detailed report about their condition, so scientists can properly analyze the collectors. The targets will be imaged in detail and then stored under nitrogen in the Genesis clean room.

Genesis was launched Aug. 8, 2001, from Cape Canaveral Air Force Station, Fla., on a mission to collect solar wind particles. Sample collection began Dec. 5, 2001, and was completed April 1, 2004. After an extensive recovery effort, following its Sept. 8, 2004, impact at a Utah landing site, the first scientific samples from Genesis arrived at JSC Oct. 4, 2004.