Spaceflight Now +





Premium video content for our Spaceflight Now Plus subscribers.

Soyuz docking
The Russian Soyuz TMA-6 capsule docks to the space station's Pirs module, delivering the Expedition 11 to the outpost for a half-year mission. (4min 15sec file)
Play video

Launch of Expedition 11
The Russian Soyuz TMA-6 spacecraft is launched to put the International Space Station's Expedition 11 crew in Earth orbit.
Short | Full Length

NASA's new boss
During his first day on the job, Michael Griffin, NASA's new administrator, addresses agency employees and answers questions on a variety of topics on April 14. (28min 50sec file)
Play video

Griffin in his own words
Nominated to become the new administrator of NASA, Michael Griffin gives an opening statement to a Senate committee about his thoughts on the agency. (6min 38sec file)
Play video

Senators quiz Griffin
Senators ask a wide range of questions to NASA administrator nominee Michael Griffin concerning the future exploration, the space shuttle and space station programs, Hubble servicing options and aeronautics funding. (27min 06sec file)
Play video

Become a subscriber
More video







A bubble bursts
NASA/JPL PHOTO RELEASE
Posted: April 18, 2005


RCW 79 is seen in the southern Milky Way, 17,200 light-years from Earth in the constellation Centaurus in this spectacular image from the Spitzer Space Telescope. The bubble is 70-light years in diameter, and probably took about one million years to form from the radiation and winds of hot young stars.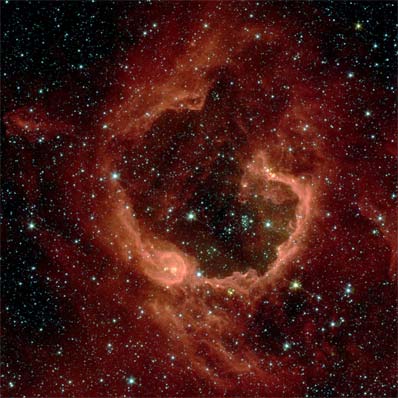 Credit: NASA/JPL-Caltech/E. Churchwell (University of Wisconsin-Madison)
Download larger image version here



The balloon of gas and dust is an example of stimulated star formation. Such stars are born when the hot bubble expands into the interstellar gas and dust around it. RCW 79 has spawned at least two groups of new stars along the edge of the large bubble. Some are visible inside the small bubble in the lower left corner. Another group of baby stars appears near the opening at the top.

NASA's Spitzer Space Telescope easily detects infrared light from the dust particles in RCW 79. The young stars within RCW 79 radiate ultraviolet light that excites molecules of dust within the bubble. This causes the dust grains to emit infrared light that is detected by Spitzer and seen here as the extended red features.