Russian communications satellite put into orbit
BY STEPHEN CLARK
SPACEFLIGHT NOW
Posted: March 30, 2005


A Russian Proton rocket successfully launched a next-generation domestic communications satellite Tuesday night that will be able to reach over a billion people across large parts of Asia.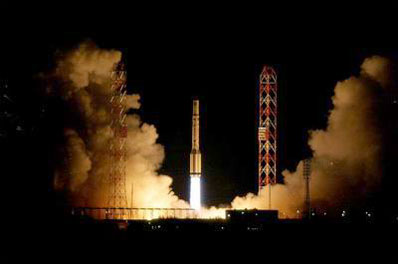 The Proton rocket blasts off from Baikonur. Credit: Russian Satellite Communications Co.



Liftoff of the Proton-K booster was at 2231 GMT (5:31 p.m. EST), or in the wee hours of Wednesday morning at the Baikonur Cosmodrome launch site in central Kazakhstan. The Proton's three core stages each burned and separated as planned, leaving the Block-DM upper stage to successfully conduct a series of firings to place the Express AM-2 satellite into its intended high orbit.

Wire reports said Express AM-2 was deployed from the Block-DM upper stage at around 0505 GMT (12:05 a.m. EST) Wednesday morning.

After several weeks of system tests in space, Express AM-2 will be maneuvered into its operational slot 22,300 miles high in geostationary orbit along the equator at 80 degrees East longitude above the Indian Ocean. From there, the satellite will cover users across all of Russia, parts of China, northern India, Bangladesh, Bhutan, Nepal and the northern reaches of Indochina.

Express AM-2 will be operated by the Russian Satellite Communications Company for both state users and commercial customers. The Russian federal government will utilize the satellite for mobile presidential communications and official broadcasting, while others will use the craft's capabilities for digital broadcasting, telephony, videoconferencing, data networks and broadband Internet access.

The spacecraft's structure was built by Russian contractor NPO PM in Siberia and Alcatel Space of France provided the communications payload, which consists of 16 C-band and 12 Ku-band transponders, along with one L-band transponder.

This is the first of the Express AM series with an enlarged payload capacity of four C-band transponders.

The 5,720-pound satellite has a lifetime of at least 12 years and is the fourth of five craft in the new-generation Express AM series, which began launches in December 2003. The final component - Express AM-3 - is set for liftoff later this spring. The Express AM satellite fleet contains Russia's most powerful civilian-operated domestic communications birds.

Tuesday's flight marked the second for Proton in 2005, and the 313th launch of a variant of the vehicle since it began flying 40 years ago. The next Proton is expected to launch in May with the DirecTV-8 direct-to-home broadcasting satellite under the commercial auspices of International Launch Services.