Spaceflight Now +





Premium video content for our Spaceflight Now Plus subscribers.

Shuttle tank mating
The external tank for the return-to-flight space shuttle mission is moved into position and mated with the twin solid rockets boosters at Kennedy Space Center. (4min 30sec file)
Play video

Cassini update
Go inside the Cassini-Huygens mission to explore Saturn, its rings and moons with this lecture from NASA's Jet Propulsion Laboratory. (81min 05sec file)

Play video:
Dial-up | Broadband

Shuttle testing
Testing to support the space shuttle return to flight is being performed at NASA's Ames Research Center. This footage shows wind tunnel testing using a shuttle mockup and thermal protection system tests in the arc jet facility. (5min 02sec file)
Play video

History flashback
In this video clip from the archives, a Lockheed Titan 4A rocket blasts off from Cape Canaveral on February 7, 1994 carrying the U.S. Air Force's first Milstar communications satellite. (6min 17sec file)
Play video

Titan 4A rocket
The mobile service tower is retracted to expose the massive Titan 4A-Centaur rocket during the final hours of the countdown in 1994. Aerial video shot from a helicopter shows the booster standing on its Cape launch pad. (3min 06sec file)
Play video

NASA budget
NASA Administrator Sean O'Keefe, in his final press conference appearance, presents the 2006 budget information and answers reporters' questions on Hubble, the exploration plan and shuttle return-to-flight. (86min 37sec file)
Play video

Meet the next ISS crew
Expedition 11 commander Sergei Krikalev, flight engineer John Phillips and Soyuz taxi crewmember Roberto Vittori hold a pre-flight news conference in Houston. Topics included problems with the shuttle safe haven concept. (42min 23sec file)

Play video:
Dial-up | Broadband

Download audio:
For iPod

Final Atlas 3 launched
The last Lockheed Martin Atlas 3 rocket launches from Complex 36 at Cape Canaveral Air Force Station at 2:41 a.m. EST carrying a classified spy satellite cargo for the U.S. National Reconnaissance Office. This movie follows the mission through ignition of Centaur. (5min 30sec file)
Play video

Atlas 3 onboard
A camera mounted on the Centaur upper stage captured this dramatic footage of the spent first stage separation, deployment of the RL10 engine nozzle extension, the powerplant igniting and the rocket's nose cone falling away during launch.
Play video

Become a subscriber
More video





NewsAlert





Sign up for our NewsAlert service and have the latest news in astronomy and space e-mailed direct to your desktop.


Privacy note: your e-mail address will not be used for any other purpose.







Spitzer exposes dusty galactic hideouts
NASA NEWS RELEASE
Posted: March 1, 2005


How do you hide something as big and bright as a galaxy? You smother it in cosmic dust. NASA's Spitzer Space Telescope saw through the cosmic dust to uncover a hidden population of monstrously bright galaxies approximately 11 billion light-years away.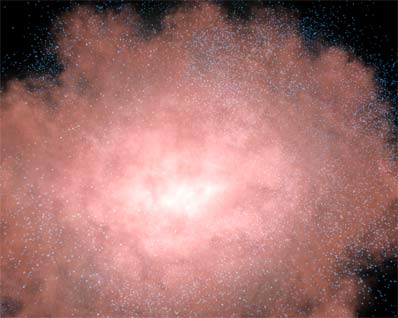 This artist's animation demonstrates that an invisible galaxy shrouded in dust can become glaringly bright when viewed in infrared light. Credit: NASA/JPL-Caltech



These strange galaxies are among the most luminous in the universe, shining with the equivalent light of 10 trillion suns. But, they are so far away and so drenched in dust, it took Spitzer's highly sensitive infrared eyes to find them.

"We are seeing galaxies that are essentially invisible," said Dr. Dan Weedman of Cornell University, Ithaca, N.Y., co-author of the study detailing the discovery. It will be published in today's issue of the Astrophysical Journal Letters. "Past infrared missions hinted at the presence of similarly dusty galaxies over 20 years ago, but those galaxies were closer. We had to wait for Spitzer to peer far enough into the distant universe to find these," he said.

Where is all this dust coming from? The answer is not quite clear. Dust is churned out by stars, but it is not known how the dust wound up sprinkled all around the galaxies. Another mystery is the exceptional brightness of the galaxies. Astronomers speculate a new breed of unusually dusty quasars, the most luminous objects in the universe, may be lurking inside. Quasars, like giant light bulbs at the centers of galaxies, are powered by huge black holes.

Another question astronomers would like to address is whether dusty, bright galaxies like these eventually evolve into fainter, less murky ones like our own Milky Way. "It's possible stars like our sun grew up in dustier, brighter neighborhoods, but we really don't know. By studying these galaxies, we'll get a better idea of our own galaxy's history," said Cornell's Dr. James Houck, lead author of the study.

The Cornell-led team first scanned a portion of the night sky for signs of invisible galaxies using an instrument onboard Spitzer called the multiband imaging photometer. The team compared the thousands of galaxies seen in this infrared data to the deepest available ground-based optical images of the same region, obtained by the National Optical Astronomy Observatory Deep Wide-Field Survey. This led to the identification of 31 galaxies that can be seen only by Spitzer. "This large area took us many months to survey from the ground," said Dr. Buell Jannuzi, co-principal investigator for the Deep Wide-Field Survey, "so the dusty galaxies Spitzer found truly are needles in a cosmic haystack."

Further observations using Spitzer's infrared spectrograph revealed the presence of silicate dust in 17 of these 31 galaxies. This particular dust grain is significant, because it is a planetary building block, and it also helped astronomers determine how far away the galaxies are from Earth. Silicates are sand-like planetary building blocks.

"This is the furthest back in time silicate dust has been detected around a galaxy. Finding silicate dust at this very early epoch is important for understanding when planetary systems like our own arose in the evolution of galaxies," said Dr. Thomas Soifer, study co-author and director of the Spitzer Science Center, Pasadena, Calif. "We can break apart the light from a distant galaxy using a spectrograph, but only if we see a recognizable signature from a mineral like silicate, can we figure out the distance to that galaxy," Soifer said.

In this case, the galaxies were dated back to a time when the universe was only three billion years old, or one-quarter of its present age of 13.5 billion years. Galaxies similar to these in dustiness, but much closer to Earth, were first alluded to in 1983 via observations made by the joint NASA-European Infrared Astronomical Satellite. Later, the European Space Agency's Infrared Space Observatory faintly recorded comparable, nearby objects. It took Spitzer's improved sensitivity, 100 times greater than past missions, to finally seek out the dusty galaxies at great distances.

The National Optical Astronomy Observatory Deep Wide-Field Survey used the National Science Foundation's 13-foot telescope at Kitt Peak National Observatory southwest of Tucson, Ariz.

NASA's Jet Propulsion Laboratory (JPL), Pasadena, Calif., manages the Spitzer Space Telescope mission for NASA's Science Mission Directorate, Washington. Science operations are conducted at the Spitzer Science Center. JPL is a division of Caltech.