Spaceflight Now +





Premium video content for our Spaceflight Now Plus subscribers.

Shuttle testing
Testing to support the space shuttle return to flight is being performed at NASA's Ames Research Center. This footage shows wind tunnel testing using a shuttle mockup and thermal protection system tests in the arc jet facility. (5min 02sec file)
Play video

History flashback
In this video clip from the archives, a Lockheed Titan 4A rocket blasts off from Cape Canaveral on February 7, 1994 carrying the U.S. Air Force's first Milstar communications satellite. (6min 17sec file)
Play video

Titan 4A rocket
The mobile service tower is retracted to expose the massive Titan 4A-Centaur rocket during the final hours of the countdown in 1994. Aerial video shot from a helicopter shows the booster standing on its Cape launch pad. (3min 06sec file)
Play video

NASA budget
NASA Administrator Sean O'Keefe, in his final press conference appearance, presents the 2006 budget information and answers reporters' questions on Hubble, the exploration plan and shuttle return-to-flight. (86min 37sec file)
Play video

Meet the next ISS crew
Expedition 11 commander Sergei Krikalev, flight engineer John Phillips and Soyuz taxi crewmember Roberto Vittori hold a pre-flight news conference in Houston. Topics included problems with the shuttle safe haven concept. (42min 23sec file)

Play video:
Dial-up | Broadband

Download audio:
For iPod

Final Atlas 3 launched
The last Lockheed Martin Atlas 3 rocket launches from Complex 36 at Cape Canaveral Air Force Station at 2:41 a.m. EST carrying a classified spy satellite cargo for the U.S. National Reconnaissance Office. This movie follows the mission through ignition of Centaur. (5min 30sec file)
Play video

Atlas 3 onboard
A camera mounted on the Centaur upper stage captured this dramatic footage of the spent first stage separation, deployment of the RL10 engine nozzle extension, the powerplant igniting and the rocket's nose cone falling away during launch.
Play video

Become a subscriber
More video





NewsAlert





Sign up for our NewsAlert service and have the latest news in astronomy and space e-mailed direct to your desktop.


Privacy note: your e-mail address will not be used for any other purpose.







Resupply ship rockets to the International Space Station
BY JUSTIN RAY
SPACEFLIGHT NOW
Posted: February 28, 2005


A cargo vessel stuffed with much-needed repair kits, food, water and rocket fuel for the International Space Station launched from Baikonur Cosmodrome in Kazakhstan today, beginning a two-day trek to the high-flying laboratory.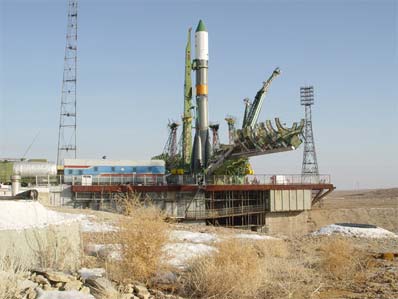 The Soyuz rocket topped by the Progress 17P ship was erected on the Baikonur launch pad over the weekend. Credit: Energia



The Russian-made Progress M-52 spacecraft, known as Progress 17P in the ISS assembly matrix, was successfully delivered into orbit atop an unmanned Soyuz booster. Liftoff occurred on schedule at 1909 GMT (2:09 p.m. EST).

The ship achieved its preliminary altitude, unfurled twin power-generating solar arrays and deployed a suite of navigation and communications antennas. A series of orbit raising maneuvers to reach the station begin later today, setting the stage for docking to the Zvezda service module's rear port around 2015 GMT (3:15 p.m. EST) on Wednesday.

Loaded with over two tons of supplies, the Progress' cargo includes 2,932 pounds of equipment, experiment hardware and life support system gear, 1,071 pounds of water, 386 pounds of propellent and 242 pounds of oxygen and air. The delivery of 86 food containers will provide more than 160 days of additional provisions, according to NASA.

Notable items being ferried to the station are highlighted by spare parts for the space complex's toilet and oxygen-generating and carbon dioxide-scrubbing units. Also, a new heat exchanger device for the cooling of U.S. spacesuits in the Quest airlock module is headed to the station to replace a faulty unit that forced all recent spacewalks to be performed from the Russian-side of the outpost.

In preparation for the space shuttle return-to-flight mission in May, the digital cameras and lenses that station residents will use to photograph Discovery's thermal tiles in the search for damage are being brought up, too.

Expedition 10 commander Leroy Chiao and flight engineer Salizhan Sharipov are four months into their planned six-month mission. Last week, they packed trash and other unneeded items into the Progress 16P craft before it undocked from the station at 1606 GMT (11:06 a.m. EST) Sunday, freeing up the docking port that the 17P vehicle will use.

The discard Progress, which was launched in December, conducted two engine firings to depart the station's neighborhood. Russian flight controllers will execute engineering tests on the freighter before it re-enters the atmosphere and burns up on March 9.