Spaceflight Now +





Premium video content for our Spaceflight Now Plus subscribers.

Shuttle testing
Testing to support the space shuttle return to flight is being performed at NASA's Ames Research Center. This footage shows wind tunnel testing using a shuttle mockup and thermal protection system tests in the arc jet facility. (5min 02sec file)
Play video

History flashback
In this video clip from the archives, a Lockheed Titan 4A rocket blasts off from Cape Canaveral on February 7, 1994 carrying the U.S. Air Force's first Milstar communications satellite. (6min 17sec file)
Play video

Titan 4A rocket
The mobile service tower is retracted to expose the massive Titan 4A-Centaur rocket during the final hours of the countdown in 1994. Aerial video shot from a helicopter shows the booster standing on its Cape launch pad. (3min 06sec file)
Play video

NASA budget
NASA Administrator Sean O'Keefe, in his final press conference appearance, presents the 2006 budget information and answers reporters' questions on Hubble, the exploration plan and shuttle return-to-flight. (86min 37sec file)
Play video

Meet the next ISS crew
Expedition 11 commander Sergei Krikalev, flight engineer John Phillips and Soyuz taxi crewmember Roberto Vittori hold a pre-flight news conference in Houston. Topics included problems with the shuttle safe haven concept. (42min 23sec file)

Play video:
Dial-up | Broadband

Download audio:
For iPod

Final Atlas 3 launched
The last Lockheed Martin Atlas 3 rocket launches from Complex 36 at Cape Canaveral Air Force Station at 2:41 a.m. EST carrying a classified spy satellite cargo for the U.S. National Reconnaissance Office. This movie follows the mission through ignition of Centaur. (5min 30sec file)
Play video

Atlas 3 onboard
A camera mounted on the Centaur upper stage captured this dramatic footage of the spent first stage separation, deployment of the RL10 engine nozzle extension, the powerplant igniting and the rocket's nose cone falling away during launch.
Play video

Become a subscriber
More video





NewsAlert





Sign up for our NewsAlert service and have the latest news in astronomy and space e-mailed direct to your desktop.


Privacy note: your e-mail address will not be used for any other purpose.







Saturn's aurora defy scientists' expectations
HUBBLE EUROPEAN SPACE AGENCY INFORMATION CENTRE
Posted: February 16, 2005


The dancing light of the auroras on Saturn behaves in ways different from how scientists have thought possible for the last 25 years. New research by a team of US and European planetary scientists led by John Clarke of Boston University, USA, has overturned theories about how Saturn's magnetic field behaves and how its auroras are generated. Their results will be published in the February 17 issue of the journal Nature.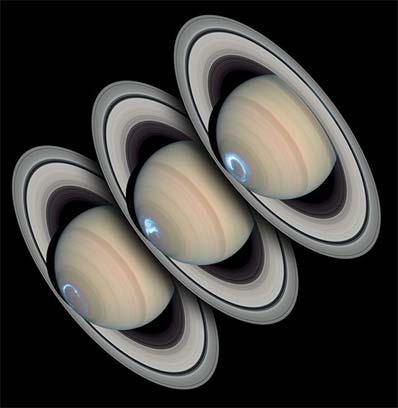 Astronomers combined ultraviolet images of Saturn's southern polar region with visible-light images of the planet and its rings to make this picture. The auroral display appears blue because of the glow of ultraviolet light. In reality, the aurora would appear red to an observer at Saturn because of the presence of glowing hydrogen in the atmosphere. Credit: NASA, ESA, J. Clarke (Boston University), and Z. Levay (STScI)
Download larger image version here



By choreographing the instruments aboard the Earth- orbiting Hubble Space Telescope and the Cassini spacecraft, while it was en route to Saturn, to look at Saturn's southern polar region, Clarke and his team found that the planet's auroras - long thought of as a cross between those of Earth and Jupiter - are fundamentally unlike those observed on either of the other two planets. The lights that occasionally fill the sky over Saturn may, in fact, be a phenomenon unique within our solar system.

In Clarke's experiment, Hubble snapped ultraviolet pictures of Saturn's auroras over several weeks and Cassini recorded radio emissions from the same regions while measuring the solar wind, a stream of charged particles that trigger auroras. Those sets of measurements were combined to yield the most accurate glimpse yet of Saturn's auroras.

The observations showed that Saturn's auroras differ in character from day to day, as they do on Earth, moving around on some days and remaining stationary on others. But compared with Earth, where auroras last only about 10 minutes, Saturn's auroras can last for days.

The observations also indicated, surprisingly, that the solar wind may play a much larger role in Saturn's aurora than previously suspected. Hubble images, when combined with Cassini measurements of the solar wind, show that it is the pressure of the solar wind that appears to drive auroral storms on Saturn. In Earth's case, it is mainly the Sun's magnetic field, carried in the solar wind that drives auroral storms. In Saturn's case the orientation of the magnetic field plays no major role.

Seen from space, an aurora appears as a ring of light circling a planet's polar region, where magnetic poles typically reside. Auroral displays are initiated when charged particles in space collide with a planet's magnetic field and stream into the upper atmosphere. Collisions with gases in the planet's atmosphere produce flashes of glowing energy in the form of light and radio waves.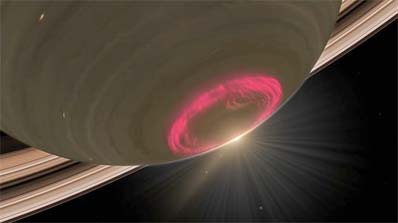 This is an artist's concept of an opulent aerial display of a cherry-red aurora hovering over Saturn's south pole. Credit: NASA, ESA and A. Schaller (for STScI)
Download larger image version here



Scientists had long believed Saturn's auroras possess properties akin to both Earth and Jupiter. Like Earth's, they were thought to be influenced by the solar wind. Like Jupiter's, they were assumed to be influenced by a ring of ions and charged particles encircling the planet. The new results do show, however, a feature of Saturn's aurora that matches Earth's: Radio waves appear to be tied to the brightest auroral spots. This similarity suggests that the physical processes that generate these radio waves is just like those of Earth.

But, as the team observed, though Saturn's auroras do share characteristics with the other planets, they are fundamentally unlike those on either Earth or Jupiter. When Saturn's auroras become brighter (and thus more powerful), the ring of energy encircling the pole shrinks in diameter. When Earth's auroras become brighter, the polar region for several minutes is filled with light. Then the ring of light dims and begins to expand. Jupiter's auroras, however, are only weakly influenced by the solar wind, becoming brighter about once a month, at the most, in response to solar wind changes. Recent model work has suggested that the key feature that make Saturn's magnetic environment special, is Saturn's strong magnetic field that works together with a dominating process where the magnetic field lines break and re-connect with other lines.

Saturn's auroral displays also become brighter on the sector of the planet where night turns to day as the storms increase in intensity, unlike either of the other two planets. The new images also confirm that, at certain times, Saturn's auroral ring was more like a spiral, its ends not connected as the energy storm circled the pole.

Now that Cassini has entered orbit around Saturn, Clarke and his team will be able to take a more direct look at the how the planet's auroras are generated. The team is planning to probe how the Sun's magnetic field may fuel Saturn's auroras and what role the solar wind may play.